Divorces increase after the holidays
Many couples ring in the New Year with a split.
January is widely regarded as "divorce month," and for good reason. More divorces are filed in January than any other month.
In fact, there's such a spike in divorce filings after the holidays, professionals prepare themselves for the boom. Divorce lawyer James Gross of law firm Thyden, Gross & Callahan told YourTango:
"Some attorneys take the last two weeks of the year off to get ready for the rush. January really does see a lot of divorces."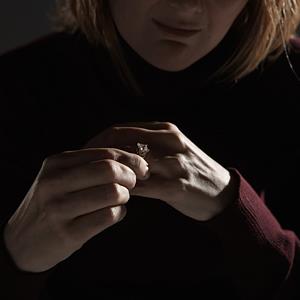 More on MSN Living: 12 things we learned about love in 2012
Ginita Wall organizes a divorce workshop in Los Angeles. She told NBCLA that she sees a surge in attendees between January and March:
More on MSN Living: 12 things that change about sex when you get married

"People somehow expect the job of the season is going to correct a troubled marriage," Wall says. "And it never does."
Other experts speculate that holiday stress pushes relationships to their breaking point. Tax considerations may also have couples postponing their divorce until the New Year.
Divorce consultant Cathy Meyer explains:
"There may be more divorces than ever in January because some unhappy people have been putting divorce off during the downturn simply because they could not afford it."
Psychotherapist and divorce expert Mel Schwartz would agree. He told The Heart Beat:
"Divorce is far less a stigma than it used to be. However, the current economic conditions may force many people to remain unhappily married due to financial constraints."
But as the New Year approaches, those financial constraints might seem less important than a fresh start.
"Divorce should not be considered unless each person can say they have individually done all they can reasonably do," Schwartz adds. "Have they looked into themselves, have they worked on communications skills, have they engaged in therapy?"
With January looming, many couples will feel they've done everything they can reasonably do. For them, the New Year will also mean a new status and a new start.
Photo: Thomas Northcut/Getty Images
More from The Heart Beat:
5 weird reasons couples have divorced
The top 5 regrets of divorced people
In Japan, there's a toilet for divorce

beauty tips and style advice
Click through the slideshow to shop some of our spring favorites.

French braid? Been there. Fishtail? Done that. The newest styles are all about unexpected texture, major volume, and one man's wild imagination.

Long hair, don't care? Think again…

She dishes on the routine that keeps her looking polished, even when she's pulling up to the <i>Mad Men</i> set at 5 a.m. Plus, the fragrance that helps Christina get her Joan on.

For inspiration, we've rounded up gorgeous (and easy to replicate) wedding makeup looks from the red carpet.

With a few insider tricks, you can enjoy short hair 365 days of the year and have a gorgeous style on your wedding day. Wedding hairstyles for short hair do exist.

I'm beyond excited to finally ditch my winter coat and heavy layers, but I'm not so eager to ditch my tights. Let's just say my legs are not as smooth and bronzed as they were the last time I showed them off many, many months ago.

After a jam-packed week in New Zealand, Kate Middleton and Prince William finally enjoyed a day off, but as of last night (or this morning..? Ah, time change!) they're back on the road again.

These travel-sized beauty products will do double-duty while you're on the road.

Neatly sidestepping high fashion, the smiling, cheerful Kate Middleton is fast becoming the Duchess of Normcore.

This December, New Yorkers might notice something missing in the Christmas air.

When Madonna posted an image of herself wearing a full on Game of Thrones Khaleesi costume on Instagram last week we weren't exactly surprised—this is the woman who rolled into the Grammy Awards wearing a tuxedo and a grill earlier this winter, so why not celebrate the Jewish holiday of Purim with a leather corset and a pair of tiny dragons? Still, we were hypnotized by her white-blonde, braided Daenerys Targaryen hair. Functioning as a bleached out cultural weather vane of sorts, it tapped into multiple obsessions at once—the return of "Game of Thrones" to HBO, spring's new extreme hair lengths and, most notably, fashion's current platinum mania. Our own love of ice-blonde hair—which transforms any look from everyday to extraordinary—has been well documented of late, but last night's Game of Thrones premiere sent our platinum fever into overdrive. In celebration of fashion's favorite hair color, a look at the best platinum moments in history.