Divorces increase after the holidays
Many couples ring in the New Year with a split.
January is widely regarded as "divorce month," and for good reason. More divorces are filed in January than any other month.
In fact, there's such a spike in divorce filings after the holidays, professionals prepare themselves for the boom. Divorce lawyer James Gross of law firm Thyden, Gross & Callahan told YourTango:
"Some attorneys take the last two weeks of the year off to get ready for the rush. January really does see a lot of divorces."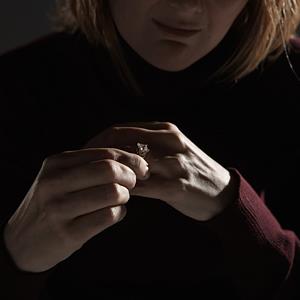 More on MSN Living: 12 things we learned about love in 2012
Ginita Wall organizes a divorce workshop in Los Angeles. She told NBCLA that she sees a surge in attendees between January and March:
More on MSN Living: 12 things that change about sex when you get married

"People somehow expect the job of the season is going to correct a troubled marriage," Wall says. "And it never does."
Other experts speculate that holiday stress pushes relationships to their breaking point. Tax considerations may also have couples postponing their divorce until the New Year.
Divorce consultant Cathy Meyer explains:
"There may be more divorces than ever in January because some unhappy people have been putting divorce off during the downturn simply because they could not afford it."
Psychotherapist and divorce expert Mel Schwartz would agree. He told The Heart Beat:
"Divorce is far less a stigma than it used to be. However, the current economic conditions may force many people to remain unhappily married due to financial constraints."
But as the New Year approaches, those financial constraints might seem less important than a fresh start.
"Divorce should not be considered unless each person can say they have individually done all they can reasonably do," Schwartz adds. "Have they looked into themselves, have they worked on communications skills, have they engaged in therapy?"
With January looming, many couples will feel they've done everything they can reasonably do. For them, the New Year will also mean a new status and a new start.
Photo: Thomas Northcut/Getty Images
More from The Heart Beat:
5 weird reasons couples have divorced
The top 5 regrets of divorced people
In Japan, there's a toilet for divorce


I've been a divorce lawyer for 18 years in Georgia. I agree with some of what the "experts" in the above paragraph said, but not all of it. What I agree with is that couples are staying together longer because they can't afford it. However, I find that my divorce business increases in December (due to tax considerations) and gradually increases between January and May. (People get their tax returns back). I also don't agree with the simplistic philosphical statement made by Mel Schwartz. Divorce is a complicated topic. Some people are not meant to be married to their current spouse (the one they're having trouble with).  Some people get married for the wrong reasons (out of wedlock child), common drug or alcohol addiction, etc. No matter how much introspecting they did or counseling they had would necessarily save their marriages. Also, take for example the marriages where one party cheats alot, and even has children outside the marriage. Why should the man or woman stay married?  I say the requirements in place for couples to divorce, particularly with children, make it too expensive and too time consuming for the average person to afford. People that aren't made to be married should not be forced by political or economic constraints to stay married. Peace.

I live in the northeast where it is dark, cold and depressing all the time for six months; go to work in the dark and come home in the dark. Dark. Dark. Dark. I think the depression of 'the season' in the Valley of Gloom is the final blow for some marriages when it is dark by 5:00 and it feels like midnight.

This should not be.  There is no excuse for it.  Marriage has become nothing more than a glorified form of dating.  Vows (promises) mean nothing anymore.  Men are supposed, give up their wants and needs and focus on providing the wants and needs of their wives.  Likewise, the wife gives up her wants and needs to focus on providing the same for her husband.  When you have two people committed to doing that for each other, it can't fail.  It's impossible.  When I got married, I had to take my eyes off other women.  I'm married now.  My wife, and my wife alone turns me on.  I had to learn to balance my work with spending quality time with her.  We've become best friends and do everything together.  I can't imagine life without her.  Marriage is great and it works till death.  Get an understanding of what you're getting into, then, have a blast.  Bye-bye divorce!

I have been in the legal field for over 25 yrs and yes, divorce is very seasonal.  January through April, the number of divorces filed increase greatly.  The main reason for people waiting until after Jan 1 is "we don't want to upset the families, the kids, etc. during the holidays"" then you have a lull from May 1 through middle of June when kids are taking finals and getting out of school,  Then July picks back up for filing and  then August and half of September is slow.  Mid September to November 15 is busy but after than filings are very slow until January 1st again. 
Are you sure you want to delete this comment?
beauty tips and style advice
That elusive, perfect-every-day haircut can be yours. Don't be skeptical, now; these sweet, shorter styles are as easy to pull off as they are flattering. So chop chop!

The wedding dresses on the spring 2015 runways were beautiful, breezy, and fresh—just like a breath of warm spring air. No matter where or when you'll say your vows (or how big or small your budget is), your dream wedding dress is just a few clicks away.

The results were crazy awesome.

There are no bad bodies, just bad jeans! Consider your denim problem areas solved (thanks to our 50-pair editor try-on).

Mascara wands are getting fatter, but that may not help your lashes. There's a better way to gain weight.

Three summers ago, I bought a pair of soft, white-calfskin Chanel loafers. I spent months trying to keep them pristine, but it wasn't long before a July thunderstorm left them and me soaked. I began steeling myself for what I thought was inevitable: a solemn drop in the trash. But once the loafers dried, I found the shoes' stained stitching—now storm-cloud gray—was lovely and a few new wrinkles in the leather were charming, like smile lines for shoes. I started to wear them freely—taking on puddles and tossing them onto the sand at the beach—and before long, they transformed. The roughened toe-tops reminded me of a welcoming, worn armchair, and a wet-and-hot summer had molded the material perfectly to my feet.

When the clock's ticking, digging though every compact in your bathroom is an exercise in frustration. What you need is one simple bag with a selection of products that help you pull yourself together as quickly as possible, at home or on the road. In it:

You know the freshly scrubbed, athletic look that defines American beauty? Turns out it's been centuries in the making.

According to Hollywood's top hairstylists, celebrity clients get sticky fingers when it comes to these no-fail products.

The American company that helped to popularize the shapewear trend has moved into the world of denim with a new jeans collection.

What to wear and what to avoid the next time you attend a wedding.

Want the most gorgeous hair of your life for your wedding day? Of course you do. Hairstylist Jen Atkin shares the top mistakes brides make that are getting in the way of that picture-perfect bridal hairstyle