Whitney Port Wants Your Help Funding Her Next Fashion Show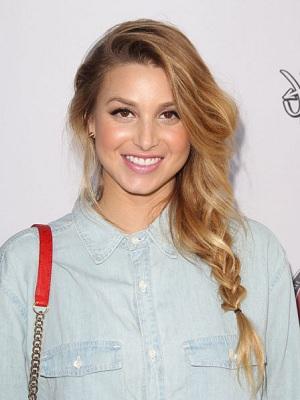 by Tracey Lomrantz Lester, Glamour Magazine

If getting all excited and stressed out while watching fashion show planning in action on The City was part one of the essential Whitney Port experience, part two promises to be a much more hands-on affair. The reality-star-turned-​designer is asking fans to help fund her upcoming fashion show, and she's offering some very up close & personal perks in return.
In what her team is dubbing the first-ever "fan-supported fashion show," Whitney is calling on regular gals like us to kick in some cash to put on her spring 2013 show at New York Fashion Week. We're not sure if Kelly Cutrone approves of the solicitation process or not, but it works like this: Fans can donate as little as $1, in exchange for helping Whitney Eve come to life on the runway.

Related: 65 Flirty Summer Outfit Ideas

According to a press release, "Perks range from attending a model fitting for the show, having a one-on-one phone call with Port about the show concept, naming a look that will appear on the runway, attending the makeup and hair tests for the show, or sitting front row and being styled by Port. While the initiative is a means to raise funds, the purpose is also to educate and involve fans in what it takes to put on a runway show."

Related: 88 Summer Nail Polish Ideas

She's currently got $641 towards her $50,000 goal, and if you want to kick in some cash, you can visit her site (and get a full list of the available "perks"--for $5 she'll send you a personal tweet, and for $450 you can sit front row).

What do you gals think of this concept? Would you donate to a designer whose mission you believe in, or do you find the whole thing kinda wacky? Discuss!

Photo: Jen Lowery/Splash News

More from Glamour:
7 Days of DIY Braids
31Things to Wear This Month
Ponytail Ideas to Steal From Celebs

beauty tips and style advice
What to wear and what to avoid the next time you attend a wedding.

Want the most gorgeous hair of your life for your wedding day? Of course you do. Hairstylist Jen Atkin shares the top mistakes brides make that are getting in the way of that picture-perfect bridal hairstyle

So there are fashion mishaps. And then, there is the catastrophe known as....camel toe.

The top tips I've picked up thanks to my obsession with blowouts, highlights, and my favorite hairstylist.

Something happens to your head when you have a kid — not to mention your body completely changes, and you can barely recognize yourself through bleary eyes, a fog of tiredness, and matted hair from sleepless nights. Sounds sexy, right? But, when that glimmering light at the end of the tunnel is in the near distance and the kid actually starts to act like a human and sleep normal hours, just like magic, you start to look like your old self again.

Ever slip into the latest summer fashion trend and then realize it's not exactly traditionally attractive? So what? Today we're speaking out on behalf of our favorite awkward fashion trends, whether they're bulky, strangely proportioned, or just at the opposite end of sexy. If there's still something magnetic about its pull on you, we say go for it. It's all in the name of fashion.

One shopper's tweet of the emaciated-looking figure forced the store to take action.

Once the summer heat kicks in, it's all we can do not to slip into the breeziest beach dresses and flip-flops for the morning commute. So trust us when we say we understand that the humidity can have a powerful effect on your wardrobe — still, there are some things you just can't wear to your place of employment, no matter how hot it gets.

Wrinkle no blouse, tangle no jewelry, leave no beauty product behind, and still have room to spare.

Hue-changing dos we absolutely love.

Why your jean size varies from store to store.

Wait a month between waxing visits? Check. Pop a preappointment Advil? Duh. We all know the basics, but here are the tricks you don't know.