Brazilian waxing vs. pubic lice
Another species of wildlife is facing extinction.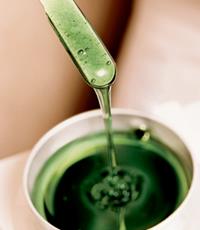 By Patrick Rogers
,
Allure magazine
Cue the violins: News has reached us from the United Kingdom that another species of wildlife is facing extinction, and from a most unexpected predator. You may remember—but then again, you may be too young to remember—a problem that once plagued college students, involving a persistent itching in the crotch that cropped up after random sexual encounters and wouldn't go away except after an embarrassing trip to the drugstore. Yes, pubic lice—or crabs, as they were called at my alma mater. Well, according to an insect specialist in Britain, the onetime campus scourge is fast disappearing thanks to the prevalence of Brazilian (and other) wax jobs.
Related: The Top 21 Drugstore Beauty Bargains
An estimated 80 percent of college students, both women and men, now engage in some form of grooming of these parts, and as any Greenpeace activist can tell you, such heavy deforestation is naturally going to lead to habitat loss and then to extinction. As Ian F. Burgess, an entomologist at Insect Research & Development Ltd. in Cambridge, England, told Bloomberg, "Pubic grooming has led to a severe depletion of crab louse populations. Add to that other aspects of body hair depilation, and you can see an environmental disaster in the making for this species."
Related: The 10 Commandments of Mascara
Environmental disaster? More like cause for global celebration and perhaps a Nobel Prize nomination for the J Sisters. And to think they used to say waxing had no genuine health benefit.
More from Allure:
10 Hairstyles That Make You Look 10 Years Younger
The 12 Best Eye Creams
The Most Flattering Makeup Colors for Brown Eyes

Are you sure you want to delete this comment?
beauty tips and style advice
Once the summer heat kicks in, it's all we can do not to slip into the breeziest beach dresses and flip-flops for the morning commute. So trust us when we say we understand that the humidity can have a powerful effect on your wardrobe — still, there are some things you just can't wear to your place of employment, no matter how hot it gets.

Wrinkle no blouse, tangle no jewelry, leave no beauty product behind, and still have room to spare.

Hue-changing dos we absolutely love.

Why your jean size varies from store to store.

Wait a month between waxing visits? Check. Pop a preappointment Advil? Duh. We all know the basics, but here are the tricks you don't know.

What to always—and never, ever—do to keep hair in top shape.

Get inspired to try these sweet and summery looks.

Stunning wedding styles that create a statement.

I attended the Abercrombie and Fitch holiday-season press preview yesterday, and in between checking out the cute gear that will hit stores this November, I picked up a little nugget of information I just have to share.

How to wear this cool-weather staple in the summer.

See how Miranda Kerr made a pair of Birkenstocks chic.

We love how a new nail polish has the ability to instantly change your look and your mood with a simple swipe. While happy lime greens and aquas are ruling the five million #nailpolish Instagrams this summer, there are a variety of great colors to choose from—whether you want an office-appropriate neutral or a fun going-out shade that'll give your LBD a punch of color.