Brazilian waxing vs. pubic lice
Another species of wildlife is facing extinction.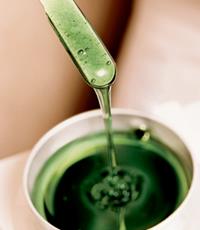 By Patrick Rogers
,
Allure magazine
Cue the violins: News has reached us from the United Kingdom that another species of wildlife is facing extinction, and from a most unexpected predator. You may remember—but then again, you may be too young to remember—a problem that once plagued college students, involving a persistent itching in the crotch that cropped up after random sexual encounters and wouldn't go away except after an embarrassing trip to the drugstore. Yes, pubic lice—or crabs, as they were called at my alma mater. Well, according to an insect specialist in Britain, the onetime campus scourge is fast disappearing thanks to the prevalence of Brazilian (and other) wax jobs.
Related: The Top 21 Drugstore Beauty Bargains
An estimated 80 percent of college students, both women and men, now engage in some form of grooming of these parts, and as any Greenpeace activist can tell you, such heavy deforestation is naturally going to lead to habitat loss and then to extinction. As Ian F. Burgess, an entomologist at Insect Research & Development Ltd. in Cambridge, England, told Bloomberg, "Pubic grooming has led to a severe depletion of crab louse populations. Add to that other aspects of body hair depilation, and you can see an environmental disaster in the making for this species."
Related: The 10 Commandments of Mascara
Environmental disaster? More like cause for global celebration and perhaps a Nobel Prize nomination for the J Sisters. And to think they used to say waxing had no genuine health benefit.
More from Allure:
10 Hairstyles That Make You Look 10 Years Younger
The 12 Best Eye Creams
The Most Flattering Makeup Colors for Brown Eyes

Are you sure you want to delete this comment?
fashion: trends & must-haves for your wardrobe
Ready to refresh your hair and makeup for spring? Well, look no further for your latest batch of inspiration. These ladies are bringing the beauty brilliance with megawatt lipstick shades, sleek haircuts, and must-try hair colors. Get ready to play copycat.

Long, layered, medium or wavy – we're sharing our favorite hairstyles of 2013 with a new 'do each day. Stuck in a hair rut? Check back daily for snappy new looks that are sure to give your locks some beauty inspiration.

Step into spring with style in June Ambrose's new shoe line for HSN.

Revamp your corporate look with graphic prints and bold color.

If you have only five makeup tools in your kit, make sure these are them. They do much more than just look cute on your vanity!

Think all it can do is shellac everything down, helmet-head style? So wrong! A can of whatever's in your cabinet is your secret beauty weapon. Try it like this.

You may not get wrinkles on your hair, but it ages all the same. Grays, dullness, thinning strands, and frizz are all (unfortunately) part of the hair's aging process, which starts happening in your 30s. The good news is that you don't need Botox to fix these problems. Here are six tips for hair that's shiny, bouncy, healthy—and, yes, younger looking.

Our fashion-savvy FLOTUS shows us she is truly a master at mixing high- and low-end designs.

Get ready for summer with these cute and easy to DIY nail art designs.

Brides, it's your big day and you want to look special. Please, whatever you do, don't wear one of these wedding dresses. These are truly the worst.

Even if you're the best friend of all time, no bridesmaid should ever have to wear these worst-ever bridesmaid dresses. Lace, ruffles and satin overload!

As your face changes, so should your hair—the right cut can shave years from your appearance. And while there's no such thing as an age-appropriate length, there are age-appropriate styles. Here, the 30 most gorgeous hairstyles for every age, as seen on Mila Kunis, Jessica Biel, Jennifer Aniston, Diane Keaton, and more.