In Honor of The Hunger Games' DVD Release, Target Is Selling a $999 Mockingjay Pin
By Elana Fishman, Luckymag.com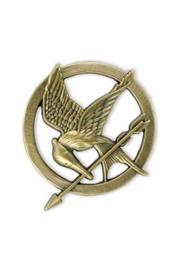 On August 18, prepare for Hunger Games fever to set in once again—that's when the action flick will (finally) become available on DVD and Blu-ray. But for this particular event, Target's not content to simply offer fans copies of the film itself. To coincide with what's arguably going to be the biggest DVD release of the year, the superstore is rolling out three limited-edition collectibles priced far higher than its usual merchandise.
If you were one of the many Katniss-lovers who scrambled to pick up the protagonist's lace-up Frye boots, you'll be happy to know you can finally snag Target's matching leather jacket for $349. The retailer's also offering lithographs signed by 10 Hunger Games cast members, including Jennifer Lawrence, Liam Hemsworth and Josh Hutcherson, for $699. And if that $10 Mockingjay pin you picked up last March is starting to look a little rusty—Target will be selling a 14-karat gold replica of Katniss Everdeen's symbolic brooch for $999.

The jacket hits Target.com on August 18, the lithograph on August 19 and the Mockingjay pin on August 20. But here's the catch: only 100 of each item will be available, meaning you might have to battle your way to becoming one of the lucky victors—er, buyers.

Don't want to pony up hundreds of dollars to support your Hunger Games addiction? Target's also got less-costly fan merch in stock already, like this $19.99 cardboard cutout of Peeta and, um, this $15.99 District 12 lightbulb.

The retailer's also offering a special three-disc deluxe edition of the film in both DVD ($20.99) and Blu-ray ($25.99) formats, both packed with 45 minutes' worth of cast interviews, "Tribute video diaries," and making-of featurettes. Those are now available for preorder
right here
, and there are plenty of 'em to go around—regardless of whether the odds are in your favor.
beauty tips and style advice
These travel-sized beauty products will do double-duty while you're on the road.

Neatly sidestepping high fashion, the smiling, cheerful Kate Middleton is fast becoming the Duchess of Normcore.

This December, New Yorkers might notice something missing in the Christmas air.

When Madonna posted an image of herself wearing a full on Game of Thrones Khaleesi costume on Instagram last week we weren't exactly surprised—this is the woman who rolled into the Grammy Awards wearing a tuxedo and a grill earlier this winter, so why not celebrate the Jewish holiday of Purim with a leather corset and a pair of tiny dragons? Still, we were hypnotized by her white-blonde, braided Daenerys Targaryen hair. Functioning as a bleached out cultural weather vane of sorts, it tapped into multiple obsessions at once—the return of "Game of Thrones" to HBO, spring's new extreme hair lengths and, most notably, fashion's current platinum mania. Our own love of ice-blonde hair—which transforms any look from everyday to extraordinary—has been well documented of late, but last night's Game of Thrones premiere sent our platinum fever into overdrive. In celebration of fashion's favorite hair color, a look at the best platinum moments in history.

While you were sleeping, fast retail chain H&M H&M announced that its next designer collaboration is with Alexander Wang.

Formal, beachy, country club-chic or gorgeously rustic whatever the setting calls for, we've found a bevy of beautiful dresses to wear to a wedding this season.

Puffy, tired, weary no more. These tips take years off and create that "I slept great, thanks!" effect.

Top dermatologists, cosmetic chemists, makeup artists, and hairstylists reveal quick tips and tricks that can peel back years in a matter of seconds

We're all for sartorial freedom, but there are certain once-on-trend items that, when worn today, appear anything but current. Consider this your official out list.

If you're a practitioner of reselling your clothes—a good way to clear out some space in your wardrobe and make a few extra bucks—you might already be familiar with San Francisco-based thredUP.

A picture may be worth a thousand words, but emoji must be worth at least a million. Here we show you how to channel your favorites: Go ahead, express yourself!

11 earth-friendly beauty products we love.