How to recreate Beyoncé's inauguration makeup
She looked stunning while singing the National Anthem last night. Here's now to get her look.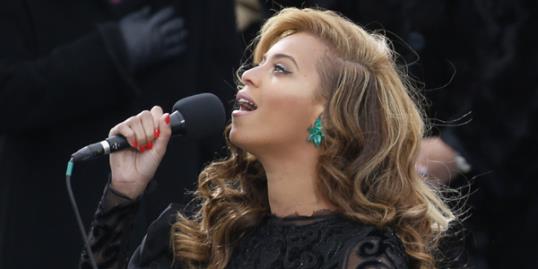 The world quickly became obsessed with her bright orange nails, but we also became obsessed with her flawless makeup at last night's 2013 Inauguration.

Celebrity makeup artist Mally Roncal created her gorgeous look, and she's sharing how we can recreate it at home.  

More from Living: 50 simple little ways to feel sexy

Here's how to get Beyonce's look:

1. Set skin

To first set the skin, apply Perfect Prep Poreless Primer (see where to purchase products below) all over the face and Cancellation Concealer directly underneath the eyes.

2. Illuminate

To achieve natural-looking coverage, first, apply a liquid foundation like Ultimate Performance Liquid Foundation. Next, add a sweep of illuminating powder to the skin that will illuminate the skin followed by brushing on highlighter, like Effortless Airbrush Highlighter and Blush Duo to the cheeks in order to provide a soft, radiant glow to the skin.

3. Go for smoke

To achieve a rich, smoky eye (try Evercolor Shadow Stick in Saddle Shimmer), apply shadow all over the eyelid and underneath as well. Next, select a few shades from nude palate and sweep that onto the eyelids. Finish the look by applying a small amount of Age Rebel Shadow Stick in Chocolate Diamond on the bottom lid right under your eyelashes to open up the eye. Lastly, to achieve this bold eyeliner at-home, try using the Mally Beauty Evercolor Starlight Eyeliner in Midnight, layered with the Ultimate Performance Ink Eyeliner (which is exclusive to QVC.com).

4. Pump up the volume

Compliment this confident eye by pairing it with a mascara that will enhance the overall look.

More from Living: Most requested cuts and colors by city

"Anyone can achieve this easy-to-wear look at home," says Roncal. "It works on all ages, skin type and color!"

Get the essentials from Mally Beauty at QVC.com and MallyBeauty.com.

Tell us: Did you like Beyonce's look?
Bing: Inauguration day 2013


Photo: Brian Cassella/Chicago Tribune/MCT via Getty Images
More from Simply Chic:

Fighting crime with chic jewelry
Does the way you hold your handbag reveal your personality?
How to get Jennifer Lopez's ultra-glam Golden Globes waves
Are you sure you want to delete this comment?
beauty tips and style advice
What to wear and what to avoid the next time you attend a wedding.

Want the most gorgeous hair of your life for your wedding day? Of course you do. Hairstylist Jen Atkin shares the top mistakes brides make that are getting in the way of that picture-perfect bridal hairstyle

So there are fashion mishaps. And then, there is the catastrophe known as....camel toe.

The top tips I've picked up thanks to my obsession with blowouts, highlights, and my favorite hairstylist.

Something happens to your head when you have a kid — not to mention your body completely changes, and you can barely recognize yourself through bleary eyes, a fog of tiredness, and matted hair from sleepless nights. Sounds sexy, right? But, when that glimmering light at the end of the tunnel is in the near distance and the kid actually starts to act like a human and sleep normal hours, just like magic, you start to look like your old self again.

Ever slip into the latest summer fashion trend and then realize it's not exactly traditionally attractive? So what? Today we're speaking out on behalf of our favorite awkward fashion trends, whether they're bulky, strangely proportioned, or just at the opposite end of sexy. If there's still something magnetic about its pull on you, we say go for it. It's all in the name of fashion.

One shopper's tweet of the emaciated-looking figure forced the store to take action.

Once the summer heat kicks in, it's all we can do not to slip into the breeziest beach dresses and flip-flops for the morning commute. So trust us when we say we understand that the humidity can have a powerful effect on your wardrobe — still, there are some things you just can't wear to your place of employment, no matter how hot it gets.

Wrinkle no blouse, tangle no jewelry, leave no beauty product behind, and still have room to spare.

Hue-changing dos we absolutely love.

Why your jean size varies from store to store.

Wait a month between waxing visits? Check. Pop a preappointment Advil? Duh. We all know the basics, but here are the tricks you don't know.