How to recreate Beyoncé's inauguration makeup
She looked stunning while singing the National Anthem last night. Here's now to get her look.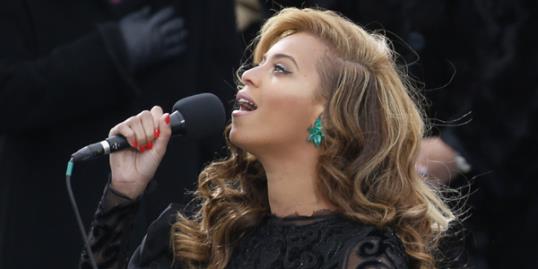 The world quickly became obsessed with her bright orange nails, but we also became obsessed with her flawless makeup at last night's 2013 Inauguration.

Celebrity makeup artist Mally Roncal created her gorgeous look, and she's sharing how we can recreate it at home.  

More from Living: 50 simple little ways to feel sexy

Here's how to get Beyonce's look:

1. Set skin

To first set the skin, apply Perfect Prep Poreless Primer (see where to purchase products below) all over the face and Cancellation Concealer directly underneath the eyes.

2. Illuminate

To achieve natural-looking coverage, first, apply a liquid foundation like Ultimate Performance Liquid Foundation. Next, add a sweep of illuminating powder to the skin that will illuminate the skin followed by brushing on highlighter, like Effortless Airbrush Highlighter and Blush Duo to the cheeks in order to provide a soft, radiant glow to the skin.

3. Go for smoke

To achieve a rich, smoky eye (try Evercolor Shadow Stick in Saddle Shimmer), apply shadow all over the eyelid and underneath as well. Next, select a few shades from nude palate and sweep that onto the eyelids. Finish the look by applying a small amount of Age Rebel Shadow Stick in Chocolate Diamond on the bottom lid right under your eyelashes to open up the eye. Lastly, to achieve this bold eyeliner at-home, try using the Mally Beauty Evercolor Starlight Eyeliner in Midnight, layered with the Ultimate Performance Ink Eyeliner (which is exclusive to QVC.com).

4. Pump up the volume

Compliment this confident eye by pairing it with a mascara that will enhance the overall look.

More from Living: Most requested cuts and colors by city

"Anyone can achieve this easy-to-wear look at home," says Roncal. "It works on all ages, skin type and color!"

Get the essentials from Mally Beauty at QVC.com and MallyBeauty.com.

Tell us: Did you like Beyonce's look?
Bing: Inauguration day 2013


Photo: Brian Cassella/Chicago Tribune/MCT via Getty Images
More from Simply Chic:

Fighting crime with chic jewelry
Does the way you hold your handbag reveal your personality?
How to get Jennifer Lopez's ultra-glam Golden Globes waves
Are you sure you want to delete this comment?
beauty tips and style advice
The wedding dresses on the spring 2015 runways were beautiful, breezy, and fresh—just like a breath of warm spring air. No matter where or when you'll say your vows (or how big or small your budget is), your dream wedding dress is just a few clicks away.

The results were crazy awesome.

There are no bad bodies, just bad jeans! Consider your denim problem areas solved (thanks to our 50-pair editor try-on).

Mascara wands are getting fatter, but that may not help your lashes. There's a better way to gain weight.

Three summers ago, I bought a pair of soft, white-calfskin Chanel loafers. I spent months trying to keep them pristine, but it wasn't long before a July thunderstorm left them and me soaked. I began steeling myself for what I thought was inevitable: a solemn drop in the trash. But once the loafers dried, I found the shoes' stained stitching—now storm-cloud gray—was lovely and a few new wrinkles in the leather were charming, like smile lines for shoes. I started to wear them freely—taking on puddles and tossing them onto the sand at the beach—and before long, they transformed. The roughened toe-tops reminded me of a welcoming, worn armchair, and a wet-and-hot summer had molded the material perfectly to my feet.

When the clock's ticking, digging though every compact in your bathroom is an exercise in frustration. What you need is one simple bag with a selection of products that help you pull yourself together as quickly as possible, at home or on the road. In it:

You know the freshly scrubbed, athletic look that defines American beauty? Turns out it's been centuries in the making.

According to Hollywood's top hairstylists, celebrity clients get sticky fingers when it comes to these no-fail products.

The American company that helped to popularize the shapewear trend has moved into the world of denim with a new jeans collection.

What to wear and what to avoid the next time you attend a wedding.

Want the most gorgeous hair of your life for your wedding day? Of course you do. Hairstylist Jen Atkin shares the top mistakes brides make that are getting in the way of that picture-perfect bridal hairstyle

So there are fashion mishaps. And then, there is the catastrophe known as....camel toe.