How to recreate Beyoncé's inauguration makeup
She looked stunning while singing the National Anthem last night. Here's now to get her look.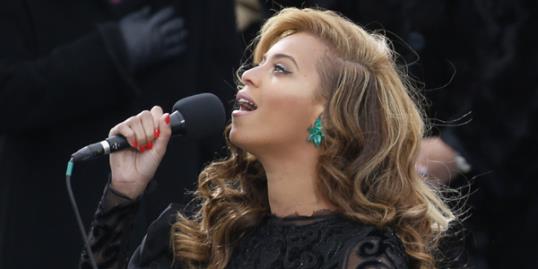 The world quickly became obsessed with her bright orange nails, but we also became obsessed with her flawless makeup at last night's 2013 Inauguration.

Celebrity makeup artist Mally Roncal created her gorgeous look, and she's sharing how we can recreate it at home.  

More from Living: 50 simple little ways to feel sexy

Here's how to get Beyonce's look:

1. Set skin

To first set the skin, apply Perfect Prep Poreless Primer (see where to purchase products below) all over the face and Cancellation Concealer directly underneath the eyes.

2. Illuminate

To achieve natural-looking coverage, first, apply a liquid foundation like Ultimate Performance Liquid Foundation. Next, add a sweep of illuminating powder to the skin that will illuminate the skin followed by brushing on highlighter, like Effortless Airbrush Highlighter and Blush Duo to the cheeks in order to provide a soft, radiant glow to the skin.

3. Go for smoke

To achieve a rich, smoky eye (try Evercolor Shadow Stick in Saddle Shimmer), apply shadow all over the eyelid and underneath as well. Next, select a few shades from nude palate and sweep that onto the eyelids. Finish the look by applying a small amount of Age Rebel Shadow Stick in Chocolate Diamond on the bottom lid right under your eyelashes to open up the eye. Lastly, to achieve this bold eyeliner at-home, try using the Mally Beauty Evercolor Starlight Eyeliner in Midnight, layered with the Ultimate Performance Ink Eyeliner (which is exclusive to QVC.com).

4. Pump up the volume

Compliment this confident eye by pairing it with a mascara that will enhance the overall look.

More from Living: Most requested cuts and colors by city

"Anyone can achieve this easy-to-wear look at home," says Roncal. "It works on all ages, skin type and color!"

Get the essentials from Mally Beauty at QVC.com and MallyBeauty.com.

Tell us: Did you like Beyonce's look?
Bing: Inauguration day 2013


Photo: Brian Cassella/Chicago Tribune/MCT via Getty Images
More from Simply Chic:

Fighting crime with chic jewelry
Does the way you hold your handbag reveal your personality?
How to get Jennifer Lopez's ultra-glam Golden Globes waves
Are you sure you want to delete this comment?
beauty tips and style advice
You thought you were so cool.

Kate Middleton likes outlet malls too.

Smart fall shopping can't be boiled down to some set-in-stone lineup of items. It's much more about how you play with what you've got rather than just racking up a bunch of new stuff; sometimes your bank account's balance simply won't allow for a full-on wardrobe refresh. That's when it's important to know what's worth it—and what isn't.

Autumn's just a few short months away, and we've got sweaters, coats and booties on our minds! Below are the first things we'll be buying (or have already bought!) to kick off next season.

Beauty editors are routinely asked to name three essentials they couldn't live without on a desert island. So here's our list: water, matches, protein bars. As much as we depend on beauty products, they're not exactly essential to survival. These luxurious fragrances, nail polishes, and tools are no exception. They're the anti-basics—hardly your medicine-cabinet staples. They won't shrink pores or obliterate frizz, but they will make you weak with desire. And that's a refreshing change of pace. Beyond just looking and feeling great, each of these cool new things appeals to our sense of style. How's that for an SOS?

You could breeze through the rest of summer with the same sheer balm and nude gloss you always wear. Or you could throw caution to the wind and try one of these superfun, superbright lipstick shades we saw on the spring runways. True red, orchid purple, neon orange—these lipsticks are as bold as they are beautiful.