How to recreate Beyoncé's inauguration makeup
She looked stunning while singing the National Anthem last night. Here's now to get her look.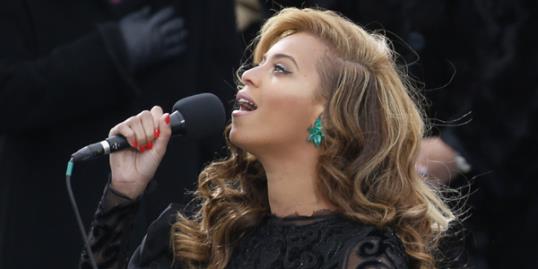 The world quickly became obsessed with her bright orange nails, but we also became obsessed with her flawless makeup at last night's 2013 Inauguration.

Celebrity makeup artist Mally Roncal created her gorgeous look, and she's sharing how we can recreate it at home.  

More from Living: 50 simple little ways to feel sexy

Here's how to get Beyonce's look:

1. Set skin

To first set the skin, apply Perfect Prep Poreless Primer (see where to purchase products below) all over the face and Cancellation Concealer directly underneath the eyes.

2. Illuminate

To achieve natural-looking coverage, first, apply a liquid foundation like Ultimate Performance Liquid Foundation. Next, add a sweep of illuminating powder to the skin that will illuminate the skin followed by brushing on highlighter, like Effortless Airbrush Highlighter and Blush Duo to the cheeks in order to provide a soft, radiant glow to the skin.

3. Go for smoke

To achieve a rich, smoky eye (try Evercolor Shadow Stick in Saddle Shimmer), apply shadow all over the eyelid and underneath as well. Next, select a few shades from nude palate and sweep that onto the eyelids. Finish the look by applying a small amount of Age Rebel Shadow Stick in Chocolate Diamond on the bottom lid right under your eyelashes to open up the eye. Lastly, to achieve this bold eyeliner at-home, try using the Mally Beauty Evercolor Starlight Eyeliner in Midnight, layered with the Ultimate Performance Ink Eyeliner (which is exclusive to QVC.com).

4. Pump up the volume

Compliment this confident eye by pairing it with a mascara that will enhance the overall look.

More from Living: Most requested cuts and colors by city

"Anyone can achieve this easy-to-wear look at home," says Roncal. "It works on all ages, skin type and color!"

Get the essentials from Mally Beauty at QVC.com and MallyBeauty.com.

Tell us: Did you like Beyonce's look?
Bing: Inauguration day 2013


Photo: Brian Cassella/Chicago Tribune/MCT via Getty Images
More from Simply Chic:

Fighting crime with chic jewelry
Does the way you hold your handbag reveal your personality?
How to get Jennifer Lopez's ultra-glam Golden Globes waves
Are you sure you want to delete this comment?
beauty tips and style advice
If you're anything like me, you probably haven't gone anywhere near a hair accessory for years—save for the few stretched-out Goody elastics tumbling around at the bottom of your handbag, the slightly rusty bobby pins gathering dust at the back of your medicine cabinet or that scrunchie you use to pull your hair back when washing your face in the morning. For as long as I can remember, hair adornments have been slapped with somewhat of a childish reputation; when's the last time you saw a girl over the age of 11 wearing a barrette or witnessed a woman past her teen years sporting a headband?

When it's hot and humid, pulling your hair into a ponytail is practical. But it can also be fun, easy, unexpected, and mind-blowingly gorgeous. Here, stunning summer hair ideas inspired by our favorite runway and red-carpet looks of the moment—plus expert tips on how to re-create them.

Sure, sunglasses protect your eyes and help you see, but they can also lend an instant, undeniable cool factor to just about anyone. Said cool factor is most apparent when sunglasses fit well, balance your features, and look like they were made for your face. Because one-size-flatters-all shades are unfortunately not a thing, we asked Bobbi Brown, makeup artist, glasses expert, and author of the new book Bobbi Brown: Everything Eyes, for her top tips for finding flattering sunglasses for every face shape.

The leading ladies who make summer beauty look effortless.

Chic accessories for every wedding style.

When it comes to lounging on the beach in the buff, turns out that Germans and Austrians are the most comfortable with their birthday suits, according to a worldwide survey of beachgoing habits around the world.

Chic time-tested shades you'll love for this summer.

Our top picks for staying cool this summer.

Does makeup make you feel more or less like yourself? These women — some makeup junkies, some who never touch the stuff — were brave enough to be photographed with half their faces made up by a pro and half their faces totally bare.

Chic ensembles for every woman.

At almost every age, more men report being satisfied with looks than women.

Wrinkle no blouse, tangle no jewelry, leave no beauty product behind, and still have room to spare.