Most American women want to see size zero models banned from the runway
New research says women would prefer to see fuller figure models walk the runway.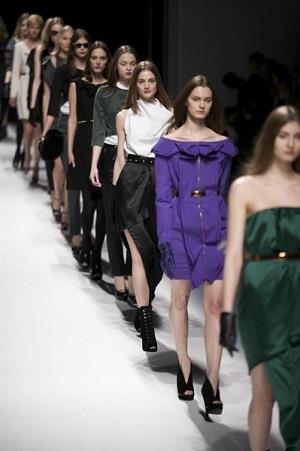 As New York Fashion Week continues, American women are sharing their opinions on the models that are walking during Fashion Week.

According to new research from money saving site CouponCodes4u.com, who polled 1,947 American women to discover their thoughts on healthy body image and whether or not the fashion industry has more to do in order to showcase healthier women, the majority of American women want to see a ban on size zero models that are used during the shows (64 percent agreed that those models should not be used). In addition, 16 percent of women would prefer not only a lack of size zero models, but more fuller figured models featured in the shows. 

Of the women who wanted to see size zero models banned, 62 percent said it was because they thought these women were bad role models for other young women, while 55 percent said size zero models gave women a false impression of what is acceptable and normal weight-wise. In addition, 31 percent said size zero models looked 'dangerously unhealthy' and so it was unsafe for the models themselves to be used.

More from Simply Chic: Israel bans underweight models

"As it is NY Fashion Week, we were interested to see whether or not American women felt that the fashion industry had followed through with its promise to include more healthy women on the runway. Unfortunately, the majority of women polled felt that not enough healthier women were used and that these models were not only a negative influence on their own self esteem, but on younger women," said Mark Pearson, Chairman of CouponCodes4u.com, in a press release. 

More from Living: What does your lingerie say about you?

"While it is up to the fashion industry to use healthier women on the runway and in the magazines, what is the most important thing is to keep in mind what is healthy and right for you. Trying to reach an unattainable weight goal is not only damaging to your health but to your self esteem."
Tell us: Do you agree that size zero models should be banned from the runway?

Bing: Skinny models controversy


Photo: Will Robb/Getty Images
More from Simply Chic:

January Jones on her hair: "It's falling out in clumps"
Would you ever get your pinky toe removed?
The hottest manicure styles of 2013

When I modelled, we would swallow cotton balls dipped in water. That necessitated frequent use of laxatives. All to stay a size 6, then the ideal model size. Now, 0-2 is the ideal, models are just as tall and these girls are killing themselves to stay that thin. For 20 years after, if looked in a mirror I saw a fat woman even though I was 30 pounds underweight. Thankfully, I overcame that negative body image and am now happy at 15 over my ideal weight.

I feel models should be a normal sized woman.  How many women are there in the world that are size 0.  These models look sickly and starved to death.  Nothing is more beautiful than a porportionate healthy woman.  Look at the pictures of women in the Bible, in the Temples and Shrines in Rome, Italy and France.  Venus de Milo is beautiful and models should look like her.  I look at models in magazines and they are ugly.  They look more like men than they do like women. 
Are you sure you want to delete this comment?
fashion: trends & must-haves for your wardrobe
That's right. We said it. These nail polish colors aren't just sexy—they're the hottest things you can put on your feet this summer. Now the hard part: choosing one.

Days are getting longer, skirts are getting shorter, and our feet haven't seen the light of day since the autumnal equinox. A seasonal beauty overhaul is in order.

There's no hair hotline for all your summer freakouts—but for every strand, type, and texture, there is an Allure editor who's tested tons of products (in millions of combinations) to fix any problem. Here, our roundup of tried-and-true hot-weather hair regimens.

When heat and humidity strike, the last thing you want to do is spend an eternity styling your hair, only for it to end in the F word: frizz. But that doesn't mean you need to settle for a ho-hum hair day. These ten hairstyles are quick, simple, and not the least bit boring.

She's chosen designer gowns that you can rent from the new Beyoncé Boutique.

Long, layered, medium or wavy – we're sharing our favorite hairstyles of 2013 with a new 'do each day. Stuck in a hair rut? Check back daily for snappy new looks that are sure to give your locks some beauty inspiration.

Big event? Focus on the outfit, because we've got your hair all figured out, whether you've got two minutes to do it or 20.

When morning talk shows and local newspapers dole out their seasonal swimsuit shopping advice, I'm usually pretty disappointed by the lack of body types represented. What about the women who don't resemble fruit? (Or aren't boy-shaped—the third "one of these things is not like the other" category I've never quite understood. Couldn't they say "banana?" Or is that somehow more offensive than "apple" and "pear" shapes?)

Ready to refresh your hair and makeup for spring? Well, look no further for your latest batch of inspiration. These ladies are bringing the beauty brilliance with megawatt lipstick shades, sleek haircuts, and must-try hair colors. Get ready to play copycat.

Step into spring with style in June Ambrose's new shoe line for HSN.

Revamp your corporate look with graphic prints and bold color.

If you have only five makeup tools in your kit, make sure these are them. They do much more than just look cute on your vanity!