Most American women want to see size zero models banned from the runway
New research says women would prefer to see fuller figure models walk the runway.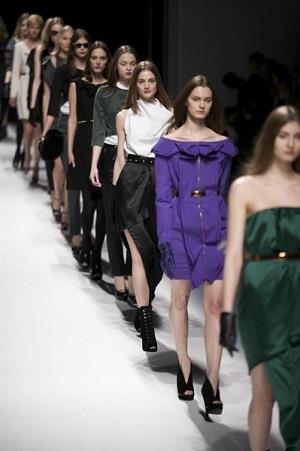 As New York Fashion Week continues, American women are sharing their opinions on the models that are walking during Fashion Week.

According to new research from money saving site CouponCodes4u.com, who polled 1,947 American women to discover their thoughts on healthy body image and whether or not the fashion industry has more to do in order to showcase healthier women, the majority of American women want to see a ban on size zero models that are used during the shows (64 percent agreed that those models should not be used). In addition, 16 percent of women would prefer not only a lack of size zero models, but more fuller figured models featured in the shows. 

Of the women who wanted to see size zero models banned, 62 percent said it was because they thought these women were bad role models for other young women, while 55 percent said size zero models gave women a false impression of what is acceptable and normal weight-wise. In addition, 31 percent said size zero models looked 'dangerously unhealthy' and so it was unsafe for the models themselves to be used.

More from Simply Chic: Israel bans underweight models

"As it is NY Fashion Week, we were interested to see whether or not American women felt that the fashion industry had followed through with its promise to include more healthy women on the runway. Unfortunately, the majority of women polled felt that not enough healthier women were used and that these models were not only a negative influence on their own self esteem, but on younger women," said Mark Pearson, Chairman of CouponCodes4u.com, in a press release. 

More from Living: What does your lingerie say about you?

"While it is up to the fashion industry to use healthier women on the runway and in the magazines, what is the most important thing is to keep in mind what is healthy and right for you. Trying to reach an unattainable weight goal is not only damaging to your health but to your self esteem."
Tell us: Do you agree that size zero models should be banned from the runway?

Bing: Skinny models controversy


Photo: Will Robb/Getty Images
More from Simply Chic:

January Jones on her hair: "It's falling out in clumps"
Would you ever get your pinky toe removed?
The hottest manicure styles of 2013
beauty tips and style advice
It's not always about the ladies of style. Check out these fashion icons.

Do you hear that? It's the sound of hundreds of cover bands beginning to tune their guitars and trying to remember the lyrics to "Shout." Ladies and gentlemen (but mostly ladies), it's nearly wedding season.

So, it hasn't snowed in nearly a week—does that mean it's summer yet? Well, almost. But alas, just because you're confident setting aside your trusty Sorel boots unfortunately doesn't mean you get to hop right into an itsy-bitsy-teenie-weenie yellow polka dot bikini just yet. Unless, of course, you're headed somewhere tropical in the next few weeks (lucky you!) and really do need to stock up on sexy swimsuits right now.

Getting away from it all for a bit? Your vacation wardrobe should be just like your plans: laid-back but totally fabulous. Take a cue from these celebrities, whose low-effort, high-style outfit ideas are officially on our must-copy list.

These fun and flattering vintage-style suits blend the best of the old with the best of the new.

Although it's not officially spring yet—the best time to start shopping for warm-weather clothes is now, while stores still have a good selection. Waiting until it's actually balmy enough to go bare-legged and short-sleeved leaves far too many factors to chance: what if your size sells out? Or the wrong color is left? And let's not forget about gross makeup stains from 10 other people trying it on!

From patriotic bikinis to retro two pieces, these celebs' stylish swimsuits will have you counting down to beach season! Check out your favorite stars rocking the hottest swim trends!

Sunglasses: it may seem counterintuitive to invest in a wintertime accessory traditionally viewed as a sunny, warm-weather item. But spring is on the way and we're also currently being exposed to crazy amounts of UV rays—and then, of course, there's the reflective snow situation.

As we herald a new season, the itch arrives to update one's wardrobe, and nothing cleanses a closet like a spanking-new bag, slick new pumps, or sparkling new jewels. Here, see our picks for the best investments to make this spring.

Some people look younger than they are, some look older. Even those with easy access to BOTOX and personal trainers. Can you guess the age of these celebrities?

Did anyone else hear wedding bells on the Oscars red carpet last night?

Then after the show, er, Oscars, it's the after party. Then after the party, it's the... Best Dressed List, of course. Nikki already picked her tops for the Academy Awards red carpet (did you vote yet?), so now it's time to see what the stars wore to the post-celebrations.