Most American women want to see size zero models banned from the runway
New research says women would prefer to see fuller figure models walk the runway.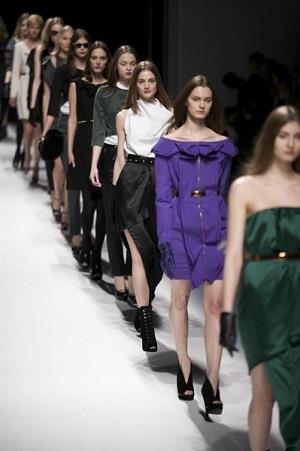 As New York Fashion Week continues, American women are sharing their opinions on the models that are walking during Fashion Week.

According to new research from money saving site CouponCodes4u.com, who polled 1,947 American women to discover their thoughts on healthy body image and whether or not the fashion industry has more to do in order to showcase healthier women, the majority of American women want to see a ban on size zero models that are used during the shows (64 percent agreed that those models should not be used). In addition, 16 percent of women would prefer not only a lack of size zero models, but more fuller figured models featured in the shows. 

Of the women who wanted to see size zero models banned, 62 percent said it was because they thought these women were bad role models for other young women, while 55 percent said size zero models gave women a false impression of what is acceptable and normal weight-wise. In addition, 31 percent said size zero models looked 'dangerously unhealthy' and so it was unsafe for the models themselves to be used.

More from Simply Chic: Israel bans underweight models

"As it is NY Fashion Week, we were interested to see whether or not American women felt that the fashion industry had followed through with its promise to include more healthy women on the runway. Unfortunately, the majority of women polled felt that not enough healthier women were used and that these models were not only a negative influence on their own self esteem, but on younger women," said Mark Pearson, Chairman of CouponCodes4u.com, in a press release. 

More from Living: What does your lingerie say about you?

"While it is up to the fashion industry to use healthier women on the runway and in the magazines, what is the most important thing is to keep in mind what is healthy and right for you. Trying to reach an unattainable weight goal is not only damaging to your health but to your self esteem."
Tell us: Do you agree that size zero models should be banned from the runway?

Bing: Skinny models controversy


Photo: Will Robb/Getty Images
More from Simply Chic:

January Jones on her hair: "It's falling out in clumps"
Would you ever get your pinky toe removed?
The hottest manicure styles of 2013
beauty tips and style advice
It's looking to be a winter wonderland out there today and that means extreme sweater weather.

Check out these mind-blowing runway photos.

Click to see 10 must-have hair tools to streamline your beauty routine.

See 9 of the prettiest holiday hair accessories for the holidays.

Here's how to choose the neckline style that looks best on you.

Sure, a little black dress or le smoking is always on par for the party scene, but who says holiday dressing has to be so cut and dry? We have 15 ideas for switching it up this season—getting festive just got a whole lot more fun.

Super-fast (and easy) hair, makeup, and nail ideas that'll make you party-ready in minutes. Sorry, no more last-minute bailing because you're running late.

From straight and sleek to intricate braids and sky high topknots, some celebs just know how to do party hair

From a structured blazer to that awe-inducing statement clutch, Rachel Zoe shares her picks for December dressing with InStyle.com exclusively.

Simple style tricks to help your hair look better in an instant.

7 hairstyles to try this holiday season.

You know that classic nightmare where you walk into school or work completely naked? That's how I feel when I'm having a bad hair day. Like I don't want anyone to look at me and it takes everything I have not to immediately turn around and run back home.