Most American women want to see size zero models banned from the runway
New research says women would prefer to see fuller figure models walk the runway.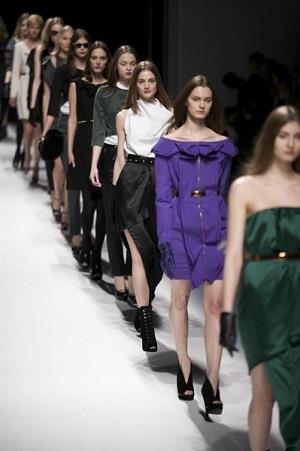 As New York Fashion Week continues, American women are sharing their opinions on the models that are walking during Fashion Week.

According to new research from money saving site CouponCodes4u.com, who polled 1,947 American women to discover their thoughts on healthy body image and whether or not the fashion industry has more to do in order to showcase healthier women, the majority of American women want to see a ban on size zero models that are used during the shows (64 percent agreed that those models should not be used). In addition, 16 percent of women would prefer not only a lack of size zero models, but more fuller figured models featured in the shows. 

Of the women who wanted to see size zero models banned, 62 percent said it was because they thought these women were bad role models for other young women, while 55 percent said size zero models gave women a false impression of what is acceptable and normal weight-wise. In addition, 31 percent said size zero models looked 'dangerously unhealthy' and so it was unsafe for the models themselves to be used.

More from Simply Chic: Israel bans underweight models

"As it is NY Fashion Week, we were interested to see whether or not American women felt that the fashion industry had followed through with its promise to include more healthy women on the runway. Unfortunately, the majority of women polled felt that not enough healthier women were used and that these models were not only a negative influence on their own self esteem, but on younger women," said Mark Pearson, Chairman of CouponCodes4u.com, in a press release. 

More from Living: What does your lingerie say about you?

"While it is up to the fashion industry to use healthier women on the runway and in the magazines, what is the most important thing is to keep in mind what is healthy and right for you. Trying to reach an unattainable weight goal is not only damaging to your health but to your self esteem."
Tell us: Do you agree that size zero models should be banned from the runway?

Bing: Skinny models controversy


Photo: Will Robb/Getty Images
More from Simply Chic:

January Jones on her hair: "It's falling out in clumps"
Would you ever get your pinky toe removed?
The hottest manicure styles of 2013
beauty tips and style advice
In feel-good fashion news of the day: Victoria Beckham will design a set of mommy-daughter dresses to benefit Born Free Africa, a non-profit with the mission to end mother-to-child HIV transmission by 2015.

See Duchess Catherin's perfect beach look.

These travel-sized beauty products will do double-duty while you're on the road.

And before you ask, sorry, the $325 dress is SOLD OUT on Matches.com and DVF.com—you snooze, you loose.

Click through the slideshow to shop some of our spring favorites.

French braid? Been there. Fishtail? Done that. The newest styles are all about unexpected texture, major volume, and one man's wild imagination.

Long hair, don't care? Think again…

She dishes on the routine that keeps her looking polished, even when she's pulling up to the <i>Mad Men</i> set at 5 a.m. Plus, the fragrance that helps Christina get her Joan on.

For inspiration, we've rounded up gorgeous (and easy to replicate) wedding makeup looks from the red carpet.

With a few insider tricks, you can enjoy short hair 365 days of the year and have a gorgeous style on your wedding day. Wedding hairstyles for short hair do exist.

I'm beyond excited to finally ditch my winter coat and heavy layers, but I'm not so eager to ditch my tights. Let's just say my legs are not as smooth and bronzed as they were the last time I showed them off many, many months ago.

After a jam-packed week in New Zealand, Kate Middleton and Prince William finally enjoyed a day off, but as of last night (or this morning..? Ah, time change!) they're back on the road again.