Most American women want to see size zero models banned from the runway
New research says women would prefer to see fuller figure models walk the runway.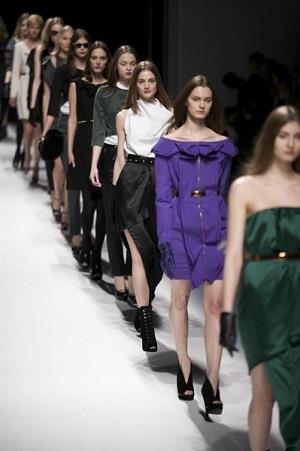 As New York Fashion Week continues, American women are sharing their opinions on the models that are walking during Fashion Week.

According to new research from money saving site CouponCodes4u.com, who polled 1,947 American women to discover their thoughts on healthy body image and whether or not the fashion industry has more to do in order to showcase healthier women, the majority of American women want to see a ban on size zero models that are used during the shows (64 percent agreed that those models should not be used). In addition, 16 percent of women would prefer not only a lack of size zero models, but more fuller figured models featured in the shows. 

Of the women who wanted to see size zero models banned, 62 percent said it was because they thought these women were bad role models for other young women, while 55 percent said size zero models gave women a false impression of what is acceptable and normal weight-wise. In addition, 31 percent said size zero models looked 'dangerously unhealthy' and so it was unsafe for the models themselves to be used.

More from Simply Chic: Israel bans underweight models

"As it is NY Fashion Week, we were interested to see whether or not American women felt that the fashion industry had followed through with its promise to include more healthy women on the runway. Unfortunately, the majority of women polled felt that not enough healthier women were used and that these models were not only a negative influence on their own self esteem, but on younger women," said Mark Pearson, Chairman of CouponCodes4u.com, in a press release. 

More from Living: What does your lingerie say about you?

"While it is up to the fashion industry to use healthier women on the runway and in the magazines, what is the most important thing is to keep in mind what is healthy and right for you. Trying to reach an unattainable weight goal is not only damaging to your health but to your self esteem."
Tell us: Do you agree that size zero models should be banned from the runway?

Bing: Skinny models controversy


Photo: Will Robb/Getty Images
More from Simply Chic:

January Jones on her hair: "It's falling out in clumps"
Would you ever get your pinky toe removed?
The hottest manicure styles of 2013
beauty tips and style advice
Sorry, Kate Upton. You may be having a moment now, but the lovely supermodels of the '90s (and '80s) have been going strong for decades, and their careers and stunning looks are showing no signs of slowing down. In fact, we think they've only gotten sexier throughout the years.

Look stylish, even when you have absolutely no idea what to wear, with these totally amazing style hacks.

Your strands are saying more than you think. Not only can your facial features tell you a thing or two about yourself, "your hairstyle can also reveal things about you," Jean Haner, an expert in face reading and author of The Wisdom of Your Face, says. Here, Haner tells what your strands most likely are saying about you, based on her studies in 3,000-year-old face reading derived from Chinese medicine.

Realized that pixie or bob haircut isn't for you? Luckily, it is possible to make a graceful transition back to long.

Not everyone was pleased with free copy of 'GQ" featuring Emily Ratajkowski.

Not everyone was pleased with free copy of 'GQ" featuring Emily Ratajkowski.

Could you go that long without using cosmetics?

Controversial.... Or empowering?

From a young age, little girls learn the word "pretty," but in the last few years, everything has been changing — for the better.

If you want to look picture-perfect in your beautiful wedding dress, you have to invest in the proper undergarments. From comfy shapewear to no-slip strapless bras, we've got answers to every burning question you have about what you need to wear beneath that gown. Your next dress fitting just got way easier. Q: I'm plus-size. [...]

You've seen many a star hit the red carpet in glamorous curls. But, most of the time, these coiled updos come courtesy of a curling iron, which leaves us craving some all-natural inspiration.

Telling a brand their model looks like she needs a sandwich is cruel and helps no one.