Women Love Bad Boys? Not During a Recession
Sometimes it pays to wear your heart on your sleeve.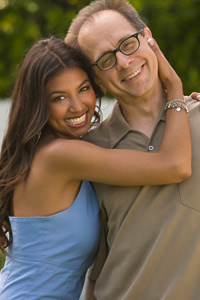 If you're a sensitive guy who feels ignored by women because they're constantly chasing after the stereotypical bad boy, I have good news.
Researchers at Southampton Solent University have discovered that during tough economic times, women are more attracted to men who are gentler and less dominant. Or, as the Daily Mail has dubbed them: wimps.
More than 150 women took part in the study, which involved rating the online profiles of various men. The profiles, all of which were fictitious, revealed how much money the men were capable of making and also how dominant they were. Some profiles described the man as a leader, others as a follower. Before they reviewed the profiles, the women took a language test, which included words like "bankruptcy," to put thoughts of the recession into their minds. The study found that the women opted for both men with money and more sensitive men. According to the Daily Mail, researchers concluded that the women believed sensitive men were less likely to cheat, making them "a better bet to ride out the economic storm."
But aren't nice, caring men just better mates, in general? As relationship site YourTango asks:
"Can we start calling quality men something other than wimpy? It seems unfair to demote these marriage-material guys with a word that's defined as 'weak and ineffectual.'"
And often, a bad boy—or alpha male—can turn into the sensitive type. One reader commented:
"I know of Macho types that are that way on the outside, but very sensitive and caring at home."
On the guy's side, their tastes also change during an economic downturn. Another study revealed that men prefer "curvier" women during tough financial times. When the economy is prosperous, they go for younger women with big eyes and softer features.
Photo: Hill Street Studios/Getty Images
beauty tips and style advice
Once the summer heat kicks in, it's all we can do not to slip into the breeziest beach dresses and flip-flops for the morning commute. So trust us when we say we understand that the humidity can have a powerful effect on your wardrobe — still, there are some things you just can't wear to your place of employment, no matter how hot it gets.

Wrinkle no blouse, tangle no jewelry, leave no beauty product behind, and still have room to spare.

Hue-changing dos we absolutely love.

Why your jean size varies from store to store.

Wait a month between waxing visits? Check. Pop a preappointment Advil? Duh. We all know the basics, but here are the tricks you don't know.

What to always—and never, ever—do to keep hair in top shape.

Get inspired to try these sweet and summery looks.

Stunning wedding styles that create a statement.

I attended the Abercrombie and Fitch holiday-season press preview yesterday, and in between checking out the cute gear that will hit stores this November, I picked up a little nugget of information I just have to share.

How to wear this cool-weather staple in the summer.

See how Miranda Kerr made a pair of Birkenstocks chic.

We love how a new nail polish has the ability to instantly change your look and your mood with a simple swipe. While happy lime greens and aquas are ruling the five million #nailpolish Instagrams this summer, there are a variety of great colors to choose from—whether you want an office-appropriate neutral or a fun going-out shade that'll give your LBD a punch of color.