Women Love Bad Boys? Not During a Recession
Sometimes it pays to wear your heart on your sleeve.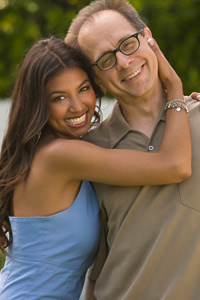 If you're a sensitive guy who feels ignored by women because they're constantly chasing after the stereotypical bad boy, I have good news.
Researchers at Southampton Solent University have discovered that during tough economic times, women are more attracted to men who are gentler and less dominant. Or, as the Daily Mail has dubbed them: wimps.
More than 150 women took part in the study, which involved rating the online profiles of various men. The profiles, all of which were fictitious, revealed how much money the men were capable of making and also how dominant they were. Some profiles described the man as a leader, others as a follower. Before they reviewed the profiles, the women took a language test, which included words like "bankruptcy," to put thoughts of the recession into their minds. The study found that the women opted for both men with money and more sensitive men. According to the Daily Mail, researchers concluded that the women believed sensitive men were less likely to cheat, making them "a better bet to ride out the economic storm."
But aren't nice, caring men just better mates, in general? As relationship site YourTango asks:
"Can we start calling quality men something other than wimpy? It seems unfair to demote these marriage-material guys with a word that's defined as 'weak and ineffectual.'"
And often, a bad boy—or alpha male—can turn into the sensitive type. One reader commented:
"I know of Macho types that are that way on the outside, but very sensitive and caring at home."
On the guy's side, their tastes also change during an economic downturn. Another study revealed that men prefer "curvier" women during tough financial times. When the economy is prosperous, they go for younger women with big eyes and softer features.
Photo: Hill Street Studios/Getty Images
beauty tips and style advice
Famous brides may have access to elite designers that most of us can only dream of, but we can all delight in the statements they make on their big days. In honor of the pending nuptials of Kim Kardashian and Kanye West, let's take a look at some recent and past famous gorgeous gowns.

From pretty pastels to bold brights and cool textures, up your #ManicureMonday game with spring's top nail polish trends!

Even if everyone at school will be rocking their most festive shades of emerald on March 17, you don't want to end up looking like a Leprechaun in head-to-toe green.

Neutral tones and beautiful metallics were a huge trend on the Oscars red carpet. And we saw so many dresses that would be exceptionally beautiful walking down the aisle. Here are our favorites!

Sorry, winter, we're way over you. It's time to refresh your look for spring with bold lippies, fun nail art and major brows—here's how to rock the hottest new trends, just like these stylish celebs!

Time to say buh-bye to the same old, played-out 'dos. Celebrity stylist Jen Atkin tells you how to update these 7 classic hairstyles for spring.

How to dress your baby bump.

Things we learned backstage at the fall 2014 runway shows: Bold brows aren't going anywhere, bright green can actually look subtle, and glitter is amazing almost anywhere (within reason). Here, our favorite makeup looks of the season so far.

The fall runways showcased a broad range of hairstyles—braids, buns, ponytails, and even wigs. But there were unifying themes, too: A pervasive sense of ease; experimentation with texture; and an apparent belief that anything goes.

It's not always about the ladies of style. Check out these fashion icons.

Do you hear that? It's the sound of hundreds of cover bands beginning to tune their guitars and trying to remember the lyrics to "Shout." Ladies and gentlemen (but mostly ladies), it's nearly wedding season.

So, it hasn't snowed in nearly a week—does that mean it's summer yet? Well, almost. But alas, just because you're confident setting aside your trusty Sorel boots unfortunately doesn't mean you get to hop right into an itsy-bitsy-teenie-weenie yellow polka dot bikini just yet. Unless, of course, you're headed somewhere tropical in the next few weeks (lucky you!) and really do need to stock up on sexy swimsuits right now.