Women Love Bad Boys? Not During a Recession
Sometimes it pays to wear your heart on your sleeve.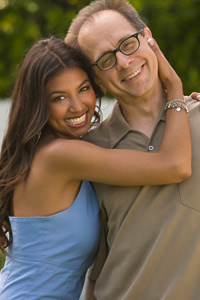 If you're a sensitive guy who feels ignored by women because they're constantly chasing after the stereotypical bad boy, I have good news.
Researchers at Southampton Solent University have discovered that during tough economic times, women are more attracted to men who are gentler and less dominant. Or, as the Daily Mail has dubbed them: wimps.
More than 150 women took part in the study, which involved rating the online profiles of various men. The profiles, all of which were fictitious, revealed how much money the men were capable of making and also how dominant they were. Some profiles described the man as a leader, others as a follower. Before they reviewed the profiles, the women took a language test, which included words like "bankruptcy," to put thoughts of the recession into their minds. The study found that the women opted for both men with money and more sensitive men. According to the Daily Mail, researchers concluded that the women believed sensitive men were less likely to cheat, making them "a better bet to ride out the economic storm."
But aren't nice, caring men just better mates, in general? As relationship site YourTango asks:
"Can we start calling quality men something other than wimpy? It seems unfair to demote these marriage-material guys with a word that's defined as 'weak and ineffectual.'"
And often, a bad boy—or alpha male—can turn into the sensitive type. One reader commented:
"I know of Macho types that are that way on the outside, but very sensitive and caring at home."
On the guy's side, their tastes also change during an economic downturn. Another study revealed that men prefer "curvier" women during tough financial times. When the economy is prosperous, they go for younger women with big eyes and softer features.
Photo: Hill Street Studios/Getty Images
beauty tips and style advice
Here's something to brighten up your Tuesday afternoon: The brilliant minds at Moschino have always been masters at combining fashion and whimsical, quirky humor—and this season, they've gone and outdone themselves.

It's looking to be a winter wonderland out there today and that means extreme sweater weather.

Check out these mind-blowing runway photos.

Click to see 10 must-have hair tools to streamline your beauty routine.

See 9 of the prettiest holiday hair accessories for the holidays.

Here's how to choose the neckline style that looks best on you.

This season, let your nails be as merry—and bright—as your mood.

Sure, a little black dress or le smoking is always on par for the party scene, but who says holiday dressing has to be so cut and dry? We have 15 ideas for switching it up this season—getting festive just got a whole lot more fun.

Super-fast (and easy) hair, makeup, and nail ideas that'll make you party-ready in minutes. Sorry, no more last-minute bailing because you're running late.

From straight and sleek to intricate braids and sky high topknots, some celebs just know how to do party hair

From a structured blazer to that awe-inducing statement clutch, Rachel Zoe shares her picks for December dressing with InStyle.com exclusively.

Simple style tricks to help your hair look better in an instant.