Geek Girls Demand — and Receive — Recognition in Fashion World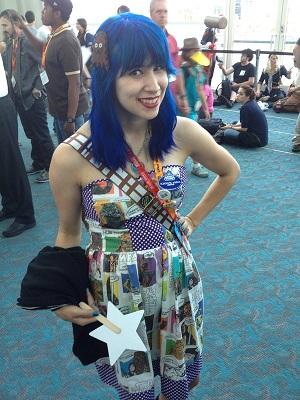 By Lisa Granshaw,
The Look on TODAY Style
A not so long time ago in a store near you, a girl would have to settle for a boxy, ill-fitting T-shirt made for boys if she wanted to wear something that represented her favorite band, movie or other pop culture obsession. For those unwilling to make do with those unflattering cuts and sizes, the interesting, quirky world of DIY shirts, dresses — and even bras — made by
women
in the same situation was the only alternative.
Luckily, times are changing. Women with adventurous taste have more fitting clothing options than ever before. Actress Ashley Eckstein has seen and welcomed this change first
hand
. The enterprising 30-year-old is the founder of
Her Universe
, the first merchandise line designed exclusively for female science-fiction fans.
"As short as four years ago, companies looked at female fans as an afterthought," Eckstein, who voices a character on the animated TV series "Star Wars: The Clone Wars," told TODAY.com. "Companies designed 20 shirts for men and would say maybe we need a shirt for girls and throw a pink shirt in and call it a day."
It was a problem Eckstein was quite familiar with. She'd been a devout "Star Wars"
fan
since she was a child, but only had one T-shirt design option open to her, while her equally obsessed husband had no fewer than 10 different varieties to choose from. After researching the issue, Eckstein discovered that almost half of all sci-fi fans were women and about 80 percent of consumer purchases were made by women, yet there was a huge lack of any genre-specific merchandise specifically tailored to female fans.
"I scoured the Internet thinking, more [T-shirts] existed, but I didn't find anything and I knew I was not alone [in my search] because of at Comic-Con and 'Star Wars' events women were everywhere."
In an effort to fill the gap, Eckstein partnered with The Araca Group and started her own clothing company in 2009. At first featuring only "Star Wars"-themed merchandise, Her Universe has since expanded to include collections based off of Syfy network shows like "Battlestar Galactica" and just this year signed deals with CBS Consumer Products to sell "Star Trek" merchandise and BBC America to sell products inspired by the British television show "Doctor Who".
Female fans finally get noticed


Eckstein's company isn't the only one moving in to cater to the ladies. Over the last few years, a number of stores have expanded their pop culture collections for women, including Hot Topic.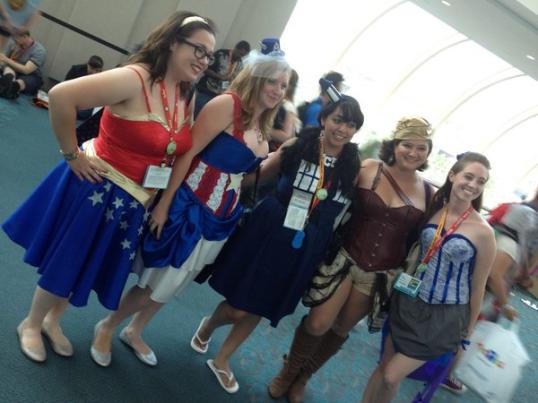 Denise Vasquez -- Move over, boys! More women are starting to attend events like San Diego Comic-Con and are trying to show off their geeky passions through fashion.
A store well known for its affinity for pop culture,
Hot Topic
tries to listen to what the growing community of fans wants by attending conventions and events across the country. In particular, they've seen a growing number of women at San Diego Comic-Con, which is a big change from the early days, according to Cindy Levitt, vice president general merchandise manager for Hot Topic.
"We've always had female interest, but the direction has changed in the last couple of years," Levitt told TODAY.com. "We used to girl things up, but they don't want Catwoman on a shirt. They want Batman. Girls may want it on a cute dolman sleeve T-shirt, but they want the images to be kind of what the guys have been wearing."
According to Levitt, women seem to be more interested in sci-fi and comic books than ever before, leading Hot Topic to partner with companies like Her Universe to fill the blossoming demand for related products.

ThinkGeek, a website with products for "technophiles and geeks," has also partnered with Her Universe to try to placate the increasing need.

"True [female] fans have always been there, and with a resurgence of geek finding its way to the mainstream, more fans -- both men and women — are being introduced to those things," Steve Zimmermann, press manager for ThinkGeek told TODAY.com.

So why are female fans suddenly more open about what they want?

"I think we are now starting to wake up and say 'no, we don't want to deal with this anymore' and if we do speak up, people will listen and it's becoming more accepted to like sci-fi from a social standpoint," said Eckstein. "We finally opened our mouths."

Proving skeptics wrong

It also helps that companies like Her Universe are proving the stereotypes wrong. According to Eckstein, a number of companies told her that female fans just aren't interested in and don't buy science fiction and similarly themed merchandise. It is the primary claim she's striving to debunk. "We said we'll prove you wrong," asserted the actress, "and we did."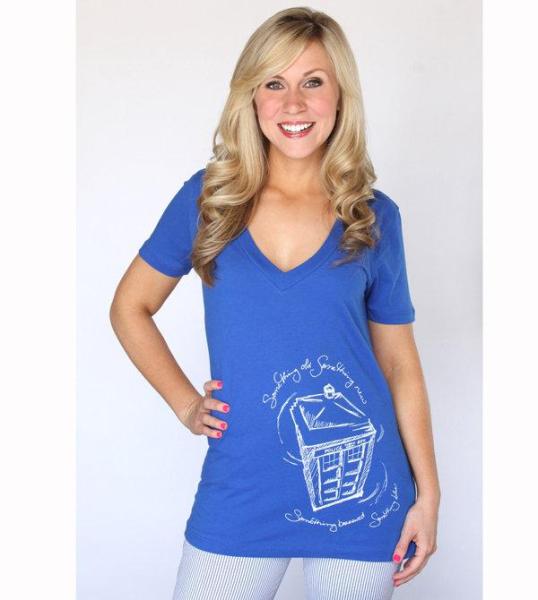 Her Universe -- Eckstein, seen here in one of her new "Doctor Who" T-shirts ($28 at Her Universe), believes a love of sci-fi and anything else geeky should be celebrated rather than ignored.

Growth of geeky DIY
The idea of 'do it yourself' fashion is nothing new, but it's been growing in pop culture-related fashion as women try to fill the void that companies are finally noticing. You can find a lot of pop culture-themed DIY items on Etsy, from underwear to jewelry.

Ashley Mertz started making her own 'Geek Chic Fashion' items and selling them on Etsy via her store Go Chase Rabbits because she felt there was a lack of options for women.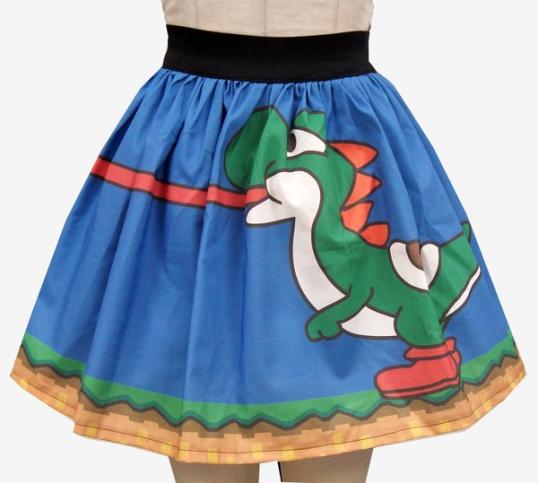 Ashley Mertz -- Level-up with this Mario Brothers-themed Yoshi skirt made by Ashley Mertz.

"I wanted to create everyday options for girls to wear," Mertz told TODAY.com. "I honestly didn't know how much it was going to take off once I started and have had so many requests it's hard to keep up sometimes."

While her initial aim was to craft everyday clothes that showed off a love for certain elements of pop culture, Mertz has been fielding requests from customers looking for clothes to wear to events.

"Many customers request skirts for the conventions, which have become so widespread and 'cool,' which is what's great about how things are changing so that geek is the new chic."

If you're looking for something a bit more personal, the Etsy store SceeneShoes sells hand-painted shoes, as well as the ultimate girl item: bras. Design-themes range from Super Mario Brothers to Hello Kitty.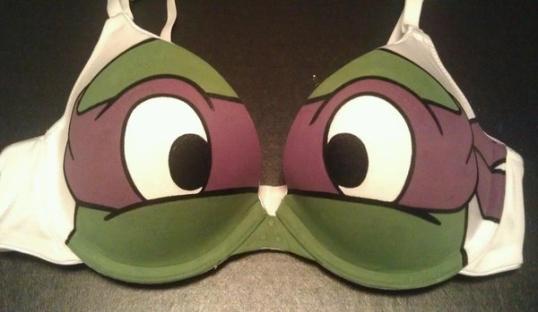 Bree -- Get personal with the Teenage Mutant Ninja Turtles by wearing this hand painted bra.

Eckstein encourages DIY, having felt that desire to create something that she felt was missing in the market. She believes mixing homemade designs with store-bought items completes an outfit. It's part of the reason she hosted a panel called "Are You a Geek Girl Trendsetter?" at San Diego Comic-Con on July 14.

"I also wanted [Her Universe] to be a community for female fans, a safe place for female fans to come out of hiding," said the entrepreneur.

When asked if she will ever expand to making clothes for men, Eckstein simply replies by saying the rest of the world is "his" universe.

TODAY.com writer Lisa Granshaw is happy to have been able to gradually shove all the boxy guy T-shirts to the back of her drawers, replacing them with "Star Wars," "Doctor Who" and other geek-wear made just for women  
beauty tips and style advice
Sunglasses: it may seem counterintuitive to invest in a wintertime accessory traditionally viewed as a sunny, warm-weather item. But spring is on the way and we're also currently being exposed to crazy amounts of UV rays—and then, of course, there's the reflective snow situation.

Some people look younger than they are, some look older. Even those with easy access to BOTOX and personal trainers. Can you guess the age of these celebrities?

Did anyone else hear wedding bells on the Oscars red carpet last night?

Then after the show, er, Oscars, it's the after party. Then after the party, it's the... Best Dressed List, of course. Nikki already picked her tops for the Academy Awards red carpet (did you vote yet?), so now it's time to see what the stars wore to the post-celebrations.

As I continue my personal campaign to swap out E!'s mani cam with a back-of-updo cam (and as a service to all the hardworking hairstylists who spent so much time creating beautiful hair looks for the 2014 Oscars), I'd like to point out that we miss a lot of gorgeous detail when we don't get the back view of a star's hair.

The bold new trend on the Oscars red carpet.

Trying new hairstyles is fun (have you picked up Allure Hair: The Ultimate How-To Hair Guide yet?).

When someone says "Julia Roberts," you think teeth. You think hair. But while you may not immediately think fashion, she has had a pretty consistent—and consistently pretty—style since her Mystic Pizza days: clean, classic, menswear-inspired looks that let her natural beauty—and rightly famous smile—take center stage. Here's how she has elevated that look over the years.

Lupita Nyong'o shows off the power of the pixie on the Oscars red carpet.

Walk a mile in a pair of SJP's stilettos? Well yes, we'd love to; thank you for asking.

Anti-aging doesn't have to take over your life. Here, expert tweaks to slow the clock.

We're at the tail end of a jam-packed awards season, with the grand finale—the Oscars, duh—just a few days away. We can't wait to see what our favorite nominees wear—we already know Jennifer Lawrence will step out in a breathtaking Dior, while we hope to see Lupita Nyong'o pick another brilliantly bold monochromatic gown. As for which designer she'll select—Gucci? Ralph Lauren?—that's anyone's guess.