Study: Men's Porn Habits Hurt Women's Self-Esteem
When does a harmless habit become hurtful?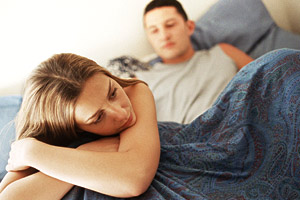 As a generation of men are growing up with virtual sex lives, their real-life partners are becoming increasingly unhappy, a new study finds. Specifically, young women with porn-loving partners feel they just can't measure up to Jenna Jameson—or whoever happens to tickle their man's fancy.
Destin Stewart is a clinical psychology intern at the University of Florida. After her clients began complaining about pornography use in their relationships, Stewart decided to study exactly how porn use is affecting those relationships.
She surveyed 308 college women (ages 18 to 29) and asked them about their current partner's pornography habits. She also wanted the women's perspectives on their relationship quality, sexual satisfaction and self-esteem. Stewart found that the ladies who reported their partners looked at porn more frequently were not only less happy with their relationships, they also had less self-esteem and were less satisfied with their sex lives.
Stewart told LiveScience that when some women discovered pornographic material on their partner's computer, it made them "feel like they were not good enough, like they could not measure up."
While one might argue that the men weren't there to confirm their habits in the study, it's apparent that pornography is negatively affecting an increasing number of relationships. Psychiatrist Norman Doidge studied the effects of porn use in his patients and then reported the findings in his book, The Brain Changes Itself:
"They reported increasing difficulty in being turned on by their actual sexual partners, spouses or girlfriends, though they still considered them objectively attractive." Doidge wrote about his patients. "When I asked if this phenomenon had any relationship to viewing pornography, they answered that it initially helped them get more excited during sex, but over time had the opposite effect."
Stewart says that when porn becomes a problem in relationships, she advises women not to compare themselves to porn stars. She also urges couples to communicate and compromise.
"It's just about trying to do some education about what is realistic and unrealistic and trying to get couples to be honest about what their wants and needs and desires are," Stewart said.
As much as we women would love our men to only have eyes for us, let's face it. As long as there are women willing to do anything, everything and put it out there for the world to see, men are going to look. But Aristotle said to seek moderation in all things, and while I don't think he was referring to watching online porn, it's not bad advice.
Tell us on Facebook: Do you think porn is hurtful or harmless?

Photo: Patrick Sheandell O'Carroll/Getty Images
More on love & sex from MSN Living:
10 Ways to Improve Your Love Life (Right Now!)
The Secrets to Great Sex (in 50 Words or Less)
5 Sexy Steps to Get Out of Your Date Rut
beauty tips and style advice
When Madonna posted an image of herself wearing a full on Game of Thrones Khaleesi costume on Instagram last week we weren't exactly surprised—this is the woman who rolled into the Grammy Awards wearing a tuxedo and a grill earlier this winter, so why not celebrate the Jewish holiday of Purim with a leather corset and a pair of tiny dragons? Still, we were hypnotized by her white-blonde, braided Daenerys Targaryen hair. Functioning as a bleached out cultural weather vane of sorts, it tapped into multiple obsessions at once—the return of "Game of Thrones" to HBO, spring's new extreme hair lengths and, most notably, fashion's current platinum mania. Our own love of ice-blonde hair—which transforms any look from everyday to extraordinary—has been well documented of late, but last night's Game of Thrones premiere sent our platinum fever into overdrive. In celebration of fashion's favorite hair color, a look at the best platinum moments in history.

While you were sleeping, fast retail chain H&M H&M announced that its next designer collaboration is with Alexander Wang.

Formal, beachy, country club-chic or gorgeously rustic whatever the setting calls for, we've found a bevy of beautiful dresses to wear to a wedding this season.

Puffy, tired, weary no more. These tips take years off and create that "I slept great, thanks!" effect.

Top dermatologists, cosmetic chemists, makeup artists, and hairstylists reveal quick tips and tricks that can peel back years in a matter of seconds

We're all for sartorial freedom, but there are certain once-on-trend items that, when worn today, appear anything but current. Consider this your official out list.

If you're a practitioner of reselling your clothes—a good way to clear out some space in your wardrobe and make a few extra bucks—you might already be familiar with San Francisco-based thredUP.

A picture may be worth a thousand words, but emoji must be worth at least a million. Here we show you how to channel your favorites: Go ahead, express yourself!

11 earth-friendly beauty products we love.

The secret to effortlessly beautiful hair? Embracing what you're born with! Twenty celebs show you how to do it.

Last year's beauty buzz may have been all about J. Law's cropped cut, M'Obama's bangs and Miley Cyrus' pixie, but we're not even halfway through 2014 and we're pretty sure we've already topped 2013. From Margot Robbie's glossy brunette dye-job to Katie Holmes' irresistible set of bangs, we're obsessed with all these recent celebrity transformations—all of which are perfect inspiration for a new spring hairstyle. Click through above to see a round-up of our favorites!

The green coat is pretty much as Middleton as it gets.