Study: Men's Porn Habits Hurt Women's Self-Esteem
When does a harmless habit become hurtful?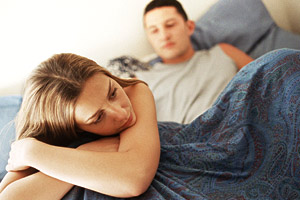 As a generation of men are growing up with virtual sex lives, their real-life partners are becoming increasingly unhappy, a new study finds. Specifically, young women with porn-loving partners feel they just can't measure up to Jenna Jameson—or whoever happens to tickle their man's fancy.
Destin Stewart is a clinical psychology intern at the University of Florida. After her clients began complaining about pornography use in their relationships, Stewart decided to study exactly how porn use is affecting those relationships.
She surveyed 308 college women (ages 18 to 29) and asked them about their current partner's pornography habits. She also wanted the women's perspectives on their relationship quality, sexual satisfaction and self-esteem. Stewart found that the ladies who reported their partners looked at porn more frequently were not only less happy with their relationships, they also had less self-esteem and were less satisfied with their sex lives.
Stewart told LiveScience that when some women discovered pornographic material on their partner's computer, it made them "feel like they were not good enough, like they could not measure up."
While one might argue that the men weren't there to confirm their habits in the study, it's apparent that pornography is negatively affecting an increasing number of relationships. Psychiatrist Norman Doidge studied the effects of porn use in his patients and then reported the findings in his book, The Brain Changes Itself:
"They reported increasing difficulty in being turned on by their actual sexual partners, spouses or girlfriends, though they still considered them objectively attractive." Doidge wrote about his patients. "When I asked if this phenomenon had any relationship to viewing pornography, they answered that it initially helped them get more excited during sex, but over time had the opposite effect."
Stewart says that when porn becomes a problem in relationships, she advises women not to compare themselves to porn stars. She also urges couples to communicate and compromise.
"It's just about trying to do some education about what is realistic and unrealistic and trying to get couples to be honest about what their wants and needs and desires are," Stewart said.
As much as we women would love our men to only have eyes for us, let's face it. As long as there are women willing to do anything, everything and put it out there for the world to see, men are going to look. But Aristotle said to seek moderation in all things, and while I don't think he was referring to watching online porn, it's not bad advice.
Tell us on Facebook: Do you think porn is hurtful or harmless?

Photo: Patrick Sheandell O'Carroll/Getty Images
More on love & sex from MSN Living:
10 Ways to Improve Your Love Life (Right Now!)
The Secrets to Great Sex (in 50 Words or Less)
5 Sexy Steps to Get Out of Your Date Rut
beauty tips and style advice
These jeans aren't just distressed; they're destroyed — and all the cooler for it. They're also the perfect way to make a basic T-shirt feel totally wild.

Good news for your feet: Sneakers are everywhere this fall. Fashion insiders and celebs alike are sporting athletic shoes with their chicest outfits, making them an essential fall fashion trend. With an abundance of styles in stores right now, it might seem daunting to find the pair that's right for you. We handpicked the 35 best sneaker styles to try.

We're just going to say it: Ankle boots might be are our favorite type of boots. They're tough like classic motos when paired with skinny jeans or leather pants. But they also work in place of fussy heels with a flared skirt or cocktail dress for an unexpected downtown-cool vibe. And, let's be honest, the ankle height just feels more relaxed and comfortable. Never mind that booties take up way less room in your closet too. Wait. Do you know what that means? You can buy more than just one pair this fall—especially since ankle boots come in so many styles, shapes, colors, heel heights, and price points. So check out these 20 booties for fall.

Fall just gives us the warm fuzzies—and not because of the turning of the leaves, football games, or the excuse to eat pumpkin-flavored everything. We can finally wear our very best coats incorporating the newest fashion trends (and there are so many options out there). So make the most of this wonderful time—before the puffy-jacket-required winter rears its blustery head—with these 15 coat and jacket picks for all budgets.

As beauty editors, we thought we had heard (and made!) every hairstyling mistake out there. We no longer use uncoated elastics or rough up our hair with a towel when we get out of the shower, and we even fully embrace the benefits of hair masks. But during a visit with Herbal Essences celebrity stylist Charles Baker Strahan, we learned some new, seriously next-level tips. Read on for better hair days ahead.

Expert tips on how to style the newest fall fashion trend.

Transitioning your wardrobe from season to season is a masterful fashion feat (a.k.a. it's just plain hard). While it's not quite the right time to bust out the fall fashion trends just yet, that head-to-toe white look that you worked all summer isn't really going to work anymore either. So what's a stylish girl to do? Let's look to these fashion influencers and see how they rock the in-between season with great aplomb! The chicest summer-to-fall outfit ideas you have ever seen are right this way.

There isn't a single beauty trend that's as high drama, sultry, and decidedly timeless as the cat eye. Through the decades, the feminine flick has graced the lash lines of many of the greats, from '50s silver screen siren Sophia Loren to modern crooner Lana Del Rey. As an ode to the winged liner look, we're looking back at the most 20 most iconic iterations on the illustrious women that made them famous. Learn how to paint on perfect black winged eyes here.

Even though the '90s and early aughts seem rather far off now that those of us who grew up then have graduated to full-on careers, families, and investment bags, I'm here to let you know: get millennials started talking about the style moments and must-buys that peppered their history and you can't shut them up. When we had the chance to play around with some of Coach's new fall bags, it managed to bring up a group-wide memory of living for the brand's wristlets, circa freshman year of college. From there, the memories of stuff I wanted so bad, from elementary school onward, came pouring out. I'm presenting it all here, supplemented with some contributions from the rest of the Glamour team.

We're living in the age of the selfie. This year, the word was officially added to the dictionary (we even got variations, like "belfie"—we'll let you Google that one); the entire Obama family got in on the act; and a major TV network added a show called Selfie to its fall lineup. Oh, and you didn't even have to watch this year's Oscars to know that the biggest winner of all was not a film, but in fact the selfie. So it's about time you learn how to take a really, really good one.

Women can be sexy and smart and successful-- all at once.

"Unfortunately like most magazines, media and images you see on here, the girls have been retouched to look, taller, thinner ... all to see a product."