Study: Men's Porn Habits Hurt Women's Self-Esteem
When does a harmless habit become hurtful?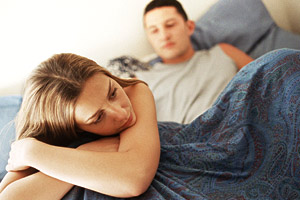 As a generation of men are growing up with virtual sex lives, their real-life partners are becoming increasingly unhappy, a new study finds. Specifically, young women with porn-loving partners feel they just can't measure up to Jenna Jameson—or whoever happens to tickle their man's fancy.
Destin Stewart is a clinical psychology intern at the University of Florida. After her clients began complaining about pornography use in their relationships, Stewart decided to study exactly how porn use is affecting those relationships.
She surveyed 308 college women (ages 18 to 29) and asked them about their current partner's pornography habits. She also wanted the women's perspectives on their relationship quality, sexual satisfaction and self-esteem. Stewart found that the ladies who reported their partners looked at porn more frequently were not only less happy with their relationships, they also had less self-esteem and were less satisfied with their sex lives.
Stewart told LiveScience that when some women discovered pornographic material on their partner's computer, it made them "feel like they were not good enough, like they could not measure up."
While one might argue that the men weren't there to confirm their habits in the study, it's apparent that pornography is negatively affecting an increasing number of relationships. Psychiatrist Norman Doidge studied the effects of porn use in his patients and then reported the findings in his book, The Brain Changes Itself:
"They reported increasing difficulty in being turned on by their actual sexual partners, spouses or girlfriends, though they still considered them objectively attractive." Doidge wrote about his patients. "When I asked if this phenomenon had any relationship to viewing pornography, they answered that it initially helped them get more excited during sex, but over time had the opposite effect."
Stewart says that when porn becomes a problem in relationships, she advises women not to compare themselves to porn stars. She also urges couples to communicate and compromise.
"It's just about trying to do some education about what is realistic and unrealistic and trying to get couples to be honest about what their wants and needs and desires are," Stewart said.
As much as we women would love our men to only have eyes for us, let's face it. As long as there are women willing to do anything, everything and put it out there for the world to see, men are going to look. But Aristotle said to seek moderation in all things, and while I don't think he was referring to watching online porn, it's not bad advice.
Tell us on Facebook: Do you think porn is hurtful or harmless?

Photo: Patrick Sheandell O'Carroll/Getty Images
More on love & sex from MSN Living:
10 Ways to Improve Your Love Life (Right Now!)
The Secrets to Great Sex (in 50 Words or Less)
5 Sexy Steps to Get Out of Your Date Rut
fashion: trends & must-haves for your wardrobe
Stuck in a office-look-rut? Let some of history's most smartly dressed women inspire your everyday uniform.

Few spots are as fashionable as the Cannes Film Festival red carpet. Celebrity style stars pull out all the stops—because if you can't wear a fabulous dress at one of the film industry's biggest events, in one of the world's most glamorous locales, when can you? Here are 25 of the masterpieces we still can't stop staring at.

From demure dresses to covetable coats, the Duchess of Cambridge has a maternity wardrobe that would make any grown woman wish she could be a princess. Click through the gallery to see some of her most stylish looks while pregnant.

When it was revealed that Kim Kardashian was expecting her first child with boyfriend Kanye West, we wondered what would happen to her fondness for curve-hugging clothes and stilettos. As it turns out, nothing at all! Kardashian has been criticized for some of her attempts at adapting her everyday style to her growing belly, but we've rounded up her best bump looks, along with the lessons expectant moms can learn from them.

It's official: Bangs are back in a big way this season. Whether you have curly, wavy, or straight hair, there's flattering fringe that will work for you. Check out these celebrity haircuts for inspiration.

Hard work, talent and perseverance are the three keys to professional success—but sometimes a really great haircut helps, too.

There's no miracle cure for acne, but the products and tips below come pretty darn close.

Beauty truth: You can't buy the best makeup and body potions stars use; their makeup pros are whipping up mystery formulas. And beauty sleuth Andrea Pomerantz Lustig learned 'em!

What can make a face softer but edgier at the same time? (Don't worry, this isn't some complicated riddle.) Bangs can enhance any face shape—if you wear them the right way, that is. We've rounded up five ideas with fringe benefits, along with hairstylist Nathaniel Hawkins's tips for pulling them off.

We all know we need moisturizer. The confusing part? Picking one that works for your skin—and your budget. Well, here's your cheat sheet: Using the Allure Beauty Product Finder, we found the ten best drugstore moisturizers for every skin type, all for under $20. So whether your skin is dry, acne-prone, or you've got dark spots or fine lines, we've got you—and your wallet—covered.

Growing pains? Totally unnecessary. Getting—and keeping—long, shiny, sexy hair has never been easier.

You may have spent years studiously ignoring your mother's advice (and she was right about that guy in high school, admit it), but eventually all that bossing and nagging adds up to something truly useful. Here, Allure staffers share their mothers' wisest words about beauty.