Study: Men's Porn Habits Hurt Women's Self-Esteem
When does a harmless habit become hurtful?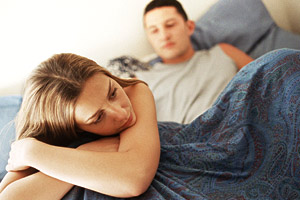 As a generation of men are growing up with virtual sex lives, their real-life partners are becoming increasingly unhappy, a new study finds. Specifically, young women with porn-loving partners feel they just can't measure up to Jenna Jameson—or whoever happens to tickle their man's fancy.
Destin Stewart is a clinical psychology intern at the University of Florida. After her clients began complaining about pornography use in their relationships, Stewart decided to study exactly how porn use is affecting those relationships.
She surveyed 308 college women (ages 18 to 29) and asked them about their current partner's pornography habits. She also wanted the women's perspectives on their relationship quality, sexual satisfaction and self-esteem. Stewart found that the ladies who reported their partners looked at porn more frequently were not only less happy with their relationships, they also had less self-esteem and were less satisfied with their sex lives.
Stewart told LiveScience that when some women discovered pornographic material on their partner's computer, it made them "feel like they were not good enough, like they could not measure up."
While one might argue that the men weren't there to confirm their habits in the study, it's apparent that pornography is negatively affecting an increasing number of relationships. Psychiatrist Norman Doidge studied the effects of porn use in his patients and then reported the findings in his book, The Brain Changes Itself:
"They reported increasing difficulty in being turned on by their actual sexual partners, spouses or girlfriends, though they still considered them objectively attractive." Doidge wrote about his patients. "When I asked if this phenomenon had any relationship to viewing pornography, they answered that it initially helped them get more excited during sex, but over time had the opposite effect."
Stewart says that when porn becomes a problem in relationships, she advises women not to compare themselves to porn stars. She also urges couples to communicate and compromise.
"It's just about trying to do some education about what is realistic and unrealistic and trying to get couples to be honest about what their wants and needs and desires are," Stewart said.
As much as we women would love our men to only have eyes for us, let's face it. As long as there are women willing to do anything, everything and put it out there for the world to see, men are going to look. But Aristotle said to seek moderation in all things, and while I don't think he was referring to watching online porn, it's not bad advice.
Tell us on Facebook: Do you think porn is hurtful or harmless?

Photo: Patrick Sheandell O'Carroll/Getty Images
More on love & sex from MSN Living:
10 Ways to Improve Your Love Life (Right Now!)
The Secrets to Great Sex (in 50 Words or Less)
5 Sexy Steps to Get Out of Your Date Rut
beauty tips and style advice
These fresh, cute outfit ideas range from unexpected mash-ups to completely coordinated looks. What they all have in common is they'll get you out the door feeling totally confident.

Because it actually takes some makeup—maybe even a few false lashes—to look beautifully bare-faced.

Make a good impression by presenting the best form of yourself. Even when luck's against you--for instance, you encounter a huge zit the week before an important presentation--take action now. Here are fixes for your most common grooming mishaps.

We're still dreaming about Olivia Palermo's unconventional yet impossibly chic wedding-day ensemble. The shorts! The jutting tulle skirt overlay! The creamy cashmere sweater! Everything about this layered look is as trend-setting as it is unique.And though she may be the first star to walk down the aisle in shorts, Olivia isn't the first celebrity to say "I do" in something nontraditional. Several boundary-pushing stars have skipped the all-white look, and instead opted for a colorful wedding dress.

Keep your tresses looking their best, even on the muggiest of summer days, with these tips

Wide-leg pants are blowing up. Six women show us how to style a pair by Lauren Ralph Lauren.

It's the best and worst time to be a single girl in the dating world. On the one hand, past generations of women didn't have the freedom, financial independence, access to birth control (depending on your state and employer, of course), or plethora of options to meet new people—online and off—that we enjoy today. On the other hand, they also didn't have to worry about sexting, selecting the best selfie for their profile picture, or accidentally swiping right on a coworker.

If you're anything like me, you probably haven't gone anywhere near a hair accessory for years—save for the few stretched-out Goody elastics tumbling around at the bottom of your handbag, the slightly rusty bobby pins gathering dust at the back of your medicine cabinet or that scrunchie you use to pull your hair back when washing your face in the morning. For as long as I can remember, hair adornments have been slapped with somewhat of a childish reputation; when's the last time you saw a girl over the age of 11 wearing a barrette or witnessed a woman past her teen years sporting a headband?

When it's hot and humid, pulling your hair into a ponytail is practical. But it can also be fun, easy, unexpected, and mind-blowingly gorgeous. Here, stunning summer hair ideas inspired by our favorite runway and red-carpet looks of the moment—plus expert tips on how to re-create them.

Sure, sunglasses protect your eyes and help you see, but they can also lend an instant, undeniable cool factor to just about anyone. Said cool factor is most apparent when sunglasses fit well, balance your features, and look like they were made for your face. Because one-size-flatters-all shades are unfortunately not a thing, we asked Bobbi Brown, makeup artist, glasses expert, and author of the new book Bobbi Brown: Everything Eyes, for her top tips for finding flattering sunglasses for every face shape.

The leading ladies who make summer beauty look effortless.

Chic accessories for every wedding style.