Study: Men's Porn Habits Hurt Women's Self-Esteem
When does a harmless habit become hurtful?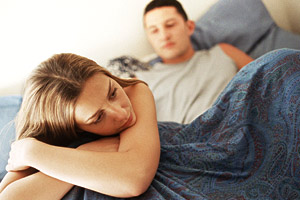 As a generation of men are growing up with virtual sex lives, their real-life partners are becoming increasingly unhappy, a new study finds. Specifically, young women with porn-loving partners feel they just can't measure up to Jenna Jameson—or whoever happens to tickle their man's fancy.
Destin Stewart is a clinical psychology intern at the University of Florida. After her clients began complaining about pornography use in their relationships, Stewart decided to study exactly how porn use is affecting those relationships.
She surveyed 308 college women (ages 18 to 29) and asked them about their current partner's pornography habits. She also wanted the women's perspectives on their relationship quality, sexual satisfaction and self-esteem. Stewart found that the ladies who reported their partners looked at porn more frequently were not only less happy with their relationships, they also had less self-esteem and were less satisfied with their sex lives.
Stewart told LiveScience that when some women discovered pornographic material on their partner's computer, it made them "feel like they were not good enough, like they could not measure up."
While one might argue that the men weren't there to confirm their habits in the study, it's apparent that pornography is negatively affecting an increasing number of relationships. Psychiatrist Norman Doidge studied the effects of porn use in his patients and then reported the findings in his book, The Brain Changes Itself:
"They reported increasing difficulty in being turned on by their actual sexual partners, spouses or girlfriends, though they still considered them objectively attractive." Doidge wrote about his patients. "When I asked if this phenomenon had any relationship to viewing pornography, they answered that it initially helped them get more excited during sex, but over time had the opposite effect."
Stewart says that when porn becomes a problem in relationships, she advises women not to compare themselves to porn stars. She also urges couples to communicate and compromise.
"It's just about trying to do some education about what is realistic and unrealistic and trying to get couples to be honest about what their wants and needs and desires are," Stewart said.
As much as we women would love our men to only have eyes for us, let's face it. As long as there are women willing to do anything, everything and put it out there for the world to see, men are going to look. But Aristotle said to seek moderation in all things, and while I don't think he was referring to watching online porn, it's not bad advice.
Tell us on Facebook: Do you think porn is hurtful or harmless?

Photo: Patrick Sheandell O'Carroll/Getty Images
More on love & sex from MSN Living:
10 Ways to Improve Your Love Life (Right Now!)
The Secrets to Great Sex (in 50 Words or Less)
5 Sexy Steps to Get Out of Your Date Rut
beauty tips and style advice
Squeeze days out of your style with smart tricks from blowout queen Alli Webb, founder of Drybar.

Our favorite freckle-faced models and actresses.

Still searching for your dream wedding dress? You'll get a kick out of these fun facts about your most important wedding-day purchase.

From detachable tulle overskirts to romantic off-the-shoulder necklines, check out these emerging trends from the Spring 2015 bridal runways.

Who says you have to wear white on your wedding day? Get some colorful inspiration from these seven wedding dresses.

Since its inception in 1940, the International Best-Dressed List—revealed in Vanity Fair for the last decade—has lauded the most polished, eclectic, and stylish of dressers. From royalty to politicians, athletes to fashion designers, the poll is comprehensive in the personalities it celebrates. Those appearing multiple times over the years are considered for induction into the Hall of Fame—the List's highest honor.

Most of us have a post-workout beauty routine that's basically a mad dash from locker to shower to mirror to door—with a quick swipe of lip balm and a one-minute hairstyle in between. To save time and look (and smell) better than ever, stock your gym bag with these key multitaskers and read on for surprising ways to hack them. Guarantee your get-ready sprint will go a bit smoother.

Even if you're not going back to school this season, that doesn't mean new style supplies, like a fresh haircut, aren't in order. So whether you're looking to chop it all off, add a few pieces, or finally try bangs, here are 30 red-carpet-inspired cuts worth giving a shot.

Not ready to trade in your summer hair color for a fall shade just yet? Don't worry: These 30 ideas will help you transition seamlessly

Have you ever noticed that denim ads are some of the sexiest? And most memorable? We can't tell you how many of the people featured on our site, jeanstories.com, swoon as they reminisce about the first time they watched the 1985 Levis's 501s "Laundrette" TV spot featuring the handsome Nick Kamen—who ended up , ahem, sans jeans. As for print ads, think Guess, Calvin Klein … not only sexy, but envelope-pushing and groundbreaking. If concerned mothers of America are writing angry letters to their local newspapers about the boob-baring models of your campaign, you, as a jeans brand, know you've done something right.

Most of us have heard that a dab of clear nail polish can stop a pantyhose run in its tracks, but there are lots of other quick fixes and DIY projects you can do with all those nail polish bottles you never wear anymore. Here are ten of our favorite clever and unexpected uses for nail polish—besides freshening up your fingers and toes:

Because no boyfriend's family is the same as the next, and the last thing you need getting in the way of you and Mr. Right is the bad impression you made on his mother, we've gone ahead and fool-proofed your outfit — the rest is on you.