Zoe no go: Saks drops Rachel's fashion line
Stylist to the stars and rookie designer sees former buzz fizzle.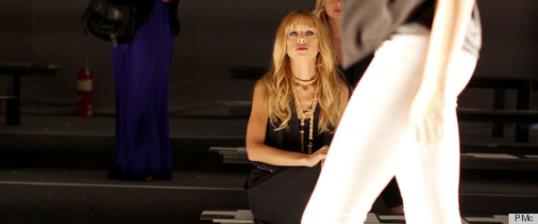 Rachel Zoe has dressed lots of hot celebs in her time and used that success to springboard a potential fashion empire, designing clothing and accessory lines for outlets as varied as TV shopping channels and high-end department stores. And while these ventures launched with tons of buzz, much of their hype is fading as sales disappoint.
Related: What to wear this winter
Buzzfeed reports  that mega high-end retailer Saks Fifth Avenue is just the latest to drop Zoe's clothes from their stores (although for now they'll still be available online), following British retailer Selfridges deep sixing last fall, and the New York Post reports that her line "isn't doing well at Neiman Marcus, Bloomingdale's and Nordstrom." The good news? Her Bravo show is back for its 5th season and a sitcom based on her life has been greenlit.
Related: Find all things Rachel Zoe in Bing Shopping
Tell us: Do you think this is just the start of Zoe's woes, or is that just bananas?
Photo: Courtesy of Clint Spaulding/PatrickMcM​ullen.com


There will always be a few nuts who like her clothes, but that's it.  They aren't "designed" and I use that word loosely - for the average buyer out there...they are for those self-loving, 70s and 80s valley hippy-dippy girls who don't have a care in the world and who live off of Daddy's money.  I agree, she should stick to styling for the self-absorbed so called celebrities she has dressed for years.  They are the ones who need her help. Not us.  And god-bless those celebrities who want to look as weird as she usually does.
Are you sure you want to delete this comment?
beauty tips and style advice
These travel-sized beauty products will do double-duty while you're on the road.

Neatly sidestepping high fashion, the smiling, cheerful Kate Middleton is fast becoming the Duchess of Normcore.

This December, New Yorkers might notice something missing in the Christmas air.

When Madonna posted an image of herself wearing a full on Game of Thrones Khaleesi costume on Instagram last week we weren't exactly surprised—this is the woman who rolled into the Grammy Awards wearing a tuxedo and a grill earlier this winter, so why not celebrate the Jewish holiday of Purim with a leather corset and a pair of tiny dragons? Still, we were hypnotized by her white-blonde, braided Daenerys Targaryen hair. Functioning as a bleached out cultural weather vane of sorts, it tapped into multiple obsessions at once—the return of "Game of Thrones" to HBO, spring's new extreme hair lengths and, most notably, fashion's current platinum mania. Our own love of ice-blonde hair—which transforms any look from everyday to extraordinary—has been well documented of late, but last night's Game of Thrones premiere sent our platinum fever into overdrive. In celebration of fashion's favorite hair color, a look at the best platinum moments in history.

While you were sleeping, fast retail chain H&M H&M announced that its next designer collaboration is with Alexander Wang.

Formal, beachy, country club-chic or gorgeously rustic whatever the setting calls for, we've found a bevy of beautiful dresses to wear to a wedding this season.

Puffy, tired, weary no more. These tips take years off and create that "I slept great, thanks!" effect.

Top dermatologists, cosmetic chemists, makeup artists, and hairstylists reveal quick tips and tricks that can peel back years in a matter of seconds

We're all for sartorial freedom, but there are certain once-on-trend items that, when worn today, appear anything but current. Consider this your official out list.

If you're a practitioner of reselling your clothes—a good way to clear out some space in your wardrobe and make a few extra bucks—you might already be familiar with San Francisco-based thredUP.

A picture may be worth a thousand words, but emoji must be worth at least a million. Here we show you how to channel your favorites: Go ahead, express yourself!

11 earth-friendly beauty products we love.