Zoe no go: Saks drops Rachel's fashion line
Stylist to the stars and rookie designer sees former buzz fizzle.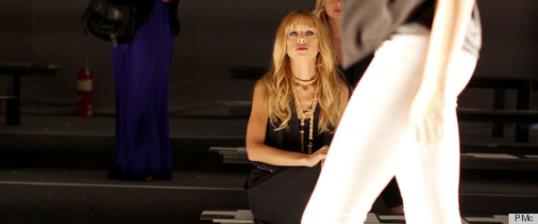 Rachel Zoe has dressed lots of hot celebs in her time and used that success to springboard a potential fashion empire, designing clothing and accessory lines for outlets as varied as TV shopping channels and high-end department stores. And while these ventures launched with tons of buzz, much of their hype is fading as sales disappoint.
Related: What to wear this winter
Buzzfeed reports  that mega high-end retailer Saks Fifth Avenue is just the latest to drop Zoe's clothes from their stores (although for now they'll still be available online), following British retailer Selfridges deep sixing last fall, and the New York Post reports that her line "isn't doing well at Neiman Marcus, Bloomingdale's and Nordstrom." The good news? Her Bravo show is back for its 5th season and a sitcom based on her life has been greenlit.
Related: Find all things Rachel Zoe in Bing Shopping
Tell us: Do you think this is just the start of Zoe's woes, or is that just bananas?
Photo: Courtesy of Clint Spaulding/PatrickMcM​ullen.com


There will always be a few nuts who like her clothes, but that's it.  They aren't "designed" and I use that word loosely - for the average buyer out there...they are for those self-loving, 70s and 80s valley hippy-dippy girls who don't have a care in the world and who live off of Daddy's money.  I agree, she should stick to styling for the self-absorbed so called celebrities she has dressed for years.  They are the ones who need her help. Not us.  And god-bless those celebrities who want to look as weird as she usually does.
Are you sure you want to delete this comment?
beauty tips and style advice
These travel-sized beauty products will do double-duty while you're on the road.

And before you ask, sorry, the $325 dress is SOLD OUT on Matches.com and DVF.com—you snooze, you loose.

Click through the slideshow to shop some of our spring favorites.

French braid? Been there. Fishtail? Done that. The newest styles are all about unexpected texture, major volume, and one man's wild imagination.

Long hair, don't care? Think again…

She dishes on the routine that keeps her looking polished, even when she's pulling up to the <i>Mad Men</i> set at 5 a.m. Plus, the fragrance that helps Christina get her Joan on.

For inspiration, we've rounded up gorgeous (and easy to replicate) wedding makeup looks from the red carpet.

With a few insider tricks, you can enjoy short hair 365 days of the year and have a gorgeous style on your wedding day. Wedding hairstyles for short hair do exist.

I'm beyond excited to finally ditch my winter coat and heavy layers, but I'm not so eager to ditch my tights. Let's just say my legs are not as smooth and bronzed as they were the last time I showed them off many, many months ago.

After a jam-packed week in New Zealand, Kate Middleton and Prince William finally enjoyed a day off, but as of last night (or this morning..? Ah, time change!) they're back on the road again.

Neatly sidestepping high fashion, the smiling, cheerful Kate Middleton is fast becoming the Duchess of Normcore.

This December, New Yorkers might notice something missing in the Christmas air.