Barbie's Glam Makeover, Courtesy of the Blonds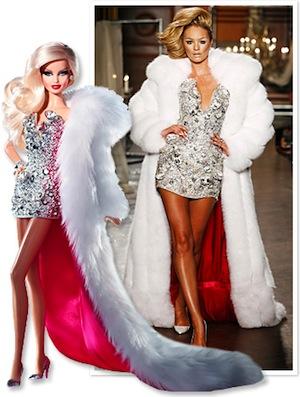 By Rose Walano, InStyle magazine
From the runway to the playroom,
Barbie knows how to keep it glam
!
Mattel tapped The Blonds designers Phillipe and David Blond
to create a look for Barbie, and this is the ultra-fabulous result:
RELATED:
The Blonds Give Barbie a Makeover!
The Blond Diamond Barbie
is a diamond-corseted mini-model complete with a satin-lined faux-fur coat
, a design they first presented at Barbie's fall 2008 fashion show, modeled then by Victoria's Secret Angel Candice Swanepoel "
This collaboration is a childhood dream come true, Barbie played a huge role in our lives as children and still does
," The Blonds designers told InStyle.com.
RELATED:
Kate and Will Are Barbie and Ken
"She is the culmination of everything that inspires us. We're both avid Barbie collectors and she's the ultimate client!"
The doll is available for pre-order starting today for $125 on BarbieCollector.com.


Plus, see more of Barbie's best looks in our gallery!
MORE:
• Tim Gunn Designed a Barbie Doll!
• Hunger Games Katniss Gets a Barbie
• The 68 Most Fashionable TV Shows of All Time

Photo: Courtesy Photos (2)
beauty tips and style advice
These travel-sized beauty products will do double-duty while you're on the road.

And before you ask, sorry, the $325 dress is SOLD OUT on Matches.com and DVF.com—you snooze, you loose.

Click through the slideshow to shop some of our spring favorites.

French braid? Been there. Fishtail? Done that. The newest styles are all about unexpected texture, major volume, and one man's wild imagination.

Long hair, don't care? Think again…

She dishes on the routine that keeps her looking polished, even when she's pulling up to the <i>Mad Men</i> set at 5 a.m. Plus, the fragrance that helps Christina get her Joan on.

For inspiration, we've rounded up gorgeous (and easy to replicate) wedding makeup looks from the red carpet.

With a few insider tricks, you can enjoy short hair 365 days of the year and have a gorgeous style on your wedding day. Wedding hairstyles for short hair do exist.

I'm beyond excited to finally ditch my winter coat and heavy layers, but I'm not so eager to ditch my tights. Let's just say my legs are not as smooth and bronzed as they were the last time I showed them off many, many months ago.

After a jam-packed week in New Zealand, Kate Middleton and Prince William finally enjoyed a day off, but as of last night (or this morning..? Ah, time change!) they're back on the road again.

Neatly sidestepping high fashion, the smiling, cheerful Kate Middleton is fast becoming the Duchess of Normcore.

This December, New Yorkers might notice something missing in the Christmas air.