Barbie's Glam Makeover, Courtesy of the Blonds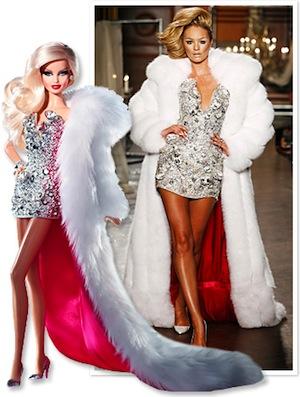 By Rose Walano, InStyle magazine
From the runway to the playroom,
Barbie knows how to keep it glam
!
Mattel tapped The Blonds designers Phillipe and David Blond
to create a look for Barbie, and this is the ultra-fabulous result:
RELATED:
The Blonds Give Barbie a Makeover!
The Blond Diamond Barbie
is a diamond-corseted mini-model complete with a satin-lined faux-fur coat
, a design they first presented at Barbie's fall 2008 fashion show, modeled then by Victoria's Secret Angel Candice Swanepoel "
This collaboration is a childhood dream come true, Barbie played a huge role in our lives as children and still does
," The Blonds designers told InStyle.com.
RELATED:
Kate and Will Are Barbie and Ken
"She is the culmination of everything that inspires us. We're both avid Barbie collectors and she's the ultimate client!"
The doll is available for pre-order starting today for $125 on BarbieCollector.com.


Plus, see more of Barbie's best looks in our gallery!
MORE:
• Tim Gunn Designed a Barbie Doll!
• Hunger Games Katniss Gets a Barbie
• The 68 Most Fashionable TV Shows of All Time

Photo: Courtesy Photos (2)
beauty tips and style advice
One shopper's tweet of the emaciated-looking figure forced the store to take action.

Once the summer heat kicks in, it's all we can do not to slip into the breeziest beach dresses and flip-flops for the morning commute. So trust us when we say we understand that the humidity can have a powerful effect on your wardrobe — still, there are some things you just can't wear to your place of employment, no matter how hot it gets.

Wrinkle no blouse, tangle no jewelry, leave no beauty product behind, and still have room to spare.

Hue-changing dos we absolutely love.

Why your jean size varies from store to store.

Wait a month between waxing visits? Check. Pop a preappointment Advil? Duh. We all know the basics, but here are the tricks you don't know.

What to always—and never, ever—do to keep hair in top shape.

Get inspired to try these sweet and summery looks.

Stunning wedding styles that create a statement.

I attended the Abercrombie and Fitch holiday-season press preview yesterday, and in between checking out the cute gear that will hit stores this November, I picked up a little nugget of information I just have to share.

How to wear this cool-weather staple in the summer.

See how Miranda Kerr made a pair of Birkenstocks chic.