YIKES! Meet The Model With A 20-Inch Waist!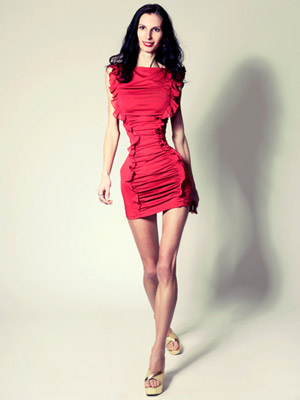 by Tracey Lomrantz, Glamour Magazine

We've talked super-skinny models before, but Ioana Spangenberg definitely takes the conversation to a whole 'nother level. Check out her story--and weigh in with your thoughts--after the jump.

At 20 inches, Ioana Spangenberg's waist is just five inches bigger than a compact disc. She was profiled in The Sun UK recently, where they shared that the 30-year-old Romanian model eats three square meals a day (including indulgences like pizza and kebabs) and simply can't gain weight around her midsection. "I just have a small stomach," she told the paper. "It's a bit like having a natural gastric band — if I eat too much, I feel sick."

She had been self-conscious about her body her entire life, but when she met her now-husband, "Jan was the first person who saw me as beautiful and encouraged me to celebrate my body. He asked me to pose in some photos for him." He put the photos up online, and the response was good enough that it eventually propelled her into professional modeling.
Human beings come in all shapes and sizes and of course, they should all be treated with dignity and respect and as the beautiful creatures they are...but what do you think of Ioana as a model?

Related: Cute Haircut Ideas for Midlength Hair

Is it a strange choice of work for someone with such a unique body type? Is glorifying her skinny-ness by making her a model dangerous for our collective body image?

 Related: 10 Shoes Every Woman Should Own

Would it be different if she had any other type of unusual frame other than extreme thinness, which is, unfortunately, so celebrated in the fashion world? Do you think it encourages women to want smaller waists and thinner bodies, or do you imagine there just aren't many people out there that actually want to look like this?

What do you make of Ioana Spangberger? Discuss on our Facebook page.

Photo: Barcroft Media/Landov
More from Glamour:
14 Sexy Going Out Dresses You Can Wear When It's Cold Out
50 Things Men Are Afraid to Ask For But Want Super-Duper Badly
What Your Hairstyle Says About You (According to Guys)
 
beauty tips and style advice
Sunglasses: it may seem counterintuitive to invest in a wintertime accessory traditionally viewed as a sunny, warm-weather item. But spring is on the way and we're also currently being exposed to crazy amounts of UV rays—and then, of course, there's the reflective snow situation.

Some people look younger than they are, some look older. Even those with easy access to BOTOX and personal trainers. Can you guess the age of these celebrities?

Did anyone else hear wedding bells on the Oscars red carpet last night?

Then after the show, er, Oscars, it's the after party. Then after the party, it's the... Best Dressed List, of course. Nikki already picked her tops for the Academy Awards red carpet (did you vote yet?), so now it's time to see what the stars wore to the post-celebrations.

As I continue my personal campaign to swap out E!'s mani cam with a back-of-updo cam (and as a service to all the hardworking hairstylists who spent so much time creating beautiful hair looks for the 2014 Oscars), I'd like to point out that we miss a lot of gorgeous detail when we don't get the back view of a star's hair.

The bold new trend on the Oscars red carpet.

Trying new hairstyles is fun (have you picked up Allure Hair: The Ultimate How-To Hair Guide yet?).

When someone says "Julia Roberts," you think teeth. You think hair. But while you may not immediately think fashion, she has had a pretty consistent—and consistently pretty—style since her Mystic Pizza days: clean, classic, menswear-inspired looks that let her natural beauty—and rightly famous smile—take center stage. Here's how she has elevated that look over the years.

Lupita Nyong'o shows off the power of the pixie on the Oscars red carpet.

Walk a mile in a pair of SJP's stilettos? Well yes, we'd love to; thank you for asking.

Anti-aging doesn't have to take over your life. Here, expert tweaks to slow the clock.

We're at the tail end of a jam-packed awards season, with the grand finale—the Oscars, duh—just a few days away. We can't wait to see what our favorite nominees wear—we already know Jennifer Lawrence will step out in a breathtaking Dior, while we hope to see Lupita Nyong'o pick another brilliantly bold monochromatic gown. As for which designer she'll select—Gucci? Ralph Lauren?—that's anyone's guess.