$500,000 ring is made from human skin
Designer uses strips of his own skin to craft this ring.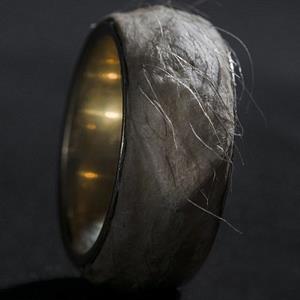 Talk about exotic materials—if alligator or crocodile skin is just not rare enough for your exquisite taste in fashion, you're in luck. A designer is taking things to the next level by crafting jewelry out of his own skin. Yes, it's creepy. 

Austrian designer Sruli Recht made the Forget Me Knot ring from a strip of his own skin, which was removed from his stomach during a recent surgery, reports the Daily Mail. And If that's not outrageous enough, consider the price tag. The ring costs a whopping $500,000. 
More from Simply Chic: The most "OMG, WHAT!?" looks from London Men's Fashion Week
But let's consider what you are getting for that price tag—the strip of flesh (which was salted and tanned before being laid over the gold ring) is over 4 inches in length and even has some of the designer's original hairs attached to it. It also comes with a DNA certificate just to prove it's authenticity (yuck.)
More from Living: Crazy fashion trends


And never fear, you can see it being made in a video that Recht filmed himself. 
Tell us: what do you think of this ring?

Bing: Crazy fashion trends


Photo: Courtesy Sruli Recht
More from Simply Chic:
Would you wear tights that look like they are melting?
Would you wear eyelash jewelry?
The hottest manicure styles of 2013
beauty tips and style advice
We put a slew of new formulas to the test, and these are the ones making us look younger and fresher.

From the coolest chestnut to the deepest mahogany, these stars show how to unleash your inner brunette bombshell.

In a girl's life, there are a select few occasions when it's considered completely appropriate to go all out with a truly spectacular dress. Her wedding day comes to mind, of course, and maybe her Sweet 16. Prom night, however, is certainly at the tip-top of that short list of special events.

When I was a teenager, I wouldn't be caught dead without my lip gloss, blush, eyeshadow and eyeliner at all times. Now, even though I'm older, I'll admit I still don't feel 100 percent confident leaving the house without at least some of my "face" on—plus, my obsession with beauty products doesn't encourage me to go makeup-free very often.

Good magazine covers grab your attention and make you want to look inside. Controversial covers and photo shoots, like the 14 that follow, often become a part of history.

For those of you on official Kate Middleton Outfit Watch, here's the latest.