Bizarre beauty treatment: Bathing in fermented sawdust
Japanese women swear by this magical beauty treatment for acne, anemia, hypertension, arthritis and even obesity.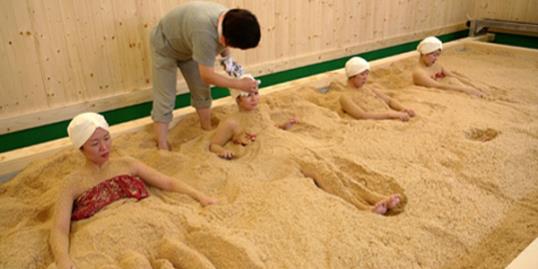 Who knew the path to healthy skin was paved with fermented sawdust?

Women in Japan swear by this bizarre beauty ritual to roll back the clock and keep old-age disorders at bay reports Oddity Central.

More from Living: The perfect jeans for your figure

Here's how it works: Imagine being covered in sawdust from finely ground Yoshino Cypress trees for 15 to 20 minutes. As enzymes from vegetation and fruit ferment within the sawdust, your body temperature rises to a sweaty 104 degrees.  The process is said to activate your internal organs, thus optimizing metabolism, raising immunity and improving circulation says Oddity Central.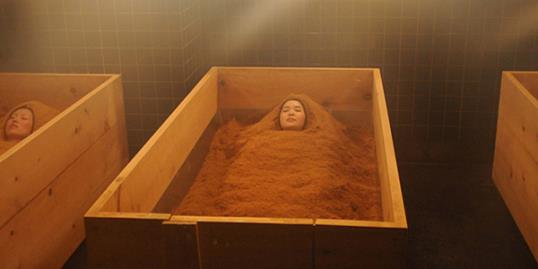 More from Living: What does your lingerie say about you?

Right now, this bizarre beauty treatment is only available in Japan and costs approximately $70.

Would you try this beauty treatment?

Bing: Most bizarre beauty treatments

Photos: Ion House; Roomie

More from Simply Chic:
January Jones on her hair: "It's falling out in clumps"
Blondes may have more fun, but brunettes are more likely to succeed at work
Women look older at 3:30 p.m. on Wednesdays
beauty tips and style advice
You thought you were so cool.

Kate Middleton likes outlet malls too.

Smart fall shopping can't be boiled down to some set-in-stone lineup of items. It's much more about how you play with what you've got rather than just racking up a bunch of new stuff; sometimes your bank account's balance simply won't allow for a full-on wardrobe refresh. That's when it's important to know what's worth it—and what isn't.

Autumn's just a few short months away, and we've got sweaters, coats and booties on our minds! Below are the first things we'll be buying (or have already bought!) to kick off next season.

Beauty editors are routinely asked to name three essentials they couldn't live without on a desert island. So here's our list: water, matches, protein bars. As much as we depend on beauty products, they're not exactly essential to survival. These luxurious fragrances, nail polishes, and tools are no exception. They're the anti-basics—hardly your medicine-cabinet staples. They won't shrink pores or obliterate frizz, but they will make you weak with desire. And that's a refreshing change of pace. Beyond just looking and feeling great, each of these cool new things appeals to our sense of style. How's that for an SOS?

You could breeze through the rest of summer with the same sheer balm and nude gloss you always wear. Or you could throw caution to the wind and try one of these superfun, superbright lipstick shades we saw on the spring runways. True red, orchid purple, neon orange—these lipsticks are as bold as they are beautiful.