Bizarre beauty treatment: Bathing in fermented sawdust
Japanese women swear by this magical beauty treatment for acne, anemia, hypertension, arthritis and even obesity.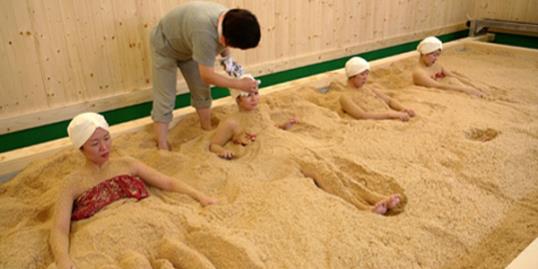 Who knew the path to healthy skin was paved with fermented sawdust?

Women in Japan swear by this bizarre beauty ritual to roll back the clock and keep old-age disorders at bay reports Oddity Central.

More from Living: The perfect jeans for your figure

Here's how it works: Imagine being covered in sawdust from finely ground Yoshino Cypress trees for 15 to 20 minutes. As enzymes from vegetation and fruit ferment within the sawdust, your body temperature rises to a sweaty 104 degrees.  The process is said to activate your internal organs, thus optimizing metabolism, raising immunity and improving circulation says Oddity Central.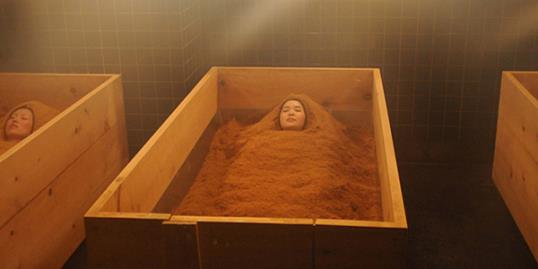 More from Living: What does your lingerie say about you?

Right now, this bizarre beauty treatment is only available in Japan and costs approximately $70.

Would you try this beauty treatment?

Bing: Most bizarre beauty treatments

Photos: Ion House; Roomie

More from Simply Chic:
January Jones on her hair: "It's falling out in clumps"
Blondes may have more fun, but brunettes are more likely to succeed at work
Women look older at 3:30 p.m. on Wednesdays
beauty tips and style advice
Find out what Pippa's portrait will look like.

While you were sleeping, the Duchess stepped out in two brand-new outfits.

Now that April is underway, we've officially entered the fickle season of on-again, off-again rain showers, thus complicating the already painful task of getting out of bed in the morning and starting the day. As if it isn't already hard enough to quickly put together a nice work outfit, the bipolar nature of spring weather demands a careful mix of lightweight, waterproof layers, as well as appropriate footwear. Realistically, no one wants to wear a pair of chunky rubber boots around all day, but the only other alternative is to lug around a variety of gym shoes, heels, and flats to meet all of the day's needs.

Here at Lucky, when we find something we like, we can't stop talking about it—especially when we score it for a ridiculously amazing price. We're loving that the latest batch of genius hair, makeup, skincare and nail products are not only all under $20, but you can find them easily at your local drugstore, too. Above, our favorite products to refresh your beauty routine.

Coachella weekend kicks off this weekend, then there's Glastonbury, Lollapalooza, and so on. Some festivals are one-day events, others let you unleash your inner hippie and camp out on the grounds (or if you're like me, book the nearest hotel).

As Nirvana's frontman, Kurt Cobain, who died 20 years ago this past weekend, was at the epicenter of grunge, a movement that revolutionized the cultural landscape of the 1990s, and one that continues to reverberate in fashion and music today.