Bizarre beauty treatment: Bathing in fermented sawdust
Japanese women swear by this magical beauty treatment for acne, anemia, hypertension, arthritis and even obesity.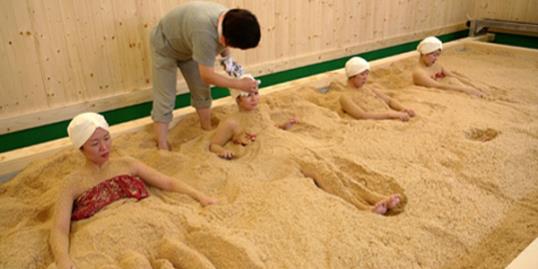 Who knew the path to healthy skin was paved with fermented sawdust?

Women in Japan swear by this bizarre beauty ritual to roll back the clock and keep old-age disorders at bay reports Oddity Central.

More from Living: The perfect jeans for your figure

Here's how it works: Imagine being covered in sawdust from finely ground Yoshino Cypress trees for 15 to 20 minutes. As enzymes from vegetation and fruit ferment within the sawdust, your body temperature rises to a sweaty 104 degrees.  The process is said to activate your internal organs, thus optimizing metabolism, raising immunity and improving circulation says Oddity Central.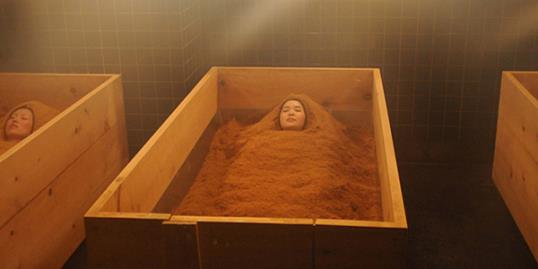 More from Living: What does your lingerie say about you?

Right now, this bizarre beauty treatment is only available in Japan and costs approximately $70.

Would you try this beauty treatment?

Bing: Most bizarre beauty treatments

Photos: Ion House; Roomie

More from Simply Chic:
January Jones on her hair: "It's falling out in clumps"
Blondes may have more fun, but brunettes are more likely to succeed at work
Women look older at 3:30 p.m. on Wednesdays
fashion: trends & must-haves for your wardrobe
When it was revealed that Kim Kardashian was expecting her first child with boyfriend Kanye West, we wondered what would happen to her fondness for curve-hugging clothes and stilettos. As it turns out, nothing at all! Kardashian has been criticized for some of her attempts at adapting her everyday style to her growing belly, but we've rounded up her best bump looks, along with the lessons expectant moms can learn from them.

It's official: Bangs are back in a big way this season. Whether you have curly, wavy, or straight hair, there's flattering fringe that will work for you. Check out these celebrity haircuts for inspiration.

Hard work, talent and perseverance are the three keys to professional success—but sometimes a really great haircut helps, too.

There's no miracle cure for acne, but the products and tips below come pretty darn close.

Beauty truth: You can't buy the best makeup and body potions stars use; their makeup pros are whipping up mystery formulas. And beauty sleuth Andrea Pomerantz Lustig learned 'em!

What can make a face softer but edgier at the same time? (Don't worry, this isn't some complicated riddle.) Bangs can enhance any face shape—if you wear them the right way, that is. We've rounded up five ideas with fringe benefits, along with hairstylist Nathaniel Hawkins's tips for pulling them off.

We all know we need moisturizer. The confusing part? Picking one that works for your skin—and your budget. Well, here's your cheat sheet: Using the Allure Beauty Product Finder, we found the ten best drugstore moisturizers for every skin type, all for under $20. So whether your skin is dry, acne-prone, or you've got dark spots or fine lines, we've got you—and your wallet—covered.

Growing pains? Totally unnecessary. Getting—and keeping—long, shiny, sexy hair has never been easier.

You may have spent years studiously ignoring your mother's advice (and she was right about that guy in high school, admit it), but eventually all that bossing and nagging adds up to something truly useful. Here, Allure staffers share their mothers' wisest words about beauty.

Just like a good pair of shoes, the right hair accessory can change your entire mood (and look!). We rounded up some of our favorites from the spring 2013 runways.

You can make your eyes look younger, brighter — even more lifted — in minutes, using just your basic makeup. Find your issue here, then follow our how-to guide to learn the techniques. It's so easy, you won't believe your eyes.

It's one of those workhorse pieces that can make women look crisp, laid-back, professional, or dead sexy. Meet the one shirt dress you'll wear for life.