Who lies more: Men or women?
Plus, the top five lies told by both sexes.
Whether it's a little white lie or lying by omission, we're all guilty of stretching the truth. But according to a study, men are more likely to lie than women—kind of. While men are more likely to lie overall, women are more likely to lie in specific situations.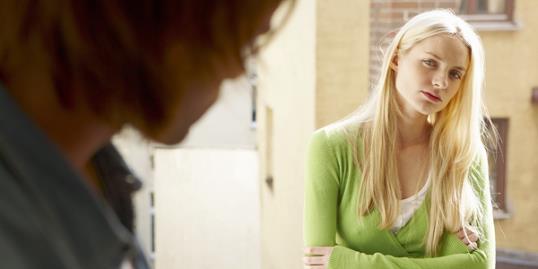 Women tell an average of 728 lies per year, or approximately two lies a day. Men, on the other hand, tell an average of 1,092 lies a year, or three per day.
More on MSN Living: Most common holiday arguments—and how to avoid them
Commissioned by the Science Museum of central London and carried out by OnePoll, the study included 3,000 adults and also listed the top lies men and women tell the most.
"Lying may seem to be an unavoidable part of human nature, but it's an important part of social interaction," Katie Maggs, museum curator, told the Telegraph. "The jury is still out as to whether quirks like lying are the result of our genes, evolution or upbringing."
More on MSN Living: The biggest rocks of 2012
Eighty-two percent of females in the survey said that lying made them feel guilty, while only 70 percent of men felt the same way. Seventy-five percent of those polled said it was okay to lie in order to spare someone's feelings.
While men lie more often, women are more prone to lie in specific situations, according to a separate study carried about by BMW Financial Services. For example, when it comes to shopping, 39 percent of women feel the need to lie about their purchases compared to only 26 percent of men. Women are also more likely to lie about being busy in order to avoid a phone call. Half of women surveyed admitted to lying in this situation compared to just over a third of men.
Below are the top five lies told by both sexes, according to the men and women surveyed. Let's hope they were telling the truth about their lying.
Top 5 lies men tell:
I didn't have that much to drink.
Nothing's wrong; I'm fine.
I had no signal.
It wasn't that expensive.
I'm on my way.
Top 5 lies women tell:
Nothing's wrong; I'm fine.
I don't know where it is. I haven't touched it.
It wasn't that expensive.
I didn't have that much to drink.
I've got a headache.
Photo: Maik Kern/Getty Images
Bing: Sesame Street to tackle divorce.
More Sex & Love on MSN Living:
10 places to meet a man for the holidays
7 strategies to divorce-proof marriages
The way to his heart after 1, 5 and 10 years of marriage
What does your engagement ring say about you
beauty tips and style advice
After a jam-packed week in New Zealand, Kate Middleton and Prince William finally enjoyed a day off, but as of last night (or this morning..? Ah, time change!) they're back on the road again.

These travel-sized beauty products will do double-duty while you're on the road.

Neatly sidestepping high fashion, the smiling, cheerful Kate Middleton is fast becoming the Duchess of Normcore.

This December, New Yorkers might notice something missing in the Christmas air.

When Madonna posted an image of herself wearing a full on Game of Thrones Khaleesi costume on Instagram last week we weren't exactly surprised—this is the woman who rolled into the Grammy Awards wearing a tuxedo and a grill earlier this winter, so why not celebrate the Jewish holiday of Purim with a leather corset and a pair of tiny dragons? Still, we were hypnotized by her white-blonde, braided Daenerys Targaryen hair. Functioning as a bleached out cultural weather vane of sorts, it tapped into multiple obsessions at once—the return of "Game of Thrones" to HBO, spring's new extreme hair lengths and, most notably, fashion's current platinum mania. Our own love of ice-blonde hair—which transforms any look from everyday to extraordinary—has been well documented of late, but last night's Game of Thrones premiere sent our platinum fever into overdrive. In celebration of fashion's favorite hair color, a look at the best platinum moments in history.

While you were sleeping, fast retail chain H&M H&M announced that its next designer collaboration is with Alexander Wang.

Formal, beachy, country club-chic or gorgeously rustic whatever the setting calls for, we've found a bevy of beautiful dresses to wear to a wedding this season.

Puffy, tired, weary no more. These tips take years off and create that "I slept great, thanks!" effect.

Top dermatologists, cosmetic chemists, makeup artists, and hairstylists reveal quick tips and tricks that can peel back years in a matter of seconds

We're all for sartorial freedom, but there are certain once-on-trend items that, when worn today, appear anything but current. Consider this your official out list.

If you're a practitioner of reselling your clothes—a good way to clear out some space in your wardrobe and make a few extra bucks—you might already be familiar with San Francisco-based thredUP.

A picture may be worth a thousand words, but emoji must be worth at least a million. Here we show you how to channel your favorites: Go ahead, express yourself!