Who lies more: Men or women?
Plus, the top five lies told by both sexes.
Whether it's a little white lie or lying by omission, we're all guilty of stretching the truth. But according to a study, men are more likely to lie than women—kind of. While men are more likely to lie overall, women are more likely to lie in specific situations.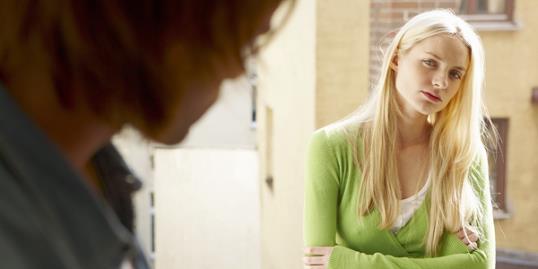 Women tell an average of 728 lies per year, or approximately two lies a day. Men, on the other hand, tell an average of 1,092 lies a year, or three per day.
More on MSN Living: Most common holiday arguments—and how to avoid them
Commissioned by the Science Museum of central London and carried out by OnePoll, the study included 3,000 adults and also listed the top lies men and women tell the most.
"Lying may seem to be an unavoidable part of human nature, but it's an important part of social interaction," Katie Maggs, museum curator, told the Telegraph. "The jury is still out as to whether quirks like lying are the result of our genes, evolution or upbringing."
More on MSN Living: The biggest rocks of 2012
Eighty-two percent of females in the survey said that lying made them feel guilty, while only 70 percent of men felt the same way. Seventy-five percent of those polled said it was okay to lie in order to spare someone's feelings.
While men lie more often, women are more prone to lie in specific situations, according to a separate study carried about by BMW Financial Services. For example, when it comes to shopping, 39 percent of women feel the need to lie about their purchases compared to only 26 percent of men. Women are also more likely to lie about being busy in order to avoid a phone call. Half of women surveyed admitted to lying in this situation compared to just over a third of men.
Below are the top five lies told by both sexes, according to the men and women surveyed. Let's hope they were telling the truth about their lying.
Top 5 lies men tell:
I didn't have that much to drink.
Nothing's wrong; I'm fine.
I had no signal.
It wasn't that expensive.
I'm on my way.
Top 5 lies women tell:
Nothing's wrong; I'm fine.
I don't know where it is. I haven't touched it.
It wasn't that expensive.
I didn't have that much to drink.
I've got a headache.
Photo: Maik Kern/Getty Images
Bing: Sesame Street to tackle divorce.
More Sex & Love on MSN Living:
10 places to meet a man for the holidays
7 strategies to divorce-proof marriages
The way to his heart after 1, 5 and 10 years of marriage
What does your engagement ring say about you
beauty tips and style advice
Avoid the hype at the makeup counter by sticking to this list of tried and true performers that will help you look your best day in and day out.

See Kate's best looks from Australia.

The springtime is the best time to press the reset button on your wardrobe, and given the great new fashion that's hitting stores right now, there are a myriad of ways to reboot and refresh. Of the nine must-try trends this season, it can be tough to choose a favorite. Perhaps you're feeling for a graphic floral? And maybe the season's sport-luxe look fits your style too? That said, if you're picking battles where your budget is concerned, the idea of a complete spring makeover can be overwhelming. Fret not, our biannual 100+ Under $100 Guide pulls pieces inspired by both the runways and the pages of the magazine together—at the perfect price.

We raided the aisles to find the best cheapie formulas for you.

As of this morning, I have decided that Kate Middleton should just tour things forever so we get to see more updos like the one she wore last night at a reception hosted by the Governor General Peter Cosgrove in Canberra, Australia.

Dressing for the office doesn't have to boring. Follow these style and beauty tips and you'll be sure to impress.

Every year, we look to the biggest names in bridal beauty and fashion design to pinpoint the hottest bridal hair and makeup ideas – keeping in mind of course that this is a wedding (no crazy neon mascara here). This year, bridal beauty has gone extra natural and romantic -- think messy braids, wispy hair, natural eye makeup and more.

You've got the dress. You've got the venue, date, and invitations. The last thing you need to complete your wedding day? An amazing pair of shoes to wear as you walk down the aisle!

With the dress as the main focus, you want the hair to be understated. An updo does just that. But there's a difference between understated and boring. Adding simple accessories, like a pin or flower, is just enough decoration to the hair. Let these gorgeous pins serve as inspiration for finding a simple, yet understated, wedding hairstyle.

Just when we were getting used to seeing beards everywhere, it may be time for men who enjoy the attention of the opposite sex to invest in some shaving paraphernalia. In a new University of New South Wales study, researchers found that "when people are confronted by a succession of bearded men, clean-shaven men become [...]

If your arm aches just thinking about blow-drying, take heart: These easy hair-saving tips will cut down on your mirror time and deliver salon-level results.

From designer maxi dresses by Roberto Cavalli and Temperley London to contemporary finds by Alice + Olivia and Zimmermann, there's a dress for every kind of seaside bride.