Who lies more: Men or women?
Plus, the top five lies told by both sexes.
Whether it's a little white lie or lying by omission, we're all guilty of stretching the truth. But according to a study, men are more likely to lie than women—kind of. While men are more likely to lie overall, women are more likely to lie in specific situations.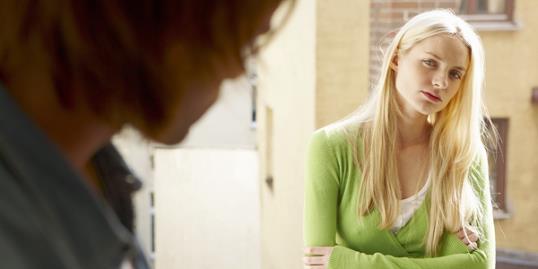 Women tell an average of 728 lies per year, or approximately two lies a day. Men, on the other hand, tell an average of 1,092 lies a year, or three per day.
More on MSN Living: Most common holiday arguments—and how to avoid them
Commissioned by the Science Museum of central London and carried out by OnePoll, the study included 3,000 adults and also listed the top lies men and women tell the most.
"Lying may seem to be an unavoidable part of human nature, but it's an important part of social interaction," Katie Maggs, museum curator, told the Telegraph. "The jury is still out as to whether quirks like lying are the result of our genes, evolution or upbringing."
More on MSN Living: The biggest rocks of 2012
Eighty-two percent of females in the survey said that lying made them feel guilty, while only 70 percent of men felt the same way. Seventy-five percent of those polled said it was okay to lie in order to spare someone's feelings.
While men lie more often, women are more prone to lie in specific situations, according to a separate study carried about by BMW Financial Services. For example, when it comes to shopping, 39 percent of women feel the need to lie about their purchases compared to only 26 percent of men. Women are also more likely to lie about being busy in order to avoid a phone call. Half of women surveyed admitted to lying in this situation compared to just over a third of men.
Below are the top five lies told by both sexes, according to the men and women surveyed. Let's hope they were telling the truth about their lying.
Top 5 lies men tell:
I didn't have that much to drink.
Nothing's wrong; I'm fine.
I had no signal.
It wasn't that expensive.
I'm on my way.
Top 5 lies women tell:
Nothing's wrong; I'm fine.
I don't know where it is. I haven't touched it.
It wasn't that expensive.
I didn't have that much to drink.
I've got a headache.
Photo: Maik Kern/Getty Images
Bing: Sesame Street to tackle divorce.
More Sex & Love on MSN Living:
10 places to meet a man for the holidays
7 strategies to divorce-proof marriages
The way to his heart after 1, 5 and 10 years of marriage
What does your engagement ring say about you
Are you sure you want to delete this comment?
beauty tips and style advice
You know what they say about good things and small packages. So go ahead, indulge your loved ones (or yourself!) with these plush, pint-sized products.

While the debut of Karl Lagerfeld's Chanel No.5 bottle bag surely adds yet another item to many a fashion follower's sartorial bucket list, it also got us thinking about one of the brand's other, ever-present offerings: the 2.55. The bag was first dreamed up by Gabrielle "Coco" Chanel in the early 1920s when, ever-practical and tired of having to carry her bag in her hands, the designer took inspiration from soldiers' packs and incorporated an extended strap into her own carryall. After World War II, she launched the quilted bag in earnest, in February 1955 putting a long, chain strap model forth (hence the name) and captivating women ever since.

2013 was a year full of firsts for me: I ran my longest distance (12 miles), learned how to cook and landed my dream job here at Lucky! Something else that surprisingly ranked high up on my list of personal accomplishments? Mastering a fishtail braid. I know what you're thinking: After years of seeing all sorts of fancy braids on the runways and red carpet, a fishtail now seems like it's one of the most basic styles. But no matter how many how-tos I read, my fingers just didn't want to cooperate. It was finally thanks to Lucky's video series where stylist David Diegez showed an easy video tutorial when I figured it out.

Another year is almost over, but great fashion is never forgotten. These 10 fashion trends made 2013 very stylish, so we're taking a moment to remember them in all their glory on the red carpets, runways, and streets where we first spotted them.

In the vast and completely arbitrary world of women's clothing sizes, it's pretty clear that there is no real industry standard.

We loved celebrating (and wearing!) the top fashion trends of 2013 (and we're getting excited about the trends to come in 2014). However, as in previous years, there were a few questionable looks we probably should have skipped. Here are eight that we're happy to say goodbye to come January 1.

Olivia Wilde dishes on her minimalist approach to skincare, and how pregnancy has made her more conscious of the products she uses.

Kate Middleton's Temperley London gown resurfaced on the red carpet for the third time. Do you love it, or is it one time too many?

See 14 holiday dresses you'll love under $100.

This season, let your nails be as merry—and bright—as your mood.

A few things are certain in life: death, taxes and the fact that a gal pretty much can't go bare legged from November to March.

See 15 fragrances for every personality on your holiday list.