Who lies more: Men or women?
Plus, the top five lies told by both sexes.
Whether it's a little white lie or lying by omission, we're all guilty of stretching the truth. But according to a study, men are more likely to lie than women—kind of. While men are more likely to lie overall, women are more likely to lie in specific situations.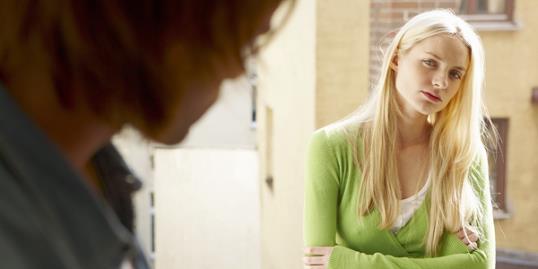 Women tell an average of 728 lies per year, or approximately two lies a day. Men, on the other hand, tell an average of 1,092 lies a year, or three per day.
More on MSN Living: Most common holiday arguments—and how to avoid them
Commissioned by the Science Museum of central London and carried out by OnePoll, the study included 3,000 adults and also listed the top lies men and women tell the most.
"Lying may seem to be an unavoidable part of human nature, but it's an important part of social interaction," Katie Maggs, museum curator, told the Telegraph. "The jury is still out as to whether quirks like lying are the result of our genes, evolution or upbringing."
More on MSN Living: The biggest rocks of 2012
Eighty-two percent of females in the survey said that lying made them feel guilty, while only 70 percent of men felt the same way. Seventy-five percent of those polled said it was okay to lie in order to spare someone's feelings.
While men lie more often, women are more prone to lie in specific situations, according to a separate study carried about by BMW Financial Services. For example, when it comes to shopping, 39 percent of women feel the need to lie about their purchases compared to only 26 percent of men. Women are also more likely to lie about being busy in order to avoid a phone call. Half of women surveyed admitted to lying in this situation compared to just over a third of men.
Below are the top five lies told by both sexes, according to the men and women surveyed. Let's hope they were telling the truth about their lying.
Top 5 lies men tell:
I didn't have that much to drink.
Nothing's wrong; I'm fine.
I had no signal.
It wasn't that expensive.
I'm on my way.
Top 5 lies women tell:
Nothing's wrong; I'm fine.
I don't know where it is. I haven't touched it.
It wasn't that expensive.
I didn't have that much to drink.
I've got a headache.
Photo: Maik Kern/Getty Images
Bing: Sesame Street to tackle divorce.
More Sex & Love on MSN Living:
10 places to meet a man for the holidays
7 strategies to divorce-proof marriages
The way to his heart after 1, 5 and 10 years of marriage
What does your engagement ring say about you
beauty tips and style advice
You know that classic nightmare where you walk into school or work completely naked? That's how I feel when I'm having a bad hair day. Like I don't want anyone to look at me and it takes everything I have not to immediately turn around and run back home.

Victoria Beckham will share her fashion story and give inside access to her brand via The Skype Collaboration Project in January 2014.

Just when we thought Pamela Anderson's sleek pixie marked her biggest hair makeover this year, the star ditched her trademark blonde hue.

Yes! Lupita Nyong'O shows us how.

Take the health of your hair up a notch with these natural treatments

Nope, it's not your resume.

This is why a short wedding dress makes sense.

The Queen is a handbag trendsetter, apparently.

You know winter is here when you pull off your clothes and find the insides lined with a thin coating of tiny dry skin particles. (Am I alone here, or do I have more serious dry skin issues than I thought?)

Yesterday I popped by the Clear Clinic, a dedicated acne treatment center that a lot of people (including a Glamour beauty blogger or two) swear have helped cure them of the dreaded spots.

The first thing I noticed about this photo of Keira Knightley at a London gala last night was her 90s-chic makeup, featuring matte pale foundation and lots of black eyeliner.

It's the stuff of pinups, old Hollywood glamour, and even science study after study says guys really go for it. But that classic Rita Hayworth red doesn't necessarily flatter every complexion. We rounded up the absolute best reds for every skin tone, so you can breeze through the sea of cherries, raspberries, and any other scarlet fruit.