Who lies more: Men or women?
Plus, the top five lies told by both sexes.
Whether it's a little white lie or lying by omission, we're all guilty of stretching the truth. But according to a study, men are more likely to lie than women—kind of. While men are more likely to lie overall, women are more likely to lie in specific situations.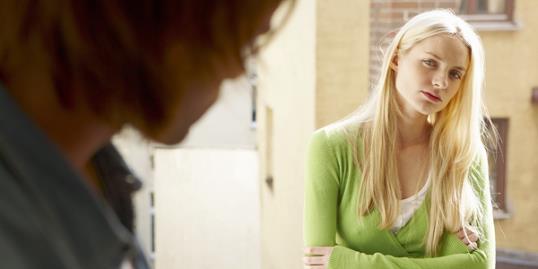 Women tell an average of 728 lies per year, or approximately two lies a day. Men, on the other hand, tell an average of 1,092 lies a year, or three per day.
More on MSN Living: Most common holiday arguments—and how to avoid them
Commissioned by the Science Museum of central London and carried out by OnePoll, the study included 3,000 adults and also listed the top lies men and women tell the most.
"Lying may seem to be an unavoidable part of human nature, but it's an important part of social interaction," Katie Maggs, museum curator, told the Telegraph. "The jury is still out as to whether quirks like lying are the result of our genes, evolution or upbringing."
More on MSN Living: The biggest rocks of 2012
Eighty-two percent of females in the survey said that lying made them feel guilty, while only 70 percent of men felt the same way. Seventy-five percent of those polled said it was okay to lie in order to spare someone's feelings.
While men lie more often, women are more prone to lie in specific situations, according to a separate study carried about by BMW Financial Services. For example, when it comes to shopping, 39 percent of women feel the need to lie about their purchases compared to only 26 percent of men. Women are also more likely to lie about being busy in order to avoid a phone call. Half of women surveyed admitted to lying in this situation compared to just over a third of men.
Below are the top five lies told by both sexes, according to the men and women surveyed. Let's hope they were telling the truth about their lying.
Top 5 lies men tell:
I didn't have that much to drink.
Nothing's wrong; I'm fine.
I had no signal.
It wasn't that expensive.
I'm on my way.
Top 5 lies women tell:
Nothing's wrong; I'm fine.
I don't know where it is. I haven't touched it.
It wasn't that expensive.
I didn't have that much to drink.
I've got a headache.
Photo: Maik Kern/Getty Images
Bing: Sesame Street to tackle divorce.
More Sex & Love on MSN Living:
10 places to meet a man for the holidays
7 strategies to divorce-proof marriages
The way to his heart after 1, 5 and 10 years of marriage
What does your engagement ring say about you
beauty tips and style advice
Getting away from it all for a bit? Your vacation wardrobe should be just like your plans: laid-back but totally fabulous. Take a cue from these celebrities, whose low-effort, high-style outfit ideas are officially on our must-copy list.

These fun and flattering vintage-style suits blend the best of the old with the best of the new.

Although it's not officially spring yet—the best time to start shopping for warm-weather clothes is now, while stores still have a good selection. Waiting until it's actually balmy enough to go bare-legged and short-sleeved leaves far too many factors to chance: what if your size sells out? Or the wrong color is left? And let's not forget about gross makeup stains from 10 other people trying it on!

From patriotic bikinis to retro two pieces, these celebs' stylish swimsuits will have you counting down to beach season! Check out your favorite stars rocking the hottest swim trends!

Sunglasses: it may seem counterintuitive to invest in a wintertime accessory traditionally viewed as a sunny, warm-weather item. But spring is on the way and we're also currently being exposed to crazy amounts of UV rays—and then, of course, there's the reflective snow situation.

As we herald a new season, the itch arrives to update one's wardrobe, and nothing cleanses a closet like a spanking-new bag, slick new pumps, or sparkling new jewels. Here, see our picks for the best investments to make this spring.

Some people look younger than they are, some look older. Even those with easy access to BOTOX and personal trainers. Can you guess the age of these celebrities?

Did anyone else hear wedding bells on the Oscars red carpet last night?

Then after the show, er, Oscars, it's the after party. Then after the party, it's the... Best Dressed List, of course. Nikki already picked her tops for the Academy Awards red carpet (did you vote yet?), so now it's time to see what the stars wore to the post-celebrations.

As I continue my personal campaign to swap out E!'s mani cam with a back-of-updo cam (and as a service to all the hardworking hairstylists who spent so much time creating beautiful hair looks for the 2014 Oscars), I'd like to point out that we miss a lot of gorgeous detail when we don't get the back view of a star's hair.

The bold new trend on the Oscars red carpet.

Trying new hairstyles is fun (have you picked up Allure Hair: The Ultimate How-To Hair Guide yet?).