Who lies more: Men or women?
Plus, the top five lies told by both sexes.
Whether it's a little white lie or lying by omission, we're all guilty of stretching the truth. But according to a study, men are more likely to lie than women—kind of. While men are more likely to lie overall, women are more likely to lie in specific situations.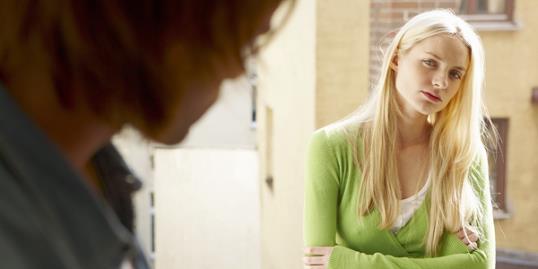 Women tell an average of 728 lies per year, or approximately two lies a day. Men, on the other hand, tell an average of 1,092 lies a year, or three per day.
More on MSN Living: Most common holiday arguments—and how to avoid them
Commissioned by the Science Museum of central London and carried out by OnePoll, the study included 3,000 adults and also listed the top lies men and women tell the most.
"Lying may seem to be an unavoidable part of human nature, but it's an important part of social interaction," Katie Maggs, museum curator, told the Telegraph. "The jury is still out as to whether quirks like lying are the result of our genes, evolution or upbringing."
More on MSN Living: The biggest rocks of 2012
Eighty-two percent of females in the survey said that lying made them feel guilty, while only 70 percent of men felt the same way. Seventy-five percent of those polled said it was okay to lie in order to spare someone's feelings.
While men lie more often, women are more prone to lie in specific situations, according to a separate study carried about by BMW Financial Services. For example, when it comes to shopping, 39 percent of women feel the need to lie about their purchases compared to only 26 percent of men. Women are also more likely to lie about being busy in order to avoid a phone call. Half of women surveyed admitted to lying in this situation compared to just over a third of men.
Below are the top five lies told by both sexes, according to the men and women surveyed. Let's hope they were telling the truth about their lying.
Top 5 lies men tell:
I didn't have that much to drink.
Nothing's wrong; I'm fine.
I had no signal.
It wasn't that expensive.
I'm on my way.
Top 5 lies women tell:
Nothing's wrong; I'm fine.
I don't know where it is. I haven't touched it.
It wasn't that expensive.
I didn't have that much to drink.
I've got a headache.
Photo: Maik Kern/Getty Images
Bing: Sesame Street to tackle divorce.
More Sex & Love on MSN Living:
10 places to meet a man for the holidays
7 strategies to divorce-proof marriages
The way to his heart after 1, 5 and 10 years of marriage
What does your engagement ring say about you
beauty tips and style advice
If you're one of the lucky ones heading out of town for spring break, anticipating warm weather and sun-filled days (seriously, will it ever get above 50 degrees here in NYC?), make sure you pack all the essentials. I picked the best spring break must-haves so you can focus on the important things in life— like figuring out which boardwalk bar serves the best margaritas.

Men, get it together! First, facial hair transplants; now, monocles?!?!

As Fashion Month winds to a close and we bid adieu to awards season, the time has come to embrace yet another several month-long string of entertainment and celebrity-studded events: festival season. Ahead of Coachella's flower crowns, South by Southwest hit Austin, Texas this weekend for its annual week of music, film and interactive (read: technology) shows, panels and performances.

Famous brides may have access to elite designers that most of us can only dream of, but we can all delight in the statements they make on their big days. In honor of the pending nuptials of Kim Kardashian and Kanye West, let's take a look at some recent and past famous gorgeous gowns.

From pretty pastels to bold brights and cool textures, up your #ManicureMonday game with spring's top nail polish trends!

Even if everyone at school will be rocking their most festive shades of emerald on March 17, you don't want to end up looking like a Leprechaun in head-to-toe green.

Neutral tones and beautiful metallics were a huge trend on the Oscars red carpet. And we saw so many dresses that would be exceptionally beautiful walking down the aisle. Here are our favorites!

Sorry, winter, we're way over you. It's time to refresh your look for spring with bold lippies, fun nail art and major brows—here's how to rock the hottest new trends, just like these stylish celebs!

Time to say buh-bye to the same old, played-out 'dos. Celebrity stylist Jen Atkin tells you how to update these 7 classic hairstyles for spring.

How to dress your baby bump.

Things we learned backstage at the fall 2014 runway shows: Bold brows aren't going anywhere, bright green can actually look subtle, and glitter is amazing almost anywhere (within reason). Here, our favorite makeup looks of the season so far.

The fall runways showcased a broad range of hairstyles—braids, buns, ponytails, and even wigs. But there were unifying themes, too: A pervasive sense of ease; experimentation with texture; and an apparent belief that anything goes.