Who lies more: Men or women?
Plus, the top five lies told by both sexes.
Whether it's a little white lie or lying by omission, we're all guilty of stretching the truth. But according to a study, men are more likely to lie than women—kind of. While men are more likely to lie overall, women are more likely to lie in specific situations.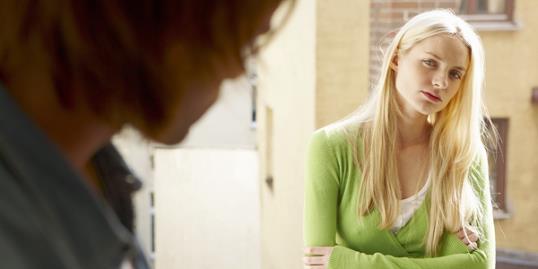 Women tell an average of 728 lies per year, or approximately two lies a day. Men, on the other hand, tell an average of 1,092 lies a year, or three per day.
More on MSN Living: Most common holiday arguments—and how to avoid them
Commissioned by the Science Museum of central London and carried out by OnePoll, the study included 3,000 adults and also listed the top lies men and women tell the most.
"Lying may seem to be an unavoidable part of human nature, but it's an important part of social interaction," Katie Maggs, museum curator, told the Telegraph. "The jury is still out as to whether quirks like lying are the result of our genes, evolution or upbringing."
More on MSN Living: The biggest rocks of 2012
Eighty-two percent of females in the survey said that lying made them feel guilty, while only 70 percent of men felt the same way. Seventy-five percent of those polled said it was okay to lie in order to spare someone's feelings.
While men lie more often, women are more prone to lie in specific situations, according to a separate study carried about by BMW Financial Services. For example, when it comes to shopping, 39 percent of women feel the need to lie about their purchases compared to only 26 percent of men. Women are also more likely to lie about being busy in order to avoid a phone call. Half of women surveyed admitted to lying in this situation compared to just over a third of men.
Below are the top five lies told by both sexes, according to the men and women surveyed. Let's hope they were telling the truth about their lying.
Top 5 lies men tell:
I didn't have that much to drink.
Nothing's wrong; I'm fine.
I had no signal.
It wasn't that expensive.
I'm on my way.
Top 5 lies women tell:
Nothing's wrong; I'm fine.
I don't know where it is. I haven't touched it.
It wasn't that expensive.
I didn't have that much to drink.
I've got a headache.
Photo: Maik Kern/Getty Images
Bing: Sesame Street to tackle divorce.
More Sex & Love on MSN Living:
10 places to meet a man for the holidays
7 strategies to divorce-proof marriages
The way to his heart after 1, 5 and 10 years of marriage
What does your engagement ring say about you
beauty tips and style advice
Click to see 10 must-have hair tools to streamline your beauty routine.

See 9 of the prettiest holiday hair accessories for the holidays.

Here's how to choose the neckline style that looks best on you.

This season, let your nails be as merry—and bright—as your mood.

Sure, a little black dress or le smoking is always on par for the party scene, but who says holiday dressing has to be so cut and dry? We have 15 ideas for switching it up this season—getting festive just got a whole lot more fun.

Super-fast (and easy) hair, makeup, and nail ideas that'll make you party-ready in minutes. Sorry, no more last-minute bailing because you're running late.

From straight and sleek to intricate braids and sky high topknots, some celebs just know how to do party hair

From a structured blazer to that awe-inducing statement clutch, Rachel Zoe shares her picks for December dressing with InStyle.com exclusively.

Simple style tricks to help your hair look better in an instant.

7 hairstyles to try this holiday season.

You know that classic nightmare where you walk into school or work completely naked? That's how I feel when I'm having a bad hair day. Like I don't want anyone to look at me and it takes everything I have not to immediately turn around and run back home.

Victoria Beckham will share her fashion story and give inside access to her brand via The Skype Collaboration Project in January 2014.