New trend for singles: Airport dating
Courtship in the cabin?
If you're looking for love and happen to have a layover, you might want to pay attention.
A new trend mixes two of life's most adventurous endeavors—traveling and dating. Singles are taking advantage of their travel time by looking for potential partners among their fellow passengers. And a new site is making airport dating easier than ever.
More on MSN Living: 10 men in your life you may be overlooking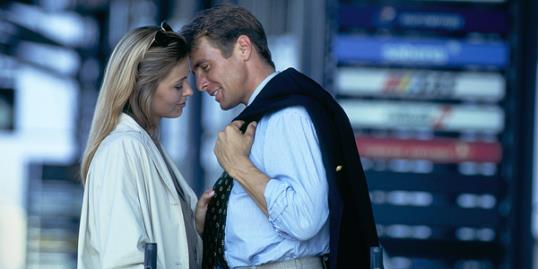 Dating site Meetattheairport.com​ allows single travelers to mingle at the gate. It was founded by Steve Pasternack, who got the idea after his flight was delayed.
"I was tired of reading a magazine or book, and there's just so many times you can watch planes take off and land," Pasternack told MSN's The Heart Beat. "I noticed how other people were gravitating toward the bars and thought it would be great to meet someone new to talk to and pass the time.  That's when I came up with the idea for a website that connects people while they're waiting for their flight."
After launching the site, Pasternack now has 20,000 members worldwide. Visitors simply answer a few questions about their personal interests and preferences. When they're ready to travel (and find romance), members input their flight information and departure airport.  From there, the site tries to connect them with a suitable match.
More on MSN Living: 9 myths about men
"It's also exciting to meet someone new from another city or even country," Pasternack told us.
He adds that airport dating is a safe option, too—a significant concern amid an age of Internet dating fraud. Pasternack contends: "Where else can you meet someone that was required to show several forms of identification and then go through a full body search?"
If only we could X-ray scan all of our dates.
Earlier this year, CNN wrote about in-transit romance, presenting several stories of couples who met at the airport. There was the flight attendant who received a Facebook request from a chatty passenger, for example. Long story short, she told CNN:
"When we met, although we knew we were falling hard and fast for one another, we continued to say, 'I'm not looking for anyone right now, but we can be friends and see where it goes!'"
Several months later, the couple tied the knot.
Tell us what you think of airport dating. Would you engage in an en route romance?
Photo: ADEO/Getty Images
More Sex & Love on MSN Living:
The Essence most eligible bachelors
15 (guy approved!) ways to have the best first date ever
50 signs he's not that into you
20 'annoying' girl things he secretly loves about you
Are you sure you want to delete this comment?
fashion: trends & must-haves for your wardrobe
When it was revealed that Kim Kardashian was expecting her first child with boyfriend Kanye West, we wondered what would happen to her fondness for curve-hugging clothes and stilettos. As it turns out, nothing at all! Kardashian has been criticized for some of her attempts at adapting her everyday style to her growing belly, but we've rounded up her best bump looks, along with the lessons expectant moms can learn from them.

It's official: Bangs are back in a big way this season. Whether you have curly, wavy, or straight hair, there's flattering fringe that will work for you. Check out these celebrity haircuts for inspiration.

Hard work, talent and perseverance are the three keys to professional success—but sometimes a really great haircut helps, too.

There's no miracle cure for acne, but the products and tips below come pretty darn close.

Beauty truth: You can't buy the best makeup and body potions stars use; their makeup pros are whipping up mystery formulas. And beauty sleuth Andrea Pomerantz Lustig learned 'em!

What can make a face softer but edgier at the same time? (Don't worry, this isn't some complicated riddle.) Bangs can enhance any face shape—if you wear them the right way, that is. We've rounded up five ideas with fringe benefits, along with hairstylist Nathaniel Hawkins's tips for pulling them off.

We all know we need moisturizer. The confusing part? Picking one that works for your skin—and your budget. Well, here's your cheat sheet: Using the Allure Beauty Product Finder, we found the ten best drugstore moisturizers for every skin type, all for under $20. So whether your skin is dry, acne-prone, or you've got dark spots or fine lines, we've got you—and your wallet—covered.

Growing pains? Totally unnecessary. Getting—and keeping—long, shiny, sexy hair has never been easier.

You may have spent years studiously ignoring your mother's advice (and she was right about that guy in high school, admit it), but eventually all that bossing and nagging adds up to something truly useful. Here, Allure staffers share their mothers' wisest words about beauty.

Just like a good pair of shoes, the right hair accessory can change your entire mood (and look!). We rounded up some of our favorites from the spring 2013 runways.

You can make your eyes look younger, brighter — even more lifted — in minutes, using just your basic makeup. Find your issue here, then follow our how-to guide to learn the techniques. It's so easy, you won't believe your eyes.

It's one of those workhorse pieces that can make women look crisp, laid-back, professional, or dead sexy. Meet the one shirt dress you'll wear for life.