New trend for singles: Airport dating
Courtship in the cabin?
If you're looking for love and happen to have a layover, you might want to pay attention.
A new trend mixes two of life's most adventurous endeavors—traveling and dating. Singles are taking advantage of their travel time by looking for potential partners among their fellow passengers. And a new site is making airport dating easier than ever.
More on MSN Living: 10 men in your life you may be overlooking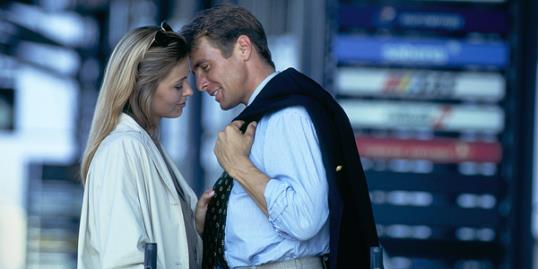 Dating site Meetattheairport.com​ allows single travelers to mingle at the gate. It was founded by Steve Pasternack, who got the idea after his flight was delayed.
"I was tired of reading a magazine or book, and there's just so many times you can watch planes take off and land," Pasternack told MSN's The Heart Beat. "I noticed how other people were gravitating toward the bars and thought it would be great to meet someone new to talk to and pass the time.  That's when I came up with the idea for a website that connects people while they're waiting for their flight."
After launching the site, Pasternack now has 20,000 members worldwide. Visitors simply answer a few questions about their personal interests and preferences. When they're ready to travel (and find romance), members input their flight information and departure airport.  From there, the site tries to connect them with a suitable match.
More on MSN Living: 9 myths about men
"It's also exciting to meet someone new from another city or even country," Pasternack told us.
He adds that airport dating is a safe option, too—a significant concern amid an age of Internet dating fraud. Pasternack contends: "Where else can you meet someone that was required to show several forms of identification and then go through a full body search?"
If only we could X-ray scan all of our dates.
Earlier this year, CNN wrote about in-transit romance, presenting several stories of couples who met at the airport. There was the flight attendant who received a Facebook request from a chatty passenger, for example. Long story short, she told CNN:
"When we met, although we knew we were falling hard and fast for one another, we continued to say, 'I'm not looking for anyone right now, but we can be friends and see where it goes!'"
Several months later, the couple tied the knot.
Tell us what you think of airport dating. Would you engage in an en route romance?
Photo: ADEO/Getty Images
More Sex & Love on MSN Living:
The Essence most eligible bachelors
15 (guy approved!) ways to have the best first date ever
50 signs he's not that into you
20 'annoying' girl things he secretly loves about you
beauty tips and style advice
If you're anything like me, you probably haven't gone anywhere near a hair accessory for years—save for the few stretched-out Goody elastics tumbling around at the bottom of your handbag, the slightly rusty bobby pins gathering dust at the back of your medicine cabinet or that scrunchie you use to pull your hair back when washing your face in the morning. For as long as I can remember, hair adornments have been slapped with somewhat of a childish reputation; when's the last time you saw a girl over the age of 11 wearing a barrette or witnessed a woman past her teen years sporting a headband?

When it's hot and humid, pulling your hair into a ponytail is practical. But it can also be fun, easy, unexpected, and mind-blowingly gorgeous. Here, stunning summer hair ideas inspired by our favorite runway and red-carpet looks of the moment—plus expert tips on how to re-create them.

Sure, sunglasses protect your eyes and help you see, but they can also lend an instant, undeniable cool factor to just about anyone. Said cool factor is most apparent when sunglasses fit well, balance your features, and look like they were made for your face. Because one-size-flatters-all shades are unfortunately not a thing, we asked Bobbi Brown, makeup artist, glasses expert, and author of the new book Bobbi Brown: Everything Eyes, for her top tips for finding flattering sunglasses for every face shape.

The leading ladies who make summer beauty look effortless.

Chic accessories for every wedding style.

When it comes to lounging on the beach in the buff, turns out that Germans and Austrians are the most comfortable with their birthday suits, according to a worldwide survey of beachgoing habits around the world.

Chic time-tested shades you'll love for this summer.

Our top picks for staying cool this summer.

Does makeup make you feel more or less like yourself? These women — some makeup junkies, some who never touch the stuff — were brave enough to be photographed with half their faces made up by a pro and half their faces totally bare.

Chic ensembles for every woman.

At almost every age, more men report being satisfied with looks than women.

Wrinkle no blouse, tangle no jewelry, leave no beauty product behind, and still have room to spare.