OMG: "Toddlers & Tiaras" Star Eden Wood Is Launching A Line At NYFW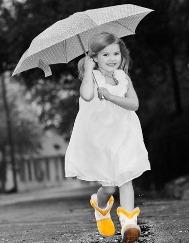 by Tracey Lomrantz, Glamour Magazine

Move over, Kanye West: There's a new celebrity designer clamoring for the fashion week spotlight. She's got a loyal following, she sings and dances, she loves an audience...and she's four years old!

Eden Wood, pageant princess of "Toddlers & Tiaras" fame, is launching not one but two different clothing lines during New York Fashion Week!

On Sunday night, the precocious reality star will hold a show at a gallery space in Nolita, debuting her own eponymous clothing collection for kids and a new line of boots she "designed" in collaboration with Cicciabella. "Designed with trendy tots in mind, Cicciabella Cowgirl Riders are a line of western-inspired boots that come in a wide selection of vintage prints," the press release says. "As the new face of the Spring 2012 line, Eden Wood boots feature high-glamour detailed embroidering, soft faux suede and plushy lining is paired with a rugged sole for indoor or outdoor wear."

Related: 18 Midlength Hairstyles to Consider

The little lady herself will be on hand for interviews (duh, we are so there), and oh yes, she'll be giving a musical performance. In case you're not familiar with Eden's body of work, get acquainted:

Related: 10 Shoes Every Woman Should Own

Has she officially arrived, or what!? Do you think it's ludicrous that a four-year-old pageant queen will be showing her clothes at fashion week? Do you watch "Toddlers & Tiaras" ('fess up!)? Discuss on our Facebook page.

Courtesy Photo

More from Glamour:
50 Things Men Are Afraid to Ask For But Want Super-Duper Badly
What Your Hairstyle Says About You (According to Guys)
Spring 2012's Most Wearable Fashion Trends
beauty tips and style advice
Monday's New Zealand itinerary brought Kate and William to the cricket field.

We put a slew of new formulas to the test, and these are the ones making us look younger and fresher.

From the coolest chestnut to the deepest mahogany, these stars show how to unleash your inner brunette bombshell.

In a girl's life, there are a select few occasions when it's considered completely appropriate to go all out with a truly spectacular dress. Her wedding day comes to mind, of course, and maybe her Sweet 16. Prom night, however, is certainly at the tip-top of that short list of special events.

When I was a teenager, I wouldn't be caught dead without my lip gloss, blush, eyeshadow and eyeliner at all times. Now, even though I'm older, I'll admit I still don't feel 100 percent confident leaving the house without at least some of my "face" on—plus, my obsession with beauty products doesn't encourage me to go makeup-free very often.

Good magazine covers grab your attention and make you want to look inside. Controversial covers and photo shoots, like the 14 that follow, often become a part of history.