The World's Most Expensive T-Shirt
Would you buy a $400,000 t-shirt if you could afford it?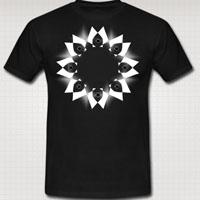 Sure, we've heard of spending a ridiculous amount of money on outlandish vacations, dazzling jewels and pimped out cars, but you know you have way too much money when you are contemplating spending hundreds of thousands of dollars ($400,000 to be exact) on---drum roll, please—a T-shirt.
Yes, a T-shirt. You heard correctly. But not just any tee—this one is extra special. Why, you ask? Well for starters, it's a "one of a kind luxury product" that has been made using only renewable energy sources. Haven't you always wanted a t-shirt made only from using wind and solar power?  In addition, the shirt is made from 100 percent organic cotton suited specially for super-sensitive skin.
Although we're all about helping the planet, we're pretty sure we can get an
environmentally-frie​ndly, organic cotton tee for around $20 instead of $400,000. But before you judge, you should also know that this tee is outfitted with some serious bling.
The shirt's spherical pattern is enhanced with 16 certified hand-set, exquisitely-cut diamonds, consisting of eight white diamonds weighing in at over 1ct each and 8 black diamonds also weighing in at over 1ct each. This is a lot of bling (although still less than the total carat weight of Kim Kardashian's former engagement ring, in case you were curious).
But the bottom line is this: If anyone in their right mind is crazy enough to spend this kind of cash on a tee—we hope they're smart enough to think twice before putting it in the washing machine. 
fashion: trends & must-haves for your wardrobe
Ready to refresh your hair and makeup for spring? Well, look no further for your latest batch of inspiration. These ladies are bringing the beauty brilliance with megawatt lipstick shades, sleek haircuts, and must-try hair colors. Get ready to play copycat.

Long, layered, medium or wavy – we're sharing our favorite hairstyles of 2013 with a new 'do each day. Stuck in a hair rut? Check back daily for snappy new looks that are sure to give your locks some beauty inspiration.

Step into spring with style in June Ambrose's new shoe line for HSN.

Revamp your corporate look with graphic prints and bold color.

If you have only five makeup tools in your kit, make sure these are them. They do much more than just look cute on your vanity!

Think all it can do is shellac everything down, helmet-head style? So wrong! A can of whatever's in your cabinet is your secret beauty weapon. Try it like this.

You may not get wrinkles on your hair, but it ages all the same. Grays, dullness, thinning strands, and frizz are all (unfortunately) part of the hair's aging process, which starts happening in your 30s. The good news is that you don't need Botox to fix these problems. Here are six tips for hair that's shiny, bouncy, healthy—and, yes, younger looking.

Our fashion-savvy FLOTUS shows us she is truly a master at mixing high- and low-end designs.

Get ready for summer with these cute and easy to DIY nail art designs.

Brides, it's your big day and you want to look special. Please, whatever you do, don't wear one of these wedding dresses. These are truly the worst.

Even if you're the best friend of all time, no bridesmaid should ever have to wear these worst-ever bridesmaid dresses. Lace, ruffles and satin overload!

As your face changes, so should your hair—the right cut can shave years from your appearance. And while there's no such thing as an age-appropriate length, there are age-appropriate styles. Here, the 30 most gorgeous hairstyles for every age, as seen on Mila Kunis, Jessica Biel, Jennifer Aniston, Diane Keaton, and more.