What Would Barbie's Proportions Look Like on a Real Woman? Come See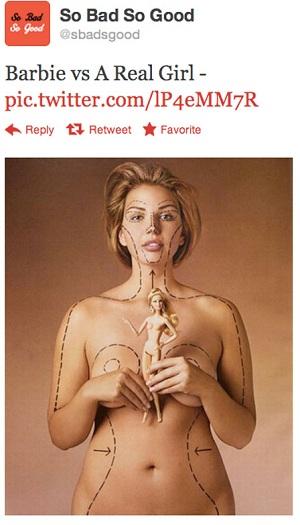 by Beth Shapouri, Glamour

We know what it would look like if Barbie got married (see here and here—no, really, you MUST check out those links), but what if she were a real woman? The folks behind the Twitter feed So Bad So Good found a picture that shows her figure drawn on a model's body, and the results are, as you might expect, a little bit insane.

The second I spotted this over at The Daily Mail I thought, Oh, I'm going to have to post this one. We all know her waist measurement is ridiculous, but what's up with the tiny chin? Are tiny chins hot? This has honestly never been a thought in my life. Other observations: Her eyes are ENORMOUS, her neck is basically a toothpick and her boobs would be so high she could use them as a storage shelf.

Related: Swimsuits That'll Make You Look 10 Pounds Thinner

Of course, criticism of Barbie's unrealistic body isn't a new thing, but seeing it drawn on a real woman is pretty jarring. I mean, her body wouldn't be a hospitable place for a full set of ribs, and her spine would have to be so thin her doctor would have her on Boniva in about 10 seconds. This is not hot. Perhaps Lelaina Pierce really should have made that Pulitzer-prize-winni​ng documentary Why Barbie is Bad.

Related: 31 Things to Wear This Month

Are you surprised by the lines you see here? Are you also thrown off by the tiny chin? Are you worried about the message Barbie's proportions send? And did you play with Barbies growing up yourself? Talk about it all below!

P.S. Did you know there's a Katniss Barbie for you Hunger Games Fans?

Photo: Twitter

More from Glamour:
88 Summer Nail Polish Ideas
7 Days of DIY Braids
14 Lies Men Tell Women
fashion: trends & must-haves for your wardrobe
You may have spent years studiously ignoring your mother's advice (and she was right about that guy in high school, admit it), but eventually all that bossing and nagging adds up to something truly useful. Here, Allure staffers share their mothers' wisest words about beauty.

Just like a good pair of shoes, the right hair accessory can change your entire mood (and look!). We rounded up some of our favorites from the spring 2013 runways.

You can make your eyes look younger, brighter — even more lifted — in minutes, using just your basic makeup. Find your issue here, then follow our how-to guide to learn the techniques. It's so easy, you won't believe your eyes.

It's one of those workhorse pieces that can make women look crisp, laid-back, professional, or dead sexy. Meet the one shirt dress you'll wear for life.

Toss your tweezers. Everything from brows (thick!) to your workout is taking a cue from the Flintstones. Yabba-dabba-doo!

Big event? Focus on the outfit, because we've got your hair all figured out, whether you've got two minutes to do it or 20.