What Would Barbie's Proportions Look Like on a Real Woman? Come See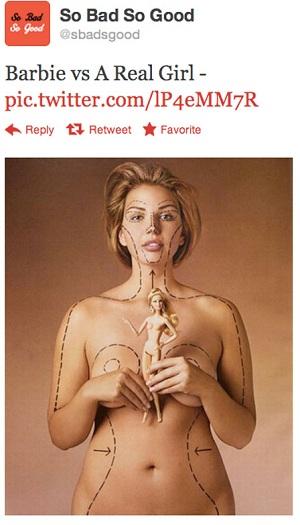 by Beth Shapouri, Glamour

We know what it would look like if Barbie got married (see here and here—no, really, you MUST check out those links), but what if she were a real woman? The folks behind the Twitter feed So Bad So Good found a picture that shows her figure drawn on a model's body, and the results are, as you might expect, a little bit insane.

The second I spotted this over at The Daily Mail I thought, Oh, I'm going to have to post this one. We all know her waist measurement is ridiculous, but what's up with the tiny chin? Are tiny chins hot? This has honestly never been a thought in my life. Other observations: Her eyes are ENORMOUS, her neck is basically a toothpick and her boobs would be so high she could use them as a storage shelf.

Related: Swimsuits That'll Make You Look 10 Pounds Thinner

Of course, criticism of Barbie's unrealistic body isn't a new thing, but seeing it drawn on a real woman is pretty jarring. I mean, her body wouldn't be a hospitable place for a full set of ribs, and her spine would have to be so thin her doctor would have her on Boniva in about 10 seconds. This is not hot. Perhaps Lelaina Pierce really should have made that Pulitzer-prize-winni​ng documentary Why Barbie is Bad.

Related: 31 Things to Wear This Month

Are you surprised by the lines you see here? Are you also thrown off by the tiny chin? Are you worried about the message Barbie's proportions send? And did you play with Barbies growing up yourself? Talk about it all below!

P.S. Did you know there's a Katniss Barbie for you Hunger Games Fans?

Photo: Twitter

More from Glamour:
88 Summer Nail Polish Ideas
7 Days of DIY Braids
14 Lies Men Tell Women
beauty tips and style advice
I can't tell you how many times one ill-timed sneeze ruined all of my hard work with a mascara wand. #allergyproblems.

While we're not averse to shelling out upwards of $30 for an amazing lipstick, many of our standby lip colors cost a whole lot less than that. The drugstore is full of high-quality, long-lasting lipsticks in gorgeous shades that—wait for it!—ring in under $10. Click through above to shop our favorites!

What's the perfect add-on to your beauty look? A hair accessory, of course! Just when you think you've seen it all, every year there seems to be a new "it" hair piece that rules the moment. In the '50s, a dainty bow-tied head scarf was perfectly housewife-chic. In the '60s and '70s, real flower crowns officially became the epitome of boho style—your outfit simply wasn't complete without a daisy topper. Fast-forward to the '90s and you had a bevy of creative hair charms and baubles, including butterfly clips, hair wraps and those infamous bra strap headbands (shudder).

The right blush can warm up your complexion, create the illusion of cheekbones, and even make you look younger. (Yes, really!) Here, the most flattering shades for fair, medium, olive, and dark skin.

Think you can't put a price on looking younger? Well, we did—and it's $25. We challenged dermatologists to find great products that don't cost even one cent over that amount.

You want to dress in a way that's young and cool but that doesn't suggest you're on your way to a One Direction concert. "The trick to looking younger is adding one fashionable piece to a classic outfit," says stylist Cher Coulter. Here's how to nail it.