Sizzling at 61: Seymour stuns in bandage dress
Ageless actress Jane Seymour puts the sexy in sexagenarian.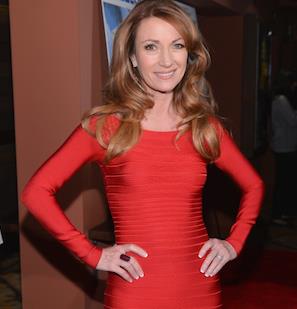 Monday's L.A. premiere of Freeloaders put proof to the adage "60 is the new 40" when actress Jane Seymour strode into view. Wearing a body-hugging Herve Leger bandage dress to absolute perfection, the 61-year-old again showed what a combo of good genetics and wise lifestyle choices can do for a grandmom's looks.

Related: Browse thousands of Leger dresses on Bing

What she didn't show off were any obvious signs of plastic surgery. We love the absence of botox-freeze, trout-pout and the mask-like face celebs frequently sport when they go overboard with the fillers. (Seymour, like Helen Mirren, knows that growing older beautifully means letting some signs of aging stay put.) How does she keep that girlish figure? USmag.com quotes her as saying she likes "reasonably healthy food," a bit of "Pilates, Gyrotronics with weights," and trudging through cold "country lanes in England."

Bing: Jane's looks through the years

Tell us: What do you think of Jane's fab face and figure? Awesomely inspiring or hard for other older women to match?
Photo: Courtesy of Alberto E. Rodriguez/Getty Images

More from Simply Chic:
First look: Katie Holmes for Bobbi Brown
High heels make women look more attractive, study finds
Does makeup help or hurt a woman's self-esteem?

beauty tips and style advice
Find out what Pippa's portrait will look like.

While you were sleeping, the Duchess stepped out in two brand-new outfits.

Now that April is underway, we've officially entered the fickle season of on-again, off-again rain showers, thus complicating the already painful task of getting out of bed in the morning and starting the day. As if it isn't already hard enough to quickly put together a nice work outfit, the bipolar nature of spring weather demands a careful mix of lightweight, waterproof layers, as well as appropriate footwear. Realistically, no one wants to wear a pair of chunky rubber boots around all day, but the only other alternative is to lug around a variety of gym shoes, heels, and flats to meet all of the day's needs.

Here at Lucky, when we find something we like, we can't stop talking about it—especially when we score it for a ridiculously amazing price. We're loving that the latest batch of genius hair, makeup, skincare and nail products are not only all under $20, but you can find them easily at your local drugstore, too. Above, our favorite products to refresh your beauty routine.

Coachella weekend kicks off this weekend, then there's Glastonbury, Lollapalooza, and so on. Some festivals are one-day events, others let you unleash your inner hippie and camp out on the grounds (or if you're like me, book the nearest hotel).

As Nirvana's frontman, Kurt Cobain, who died 20 years ago this past weekend, was at the epicenter of grunge, a movement that revolutionized the cultural landscape of the 1990s, and one that continues to reverberate in fashion and music today.