Sizzling at 61: Seymour stuns in bandage dress
Ageless actress Jane Seymour puts the sexy in sexagenarian.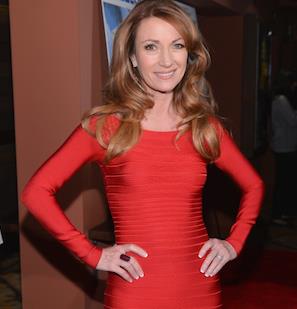 Monday's L.A. premiere of Freeloaders put proof to the adage "60 is the new 40" when actress Jane Seymour strode into view. Wearing a body-hugging Herve Leger bandage dress to absolute perfection, the 61-year-old again showed what a combo of good genetics and wise lifestyle choices can do for a grandmom's looks.

Related: Browse thousands of Leger dresses on Bing

What she didn't show off were any obvious signs of plastic surgery. We love the absence of botox-freeze, trout-pout and the mask-like face celebs frequently sport when they go overboard with the fillers. (Seymour, like Helen Mirren, knows that growing older beautifully means letting some signs of aging stay put.) How does she keep that girlish figure? USmag.com quotes her as saying she likes "reasonably healthy food," a bit of "Pilates, Gyrotronics with weights," and trudging through cold "country lanes in England."

Bing: Jane's looks through the years

Tell us: What do you think of Jane's fab face and figure? Awesomely inspiring or hard for other older women to match?
Photo: Courtesy of Alberto E. Rodriguez/Getty Images

More from Simply Chic:
First look: Katie Holmes for Bobbi Brown
High heels make women look more attractive, study finds
Does makeup help or hurt a woman's self-esteem?

beauty tips and style advice
The top tips I've picked up thanks to my obsession with blowouts, highlights, and my favorite hairstylist.

Something happens to your head when you have a kid — not to mention your body completely changes, and you can barely recognize yourself through bleary eyes, a fog of tiredness, and matted hair from sleepless nights. Sounds sexy, right? But, when that glimmering light at the end of the tunnel is in the near distance and the kid actually starts to act like a human and sleep normal hours, just like magic, you start to look like your old self again.

Ever slip into the latest summer fashion trend and then realize it's not exactly traditionally attractive? So what? Today we're speaking out on behalf of our favorite awkward fashion trends, whether they're bulky, strangely proportioned, or just at the opposite end of sexy. If there's still something magnetic about its pull on you, we say go for it. It's all in the name of fashion.

One shopper's tweet of the emaciated-looking figure forced the store to take action.

Once the summer heat kicks in, it's all we can do not to slip into the breeziest beach dresses and flip-flops for the morning commute. So trust us when we say we understand that the humidity can have a powerful effect on your wardrobe — still, there are some things you just can't wear to your place of employment, no matter how hot it gets.

Wrinkle no blouse, tangle no jewelry, leave no beauty product behind, and still have room to spare.

Hue-changing dos we absolutely love.

Why your jean size varies from store to store.

Wait a month between waxing visits? Check. Pop a preappointment Advil? Duh. We all know the basics, but here are the tricks you don't know.

What to always—and never, ever—do to keep hair in top shape.

Get inspired to try these sweet and summery looks.

Stunning wedding styles that create a statement.