Sizzling at 61: Seymour stuns in bandage dress
Ageless actress Jane Seymour puts the sexy in sexagenarian.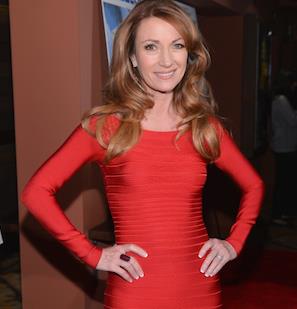 Monday's L.A. premiere of Freeloaders put proof to the adage "60 is the new 40" when actress Jane Seymour strode into view. Wearing a body-hugging Herve Leger bandage dress to absolute perfection, the 61-year-old again showed what a combo of good genetics and wise lifestyle choices can do for a grandmom's looks.

Related: Browse thousands of Leger dresses on Bing

What she didn't show off were any obvious signs of plastic surgery. We love the absence of botox-freeze, trout-pout and the mask-like face celebs frequently sport when they go overboard with the fillers. (Seymour, like Helen Mirren, knows that growing older beautifully means letting some signs of aging stay put.) How does she keep that girlish figure? USmag.com quotes her as saying she likes "reasonably healthy food," a bit of "Pilates, Gyrotronics with weights," and trudging through cold "country lanes in England."

Bing: Jane's looks through the years

Tell us: What do you think of Jane's fab face and figure? Awesomely inspiring or hard for other older women to match?
Photo: Courtesy of Alberto E. Rodriguez/Getty Images

More from Simply Chic:
First look: Katie Holmes for Bobbi Brown
High heels make women look more attractive, study finds
Does makeup help or hurt a woman's self-esteem?

beauty tips and style advice
When it's hot and humid, pulling your hair into a ponytail is practical. But it can also be fun, easy, unexpected, and mind-blowingly gorgeous. Here, stunning summer hair ideas inspired by our favorite runway and red-carpet looks of the moment—plus expert tips on how to re-create them.

Sure, sunglasses protect your eyes and help you see, but they can also lend an instant, undeniable cool factor to just about anyone. Said cool factor is most apparent when sunglasses fit well, balance your features, and look like they were made for your face. Because one-size-flatters-all shades are unfortunately not a thing, we asked Bobbi Brown, makeup artist, glasses expert, and author of the new book Bobbi Brown: Everything Eyes, for her top tips for finding flattering sunglasses for every face shape.

The leading ladies who make summer beauty look effortless.

Chic accessories for every wedding style.

When it comes to lounging on the beach in the buff, turns out that Germans and Austrians are the most comfortable with their birthday suits, according to a worldwide survey of beachgoing habits around the world.

Chic time-tested shades you'll love for this summer.

Our top picks for staying cool this summer.

Does makeup make you feel more or less like yourself? These women — some makeup junkies, some who never touch the stuff — were brave enough to be photographed with half their faces made up by a pro and half their faces totally bare.

Chic ensembles for every woman.

At almost every age, more men report being satisfied with looks than women.

Wrinkle no blouse, tangle no jewelry, leave no beauty product behind, and still have room to spare.

Swimwear . . . we have a love/hate relationship with it. Shopping for the perfect style can be a nightmare, but once you've found "the one" you never want to let it go. Which is why we've set out to preserve your beloved bathing suit for as long as humanly possible. And nobody appreciates this more than swimwear designer Melissa Odabash, who has suited stars like Kim Kardashian, Jessica Biel, and Gwyneth Paltrow for the beach. Click through the slideshow to see her commandments that thou shalt not violate this Summer: