Ever Wonder Where All Of Those Misprinted "Patriots Super Bowl XLIV Champions" T-shirts Go?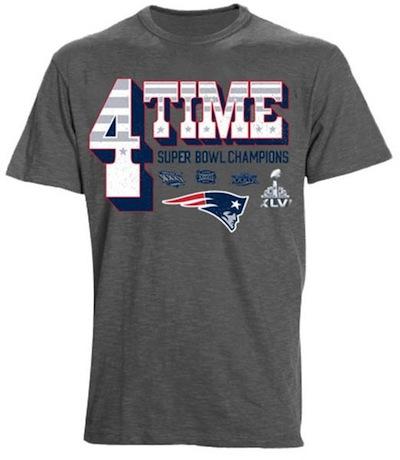 by Tracey Lomrantz, Glamour Magazine

Sorry to rub salt in the wounds of you New England fans, but did you ever wonder where all of those pre-printed "Super Bowl Champions" T-shirts and hats for the losing team end up going?

The NFL and their suppliers produce graphics that are pasted on all kinds of apparel for both teams in advance of the game, so whoever winds up winning has a spiffy hat to wear on TV just seconds after the last play--as the Boston Herald reported last week, Modell's was ready to open at 5am today to sell championship gear, and was expecting "additional championship merchandise to arrive throughout Monday and the week, including long-sleeve T-shirts, hooded sweatshirts, team decals, glassware."

Related: 50 Things Men Are Afraid to Ask For But Want Badly

Which means, of course, that there's loads of merchandise out there bearing all kinds of erroneous claims (4 TIME Super Bowl Champions, above, is one that probably particularly stings for Tom Brady today). To ensure that Brady and his teammates never have to suffer the indignity of seeing one of those shirts walking their hometown streets--and to prevent the waste of perfectly wearable goods--the NFL donates the items to World Vision, a Christian humanitarian agency that will distribute them to needy families in countries across the world (past donations have gone to Nicaragua, Romania, and Zambia).

Related: What Your Hairstyle Says About You (According to Guys)

The organization came under some fire last year when bloggers and critics questioned how much good their service really does in facilitating sustainable development, as their mission statement claims, but we think distributing the T-shirts via donation certainly beats the alternative of leaving them in a landfill.

What do you think of the NFL (and NHL, and plenty of other sports enterprises') practice of sending the loser's merchandise to countries in need? Does it help soften the blow at all? Discuss!


Photo: via sportslogos.net
More from Glamour:
14 Sexy Going Out Dresses You Can Wear When It's Cold O
Cute Haircut Ideas for Midlength Hair
10 Shoes Every Woman Should Own
beauty tips and style advice
If you're one of the lucky ones heading out of town for spring break, anticipating warm weather and sun-filled days (seriously, will it ever get above 50 degrees here in NYC?), make sure you pack all the essentials. I picked the best spring break must-haves so you can focus on the important things in life— like figuring out which boardwalk bar serves the best margaritas.

Men, get it together! First, facial hair transplants; now, monocles?!?!

As Fashion Month winds to a close and we bid adieu to awards season, the time has come to embrace yet another several month-long string of entertainment and celebrity-studded events: festival season. Ahead of Coachella's flower crowns, South by Southwest hit Austin, Texas this weekend for its annual week of music, film and interactive (read: technology) shows, panels and performances.

Famous brides may have access to elite designers that most of us can only dream of, but we can all delight in the statements they make on their big days. In honor of the pending nuptials of Kim Kardashian and Kanye West, let's take a look at some recent and past famous gorgeous gowns.

From pretty pastels to bold brights and cool textures, up your #ManicureMonday game with spring's top nail polish trends!

Even if everyone at school will be rocking their most festive shades of emerald on March 17, you don't want to end up looking like a Leprechaun in head-to-toe green.

Neutral tones and beautiful metallics were a huge trend on the Oscars red carpet. And we saw so many dresses that would be exceptionally beautiful walking down the aisle. Here are our favorites!

Sorry, winter, we're way over you. It's time to refresh your look for spring with bold lippies, fun nail art and major brows—here's how to rock the hottest new trends, just like these stylish celebs!

Time to say buh-bye to the same old, played-out 'dos. Celebrity stylist Jen Atkin tells you how to update these 7 classic hairstyles for spring.

How to dress your baby bump.

Things we learned backstage at the fall 2014 runway shows: Bold brows aren't going anywhere, bright green can actually look subtle, and glitter is amazing almost anywhere (within reason). Here, our favorite makeup looks of the season so far.

The fall runways showcased a broad range of hairstyles—braids, buns, ponytails, and even wigs. But there were unifying themes, too: A pervasive sense of ease; experimentation with texture; and an apparent belief that anything goes.