Ever Wonder Where All Of Those Misprinted "Patriots Super Bowl XLIV Champions" T-shirts Go?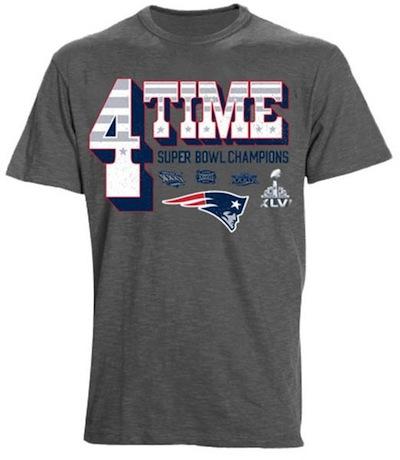 by Tracey Lomrantz, Glamour Magazine

Sorry to rub salt in the wounds of you New England fans, but did you ever wonder where all of those pre-printed "Super Bowl Champions" T-shirts and hats for the losing team end up going?

The NFL and their suppliers produce graphics that are pasted on all kinds of apparel for both teams in advance of the game, so whoever winds up winning has a spiffy hat to wear on TV just seconds after the last play--as the Boston Herald reported last week, Modell's was ready to open at 5am today to sell championship gear, and was expecting "additional championship merchandise to arrive throughout Monday and the week, including long-sleeve T-shirts, hooded sweatshirts, team decals, glassware."

Related: 50 Things Men Are Afraid to Ask For But Want Badly

Which means, of course, that there's loads of merchandise out there bearing all kinds of erroneous claims (4 TIME Super Bowl Champions, above, is one that probably particularly stings for Tom Brady today). To ensure that Brady and his teammates never have to suffer the indignity of seeing one of those shirts walking their hometown streets--and to prevent the waste of perfectly wearable goods--the NFL donates the items to World Vision, a Christian humanitarian agency that will distribute them to needy families in countries across the world (past donations have gone to Nicaragua, Romania, and Zambia).

Related: What Your Hairstyle Says About You (According to Guys)

The organization came under some fire last year when bloggers and critics questioned how much good their service really does in facilitating sustainable development, as their mission statement claims, but we think distributing the T-shirts via donation certainly beats the alternative of leaving them in a landfill.

What do you think of the NFL (and NHL, and plenty of other sports enterprises') practice of sending the loser's merchandise to countries in need? Does it help soften the blow at all? Discuss!


Photo: via sportslogos.net
More from Glamour:
14 Sexy Going Out Dresses You Can Wear When It's Cold O
Cute Haircut Ideas for Midlength Hair
10 Shoes Every Woman Should Own
fashion: trends & must-haves for your wardrobe
Ready to refresh your hair and makeup for spring? Well, look no further for your latest batch of inspiration. These ladies are bringing the beauty brilliance with megawatt lipstick shades, sleek haircuts, and must-try hair colors. Get ready to play copycat.

Long, layered, medium or wavy – we're sharing our favorite hairstyles of 2013 with a new 'do each day. Stuck in a hair rut? Check back daily for snappy new looks that are sure to give your locks some beauty inspiration.

Step into spring with style in June Ambrose's new shoe line for HSN.

Revamp your corporate look with graphic prints and bold color.

If you have only five makeup tools in your kit, make sure these are them. They do much more than just look cute on your vanity!

Think all it can do is shellac everything down, helmet-head style? So wrong! A can of whatever's in your cabinet is your secret beauty weapon. Try it like this.

You may not get wrinkles on your hair, but it ages all the same. Grays, dullness, thinning strands, and frizz are all (unfortunately) part of the hair's aging process, which starts happening in your 30s. The good news is that you don't need Botox to fix these problems. Here are six tips for hair that's shiny, bouncy, healthy—and, yes, younger looking.

Our fashion-savvy FLOTUS shows us she is truly a master at mixing high- and low-end designs.

Get ready for summer with these cute and easy to DIY nail art designs.

Brides, it's your big day and you want to look special. Please, whatever you do, don't wear one of these wedding dresses. These are truly the worst.

Even if you're the best friend of all time, no bridesmaid should ever have to wear these worst-ever bridesmaid dresses. Lace, ruffles and satin overload!

As your face changes, so should your hair—the right cut can shave years from your appearance. And while there's no such thing as an age-appropriate length, there are age-appropriate styles. Here, the 30 most gorgeous hairstyles for every age, as seen on Mila Kunis, Jessica Biel, Jennifer Aniston, Diane Keaton, and more.