Ever Wonder Where All Of Those Misprinted "Patriots Super Bowl XLIV Champions" T-shirts Go?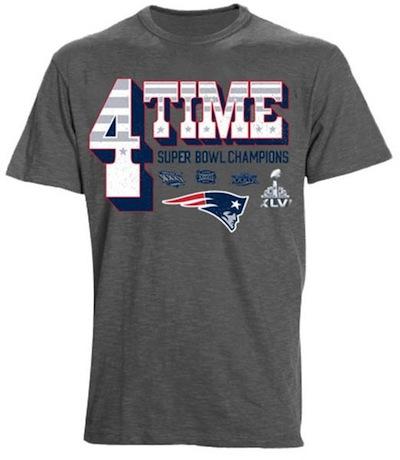 by Tracey Lomrantz, Glamour Magazine

Sorry to rub salt in the wounds of you New England fans, but did you ever wonder where all of those pre-printed "Super Bowl Champions" T-shirts and hats for the losing team end up going?

The NFL and their suppliers produce graphics that are pasted on all kinds of apparel for both teams in advance of the game, so whoever winds up winning has a spiffy hat to wear on TV just seconds after the last play--as the Boston Herald reported last week, Modell's was ready to open at 5am today to sell championship gear, and was expecting "additional championship merchandise to arrive throughout Monday and the week, including long-sleeve T-shirts, hooded sweatshirts, team decals, glassware."

Related: 50 Things Men Are Afraid to Ask For But Want Badly

Which means, of course, that there's loads of merchandise out there bearing all kinds of erroneous claims (4 TIME Super Bowl Champions, above, is one that probably particularly stings for Tom Brady today). To ensure that Brady and his teammates never have to suffer the indignity of seeing one of those shirts walking their hometown streets--and to prevent the waste of perfectly wearable goods--the NFL donates the items to World Vision, a Christian humanitarian agency that will distribute them to needy families in countries across the world (past donations have gone to Nicaragua, Romania, and Zambia).

Related: What Your Hairstyle Says About You (According to Guys)

The organization came under some fire last year when bloggers and critics questioned how much good their service really does in facilitating sustainable development, as their mission statement claims, but we think distributing the T-shirts via donation certainly beats the alternative of leaving them in a landfill.

What do you think of the NFL (and NHL, and plenty of other sports enterprises') practice of sending the loser's merchandise to countries in need? Does it help soften the blow at all? Discuss!


Photo: via sportslogos.net
More from Glamour:
14 Sexy Going Out Dresses You Can Wear When It's Cold O
Cute Haircut Ideas for Midlength Hair
10 Shoes Every Woman Should Own
beauty tips and style advice
You already know wearing white after Labor Day is cool. But menswear is reinventing itself rapidly, leaving some long-held mandates by the wayside, not to mention a bunch of men with a lot of questions. Sure, some style laws are truly inviolable. Showing a quarter-inch of cuff will always be crucial, but with designers and dandies flaunting so many former taboos it's hard to tell what's in play these days. So we thought we'd take this opportunity to let you know which rules no longer apply.

Put down the wrinkled button-down, step away from the Crocs, and open your closet. We need to talk about the new rules of casual.

Buying a brush is like getting a new smartphone: once you learn how to use it, it's indispensable.

Surfers are the epitome of cool, laid-back American style. And if we can't be them, at least we can copy their hair.

It's time for bridal beauty to loosen up. Hair doesn't have to be tightly wound, makeup perfectly contoured, and nails French manicured (on this last point, really, please don't). You can, in fact, look gorgeously and timelessly cool at your wedding. Here's how.

Thirty-year-old Lisa Conn was shamed for her American Apparel swim suit.

This Instagram should be an ad campaign on billboards everywhere immediately.

The famous Parisian shoe designer has unveiled a luxurious new nail polish, his first foray into the world of beauty, and there are no prizes for guessing what color it comes in.

Average shoe size is up about two sizes since the '70s, study says.

They can't escape wedding season, so they might as well look their best.

Front-row style star Miroslava Duma just clears 5′, Oscar winner Reese Witherspoon one-ups her—literally—at 5′ 1″, and fashion crush Rachel Bilson barely tops them both at a whopping 5′ 2″. But aside from standing at the diminutive end of the height spectrum, these three ladies have something else in common: the ability to nail every summer fashion trend. If you're part of the petite girls' club, take a look at these 12 fashion essentials—from closet staples to chic accessories—to keep you at the top of your style game this summer.

Quick, easy, everywhere-appropriate: There's no summer piece quite as versatile--or flattering.