Ever Wonder Where All Of Those Misprinted "Patriots Super Bowl XLIV Champions" T-shirts Go?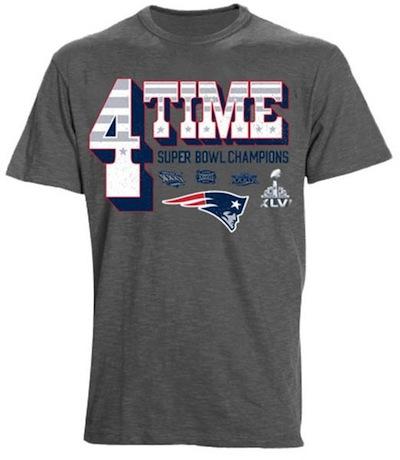 by Tracey Lomrantz, Glamour Magazine

Sorry to rub salt in the wounds of you New England fans, but did you ever wonder where all of those pre-printed "Super Bowl Champions" T-shirts and hats for the losing team end up going?

The NFL and their suppliers produce graphics that are pasted on all kinds of apparel for both teams in advance of the game, so whoever winds up winning has a spiffy hat to wear on TV just seconds after the last play--as the Boston Herald reported last week, Modell's was ready to open at 5am today to sell championship gear, and was expecting "additional championship merchandise to arrive throughout Monday and the week, including long-sleeve T-shirts, hooded sweatshirts, team decals, glassware."

Related: 50 Things Men Are Afraid to Ask For But Want Badly

Which means, of course, that there's loads of merchandise out there bearing all kinds of erroneous claims (4 TIME Super Bowl Champions, above, is one that probably particularly stings for Tom Brady today). To ensure that Brady and his teammates never have to suffer the indignity of seeing one of those shirts walking their hometown streets--and to prevent the waste of perfectly wearable goods--the NFL donates the items to World Vision, a Christian humanitarian agency that will distribute them to needy families in countries across the world (past donations have gone to Nicaragua, Romania, and Zambia).

Related: What Your Hairstyle Says About You (According to Guys)

The organization came under some fire last year when bloggers and critics questioned how much good their service really does in facilitating sustainable development, as their mission statement claims, but we think distributing the T-shirts via donation certainly beats the alternative of leaving them in a landfill.

What do you think of the NFL (and NHL, and plenty of other sports enterprises') practice of sending the loser's merchandise to countries in need? Does it help soften the blow at all? Discuss!


Photo: via sportslogos.net
More from Glamour:
14 Sexy Going Out Dresses You Can Wear When It's Cold O
Cute Haircut Ideas for Midlength Hair
10 Shoes Every Woman Should Own
beauty tips and style advice
You know that classic nightmare where you walk into school or work completely naked? That's how I feel when I'm having a bad hair day. Like I don't want anyone to look at me and it takes everything I have not to immediately turn around and run back home.

Victoria Beckham will share her fashion story and give inside access to her brand via The Skype Collaboration Project in January 2014.

Just when we thought Pamela Anderson's sleek pixie marked her biggest hair makeover this year, the star ditched her trademark blonde hue.

Yes! Lupita Nyong'O shows us how.

Take the health of your hair up a notch with these natural treatments

Nope, it's not your resume.

This is why a short wedding dress makes sense.

The Queen is a handbag trendsetter, apparently.

You know winter is here when you pull off your clothes and find the insides lined with a thin coating of tiny dry skin particles. (Am I alone here, or do I have more serious dry skin issues than I thought?)

Yesterday I popped by the Clear Clinic, a dedicated acne treatment center that a lot of people (including a Glamour beauty blogger or two) swear have helped cure them of the dreaded spots.

The first thing I noticed about this photo of Keira Knightley at a London gala last night was her 90s-chic makeup, featuring matte pale foundation and lots of black eyeliner.

It's the stuff of pinups, old Hollywood glamour, and even science study after study says guys really go for it. But that classic Rita Hayworth red doesn't necessarily flatter every complexion. We rounded up the absolute best reds for every skin tone, so you can breeze through the sea of cherries, raspberries, and any other scarlet fruit.