The top 10 OMG moments from NYFW Fall 2013
Catfight, hula hoop bag, cat mittens, and more.
by
Tracey Lomrantz Lester
Another New York Fashion Week behind us, another chance to relive the most jaw-dropping moments in front of us. There was no lack of OMG factor for fall 2013, dolls, and these are the things we're most savoring:
10. Battle of the Joans at Dennis Basso--The Cut
reports
that Joan Rivers refused to be seated next to Joan Collins in the fur-loving designer's front row. CATFIGHT!?
9. David Beckham, however, seemed more than happy with his seatmate at wife Victoria's show. Fellow attendees tweeted that he cozied up to Anna Wintour--and the two even shared a few giggles!

More from Glamour: 10 Things That Should Be on Every Girl's Beauty Bucket List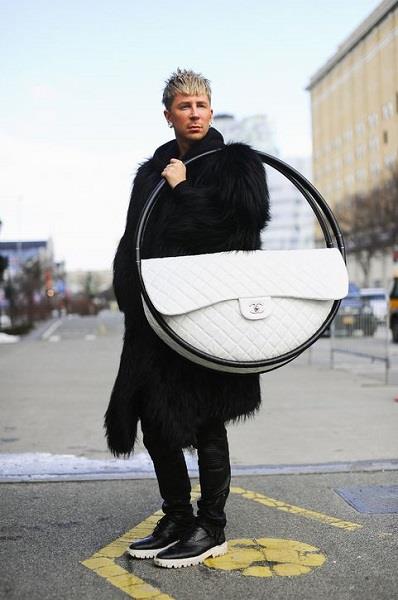 8. The famous Chanel hula hoop bag was spotted in the wild...on a dude. It's Marie Claire accessories editor Kyle Anderson, and he is not messing around when it comes to courting street style photographers. If this thing doesn't say "TAKE MY PICTURE!", we don't know what does.
7. Thom Browne's presentation was a macabre mix, featuring blindfolded "corpse" models on cots--though at least one poor guy wasn't quite cooperating.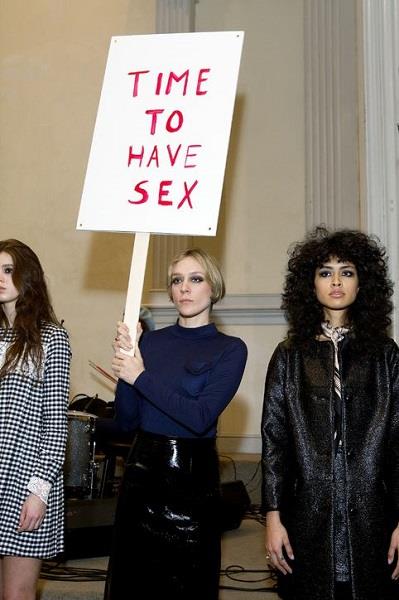 6. And speaking of unexpected model scenarios,
Chloe Sevigny
inserted herself into her own presentation for her
Opening Ceremony
collection. The whole thing was inspired by
Pussy Riot
, with Sevigny and friends playing chic protestors.
5. Katie Holmes held a super-secret presentation of her line, Holmes & Yang. Our invite must have gotten lost in the mail.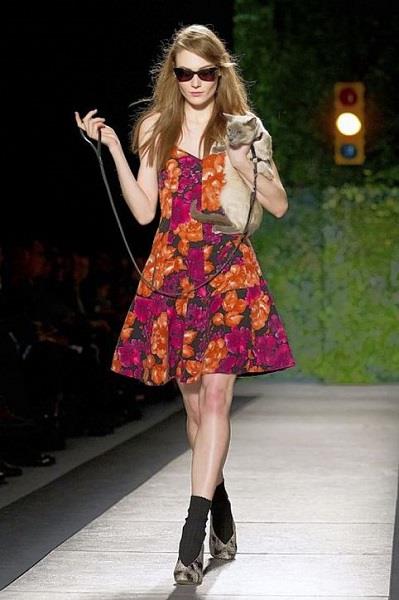 4. Cats had a major moment in the spotlight. Not only did one make its way--on a leash, no less!--down the runway at Tracy Reese, but kitty hats were huge news, and Glamour even got in on the action with our own cat concept store!
3. Fur mittens became a thing, thanks to both Altuzarra and Alexander Wang. Really!?

More from Glamour: Style Bloggers' Favorite Winter Outfits
2. Prabal Gurung and Target put on a full-fledged carnival...in the middle of New York City. There was a merry-go-round. And corndogs. And prizes. And the rare but oh-so-sweet chance for fashion folks to let their hair down and have an old-fashioned blast.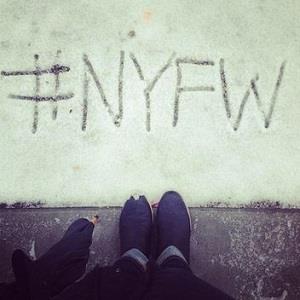 1. Nemo tried to put a damper on fashion week chic. Thanks to the blizzard, Marc Jacobs was forced to postpone his show, and show-goers were forced to shelve their open-toe stilettos in favor of cozy snow boots. And yet, not a single thing was cancelled--we're a tough bunch, we New York fashion people.

What was your favorite New York Fashion Week moment? Share!

Bing: NYFW Fall 2013


More from Glamour:
10 Wardrobe Essentials Every Woman Should Own
2013's Most Wearable Fashion Trends
The Best Coat for Your Body
beauty tips and style advice
One shopper's tweet of the emaciated-looking figure forced the store to take action.

Once the summer heat kicks in, it's all we can do not to slip into the breeziest beach dresses and flip-flops for the morning commute. So trust us when we say we understand that the humidity can have a powerful effect on your wardrobe — still, there are some things you just can't wear to your place of employment, no matter how hot it gets.

Wrinkle no blouse, tangle no jewelry, leave no beauty product behind, and still have room to spare.

Hue-changing dos we absolutely love.

Why your jean size varies from store to store.

Wait a month between waxing visits? Check. Pop a preappointment Advil? Duh. We all know the basics, but here are the tricks you don't know.

What to always—and never, ever—do to keep hair in top shape.

Get inspired to try these sweet and summery looks.

Stunning wedding styles that create a statement.

I attended the Abercrombie and Fitch holiday-season press preview yesterday, and in between checking out the cute gear that will hit stores this November, I picked up a little nugget of information I just have to share.

How to wear this cool-weather staple in the summer.

See how Miranda Kerr made a pair of Birkenstocks chic.