Dolce & Gabbana Black Figurine Earrings and Dress: Are They Racist?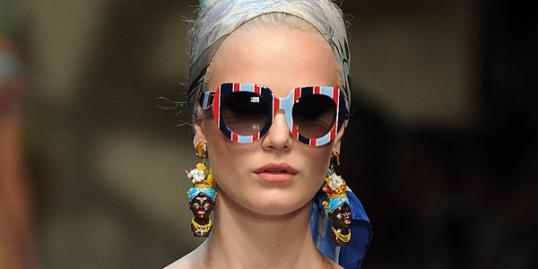 Italian luxury fashion brand Dolce & Gabbana debuted its new spring collection for 2013 this past weekend during Milan Fashion Week, but the theme of some of the items — particularly the earrings — have created some controversy.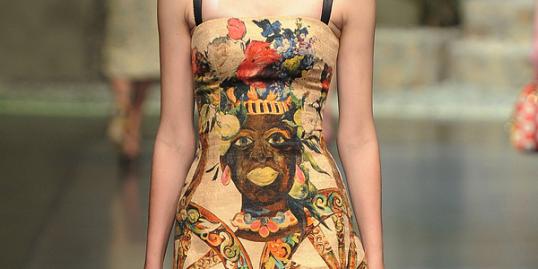 Dolce & Gabbana sent models down the runway wearing Blackamoor-inspired earrings, and it left some people asking a few questions about whether they were appropriate or not.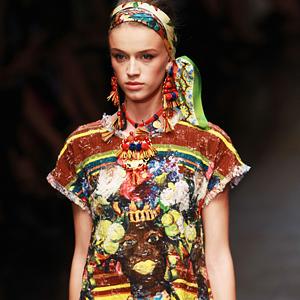 "The earrings are reminiscent of Blackamoor statues that can be found in Italy, but more recognizably to non-Italians, Aunt Jemima dolls," says UK's The Guardian in a story about the earrings. "That's the same Aunt Jemima that, initially conceived as part of a minstrel show, became an image that romanticized slavery and plantation life. There's no denying they're offensive."





Tell us on Facebook: Do you think these earrings are controversial?

Photo: Chris Moore/Catwalking/Get​ty Images 

More from Living:
How to Have a Career as a Fashion Buyer
Tips to Flatter a Boyish Figure
Build Your Wardrobe With 7 Fashion Staples
A Pregnant Model Walks the Runway
50 Beauty Products to Buy Before You Die

beauty tips and style advice
Once the summer heat kicks in, it's all we can do not to slip into the breeziest beach dresses and flip-flops for the morning commute. So trust us when we say we understand that the humidity can have a powerful effect on your wardrobe — still, there are some things you just can't wear to your place of employment, no matter how hot it gets.

Wrinkle no blouse, tangle no jewelry, leave no beauty product behind, and still have room to spare.

Hue-changing dos we absolutely love.

Why your jean size varies from store to store.

Wait a month between waxing visits? Check. Pop a preappointment Advil? Duh. We all know the basics, but here are the tricks you don't know.

What to always—and never, ever—do to keep hair in top shape.

Get inspired to try these sweet and summery looks.

Stunning wedding styles that create a statement.

I attended the Abercrombie and Fitch holiday-season press preview yesterday, and in between checking out the cute gear that will hit stores this November, I picked up a little nugget of information I just have to share.

How to wear this cool-weather staple in the summer.

See how Miranda Kerr made a pair of Birkenstocks chic.

We love how a new nail polish has the ability to instantly change your look and your mood with a simple swipe. While happy lime greens and aquas are ruling the five million #nailpolish Instagrams this summer, there are a variety of great colors to choose from—whether you want an office-appropriate neutral or a fun going-out shade that'll give your LBD a punch of color.