What Wendy Davis wore
Texas state Sen. Wendy Davis ditches her hot pink sneakers for heels in Vogue magazine.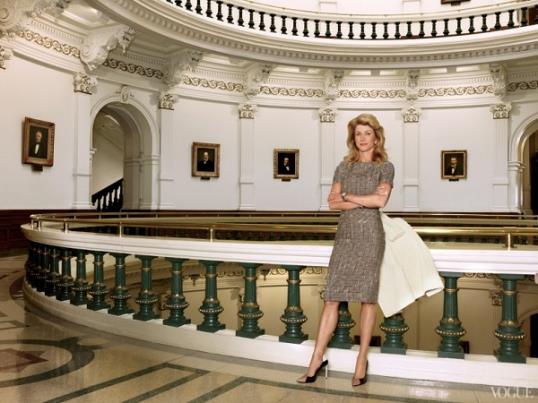 Smart, meet stylish. Wendy Davis wowed the world with her recent marathon filibuster session, but now the Texas politician is turning heads with a head-to-toe makeover in the pages of Vogue.

Living style: 10 American beauty brands to try now

Davis got the haute couture treatment in the magazine profile, swapping her now-famous hot pink running sneakers by Mizuno for Reed Krakoff heels, a designer favorite of Michelle Obama.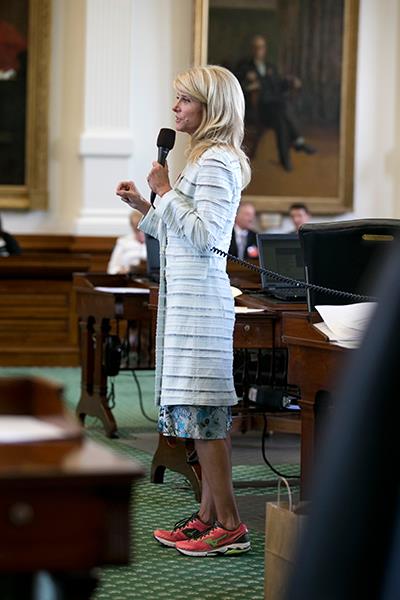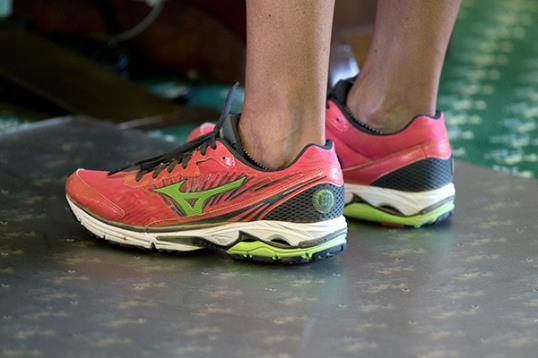 So what does the political powerhouse and mom of two like to wear when off-duty?

"I'm happy in Lululemon, with a glass of red wine, watching HGTV," Davis told Huffington Post.

Read excerpts from Vogue's September issue below: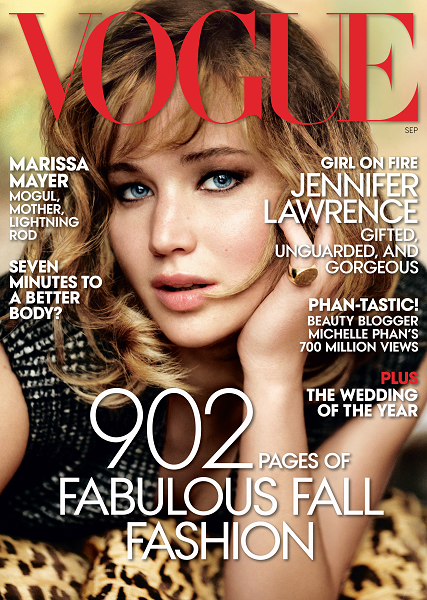 Texas state senator Wendy Davis' filibuster against an anti-abortion bill turned her into an overnight sensation.
Now can she battle her way to the governor's mansion?
It's a typical Texas summer evening, and the Davis girls are having one of their typically laid-back family gatherings. They've traveled home to Fort Worth to attend the annual Fourth of July parade in neighboring Arlington, and to spend some quality time with their mother, state senator Wendy Davis. Amber, 31, a petite brunette in a blue-and-white polka-dot sundress, hands me a glass of Sancerre. She only slightly resembles her half-sister, Dru, 24, statuesque in American-flag cutoffs and still-wet brown hair that almost reaches her waist. The two propose a tour of the family's Spanish-style town house—starting with the media room, where Super Bowl parties are held ("Mom's best friend is Patti Kraft, whose father-in-law owns the Patriots, so we're big fans," Amber tells me). In the kitchen, Italian plates painted Majorelle blue decorate the wall all the way up to the exposed beams. A scruffy but handsome Will Wynn, Senator Davis's boyfriend, an energy and public-health consultant and the former mayor of Austin, passes me a plate of sliced organic local peaches and plums. Playful teasing ensues: about Wynn's squeamishness at watching Girls, about Dru's insistence that yoga pants are appropriate attire for the digital-marketing office where she works, about their mom's naturally curly hair and the inconceivable number of products she collects to tame it. Taking quiet comfort in the normality of it all is the mom in question—a stunning blonde, petite at five feet four inches and barefoot in 7 for All Mankind jeans and barely there makeup. "I have super-supercurly hair, and it's a constant struggle," Davis acknowledges. "Pull out that picture of me from Patti's son's bar mitzvah." The photo from 2010 comes out; in it her hair is in an alarming frizz. "That was bad," she says with a breezy laugh. "That was so bad."
Just a week prior, the scene besieging the two-term senator was altogether less serene. On the final day of a special session of the Eighty-third Legislature, an omnibus antiabortion bill known as SB 5, which proposed new restrictions on family-planning clinics, was up for a vote in the Senate—and Davis arrived at the Capitol building in Austin prepared for a long fight. Wearing pink Mizuno running shoes and a sky-blue Escada day coat concealing a back brace, the 50-year-old runner and cyclist held the floor for a twelve-hour filibuster that packed the rotunda with pro-choice defenders and had the nation biting its collective nails as coverage streamed online and the clock ticked down to midnight. In those hours, Davis's Facebook likes spiked. The hashtag #StandWithWendy began trending as high as some 125,000 tweets per hour. Barack Obama used it. Lena Dunham tweeted her support. John Oliver made a joke about a new line of shoes, the Fila-busters, the next night on The Daily Show.

After more than thirteen years in public office, Senator Wendy Davis had become an overnight sensation—and speculation about whether she might run for Texas governor immediately began making the rounds. The story got even better as her bootstraps background emerged through a Meet the Press interview and countless news stories. The daughter of a National Cash Register salesman and a mother with a sixth-grade education, Davis (then Russell) spent her childhood years chasing the tail of her father's dreams of becoming a stage actor. Jerry Russell dragged his family from Rhode Island to New York, California, and Oklahoma before settling in Texas when Wendy was eleven. There he promptly traded his Cadillac for a Porsche, opened a small community theater, and left his wife with their four children. To this day, Davis doesn't hold it against him. "My dad is truly the person who always made me believe in myself, to appreciate that I was smart," she tells me during a candid and occasionally emotional three-hour interview in her dimly lit Texas State Capitol office. Above the wood wainscoting are framed pictures of Davis with former Supreme Court justice Sandra Day O'Connor, and various certificates and diplomas. The tiny oak conference table has only three chairs, worn by years of use, and Davis leaves her desk to join me there, sitting at my level. Her warmth is genuine and profound, if just a hair shy of maternal; supporters adore her, but only twice in my time with her do I see a colleague or constituent rush in for a hug.
"He was a good dad," she continues. "But things were hard for my mom. So we all started working very young." At fourteen, Davis took a job selling newspapers door-to-door; at fifteen, she was slinging Orange Juliuses in a mall. By the end of her junior year of high school, she spent half the day answering phones in a pediatrician's office, the other half in class, and evenings waiting tables. Davis had to grow up fast, but she also accelerated the process: The summer before senior year, "I decided I knew everything in the world, and I moved in with my boyfriend," she says with a sigh. "It was all about escape and rebellion." After her graduation, the couple discovered they were expecting. "There was nothing romantic about it," Davis says of the tiny wedding held in her father's dinner theater. Her mother, she recalls, "sat in the front row and audibly sobbed through the entire ceremony."
The marriage lasted less than two years, and by nineteen, Wendy was a divorced single mother working two jobs and living in a Richland Hills mobile home. Thinking she might be able to better provide for Amber, her infant daughter, as a paralegal, Wendy added early-morning community college classes to her highly scheduled day. It wasn't about ambition; it was about survival. "Looking back, I don't know if I could do it again. But somehow you just have the energy to do what you have to do," she says. "And the great thing was, after a year, I realized that college wasn't only for other people."
Read the whole story here.

More from Vogue:
Michelle Obama, Leading By Example
Best Met Gala Looks of All Time
Jennifer Lawrence's Best Red-Carpet Looks

Tell us: What do you think Davis' new look?

Bing: What you need to know about Wendy Davis

Subscribe to Simply Chic | Friend us on Facebook | Follow us on Twitter | Find us on Pinterest

More Simply Chic...
Now you can get a bank loan using your designer handbag as collateral
Does the skinny customer rule?
Makeup for menswear: Be a girlie girl or a tomboy

Photo: Bob Daemmrich/Corbis
Are you sure you want to delete this comment?
beauty tips and style advice
This is why a short wedding dress makes sense.

The Queen is a handbag trendsetter, apparently.

You know winter is here when you pull off your clothes and find the insides lined with a thin coating of tiny dry skin particles. (Am I alone here, or do I have more serious dry skin issues than I thought?)

Yesterday I popped by the Clear Clinic, a dedicated acne treatment center that a lot of people (including a Glamour beauty blogger or two) swear have helped cure them of the dreaded spots.

The first thing I noticed about this photo of Keira Knightley at a London gala last night was her 90s-chic makeup, featuring matte pale foundation and lots of black eyeliner.

Take the health of your hair up a notch with these natural treatments

It's the stuff of pinups, old Hollywood glamour, and even science study after study says guys really go for it. But that classic Rita Hayworth red doesn't necessarily flatter every complexion. We rounded up the absolute best reds for every skin tone, so you can breeze through the sea of cherries, raspberries, and any other scarlet fruit.

It's finally tights season, that wonderful time of year where you can simultaneously hide your pale legs and still wear that Saint Laurent slip dress. But who says you have to stick to boring black stockings? Why not keep your look above cool and clean, and let your bottom half shine? From patterned polka dots to colorful camouflage, here are six options that will make a statement all on their own.

How many holiday parties do you all have this season?

Nicole Kidman plays Grace Kelly, the glamorous movie star turned princess, in Grace of Monaco (out in March).

What if they were covered in Swarovski crystals?

Forget spanx! These clever pieces use color blocks and patterns to help you look thinner. Click through for 15 pieces that will ensure you won't have to hit the gym post-Thanksgiving.