Summer fashion preview
Are these 3 celeb trends a do or don't?
by Emily Mahaney

Earlier this week, we talked about two major spring beauty trends (head scarves and wet hair)—and now, I want to chat for a sec about three easy, everyday fashion trends that I'm predicting will be huge this summer: embellished cutoffs, yellow dresses, and statement tees. First up…

Trend #1: The Embellished Cutoff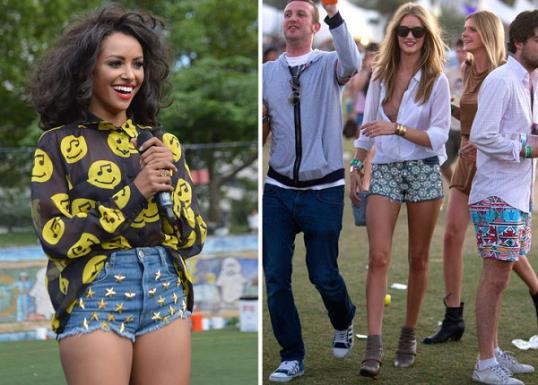 The classic cuffed jort will always, always be a seasonal staple, but it's her quirky cousin—the embellished cutoff—that I think will be huge for summer 2013. Stars like Kat Graham, left, and Rosie Huntington-Whiteley (crystal-encrusted floral shorts? oh, yes) are already on board. The style is flirty, fun, and easy (just pair with a breezy, tucked-in blouse—and you're done!). I say: Do. What about you?

More from Glamour: 2013's Most Wearable Fashion Trends

Trend #2: The Yellow Dress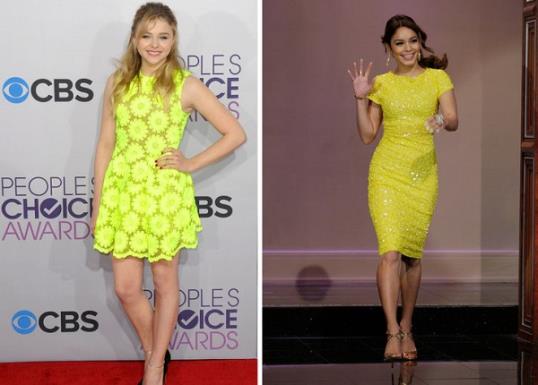 Over the past few years, the little yellow dress has essentially replaced the LBD for summer. Chloë Grace Moretz, left, opts to wear 'em for day. (How cute is that swingy neon yellow number?) And Vanessa Hudgens takes the look into night with sequins. I'm blond, so I've always been a little scared of the LYD—but I think it's a bold, playful Do on everyone else. Thoughts?

More from Glamour: 10 Wardrobe Essentials Every Woman Should Own

Trend #3: The Statement Tee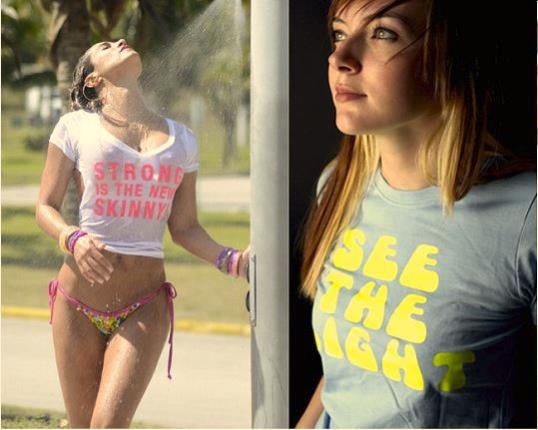 First came the faux fashion brand logo tees—and now, we're seeing loads of statement tees (or as we at Glamour like to call them, "talking tees") across the U.S. on celebs, models like Jennifer Nicole Lee, left, and real women (and men!) alike. As long as they're not gross or sexual—remember that Female Body Inspector tee on Friends?—I think they're pretty cute. I'm calling a Do here, people. You?

More from Glamour:
The 10 Prettiest Hair and Makeup Styles You Can Wear, According to guys
Cringeworthy Fashion DON'Ts
10 Things That Should Be on Every Girl's Beauty Bucket List

Bing: Summer fashion 2013

Are you sure you want to delete this comment?
beauty tips and style advice
Peach gloss and a swingy ponytail look great. They really do. But with only a month left until September, it's time to have more fun with your summer beauty game. We've come up with a gorgeous beauty idea for every last day in August. Test some now, pin others for later, and look amazing all month long.

That elusive, perfect-every-day haircut can be yours. Don't be skeptical, now; these sweet, shorter styles are as easy to pull off as they are flattering. So chop chop!

The wedding dresses on the spring 2015 runways were beautiful, breezy, and fresh—just like a breath of warm spring air. No matter where or when you'll say your vows (or how big or small your budget is), your dream wedding dress is just a few clicks away.

The results were crazy awesome.

There are no bad bodies, just bad jeans! Consider your denim problem areas solved (thanks to our 50-pair editor try-on).

Mascara wands are getting fatter, but that may not help your lashes. There's a better way to gain weight.

Three summers ago, I bought a pair of soft, white-calfskin Chanel loafers. I spent months trying to keep them pristine, but it wasn't long before a July thunderstorm left them and me soaked. I began steeling myself for what I thought was inevitable: a solemn drop in the trash. But once the loafers dried, I found the shoes' stained stitching—now storm-cloud gray—was lovely and a few new wrinkles in the leather were charming, like smile lines for shoes. I started to wear them freely—taking on puddles and tossing them onto the sand at the beach—and before long, they transformed. The roughened toe-tops reminded me of a welcoming, worn armchair, and a wet-and-hot summer had molded the material perfectly to my feet.

When the clock's ticking, digging though every compact in your bathroom is an exercise in frustration. What you need is one simple bag with a selection of products that help you pull yourself together as quickly as possible, at home or on the road. In it:

You know the freshly scrubbed, athletic look that defines American beauty? Turns out it's been centuries in the making.

According to Hollywood's top hairstylists, celebrity clients get sticky fingers when it comes to these no-fail products.

The American company that helped to popularize the shapewear trend has moved into the world of denim with a new jeans collection.

What to wear and what to avoid the next time you attend a wedding.