Breaking news: Suri Cruise appears to have cut her own bangs
Check out her new uneven haircut.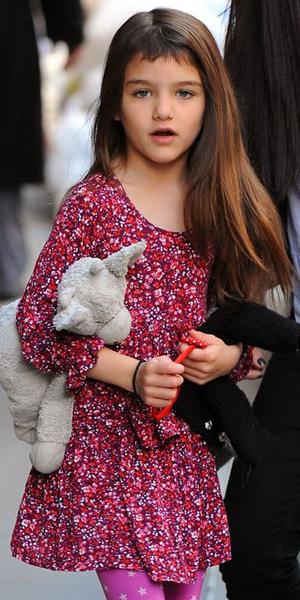 by
Petra Guglielmetti
Oh, no, it looks like
Suri Cruise
got into a fight with her play scissors over Easter weekend! Check out her new set of uneven shorty
bangs
.
More from Glamour: 15 Hair-Color Makeover Ideas to Try in 2013
Suri is all, if you won't let me get bangs, Ma, I'm taking matters into my own hands. And these are so stubby there will be no pinning them back for a while. But, hey, amateur bangs-trimming is an important girlhood rite of passage. Just the other day, I mentioned to you how my neighbor did this to my hair when I was five years old (when we were talking about
Marion Cotillard's childlike, lopsided choppy bob
). 
More from Glamour: 2013's Most Wearable Fashion TrendsDid you ever have weed-whacker bangs like Suri's when you were little? Got any other silly childhood hair moments to share?

More from Glamour:
11 Movies Every Woman Should Watch
30 Reasons Being a Woman Is Awesome
10 Wardrobe Essentials Every Woman Should Own
Photo: INF
beauty tips and style advice
One shopper's tweet of the emaciated-looking figure forced the store to take action.

Once the summer heat kicks in, it's all we can do not to slip into the breeziest beach dresses and flip-flops for the morning commute. So trust us when we say we understand that the humidity can have a powerful effect on your wardrobe — still, there are some things you just can't wear to your place of employment, no matter how hot it gets.

Wrinkle no blouse, tangle no jewelry, leave no beauty product behind, and still have room to spare.

Hue-changing dos we absolutely love.

Why your jean size varies from store to store.

Wait a month between waxing visits? Check. Pop a preappointment Advil? Duh. We all know the basics, but here are the tricks you don't know.

What to always—and never, ever—do to keep hair in top shape.

Get inspired to try these sweet and summery looks.

Stunning wedding styles that create a statement.

I attended the Abercrombie and Fitch holiday-season press preview yesterday, and in between checking out the cute gear that will hit stores this November, I picked up a little nugget of information I just have to share.

How to wear this cool-weather staple in the summer.

See how Miranda Kerr made a pair of Birkenstocks chic.