Broke bride sells ad space on wedding dress
Cash-strapped couple looking for advertising sponsors to help fund their wedding.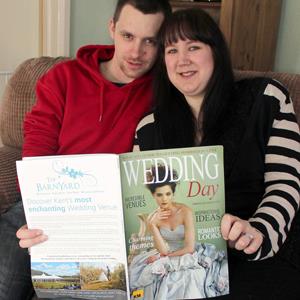 Wedding aren't cheap, but one bride isn't letting a lack of cash stop her from walking down the aisle. Instead, Stacy Burnett and her fiancé are looking for sponsors.

The bride has agreed to offer up her wedding dress for advertising space, meaning if sold, her wedding dress would be covered in logos from the featured advertiser. 

"I started planning eagerly last year but due to the economic climate it's all had to be put on hold for the foreseeable future," Burnett, who postponed her wedding because of financial implications, tells the Daily Mail. "My fiance works full time and we have even moved in with my parents so that we can save. We want a church wedding because it's a bit more traditional, but with church fees, venue fees, catering, rings, suits, DJ even for the most basic of weddings, it just wasn't possible for us to do it this year."

More from Living: The best wedding dresses for every body type

The couple is trying to save money by cutting every unnecessary expense, but they are still finding it difficult to pull over the wedding of their dreams. "We don't want a big fancy wedding but even the most basic of packages is too expensive.

More from Living: Oscar movie wedding fashion

We would even be willing to have any advertising for any companies that would be kind enough to help us out. We'd be willing to talk about signs on my dress and the back of suits, all we'd ask is that they could be removed for photographs."

Tell us: Would you rent out advertising space on your wedding dress?

Photo: SWNS.com

More from Simply Chic:
January Jones on her hair: "It's falling out in clumps"
Blondes may have more fun, but brunettes are more likely to succeed at work
Women look older at 3:30 p.m. on Wednesdays
beauty tips and style advice
And before you ask, sorry, the $325 dress is SOLD OUT on Matches.com and DVF.com—you snooze, you loose.

Click through the slideshow to shop some of our spring favorites.

French braid? Been there. Fishtail? Done that. The newest styles are all about unexpected texture, major volume, and one man's wild imagination.

Long hair, don't care? Think again…

She dishes on the routine that keeps her looking polished, even when she's pulling up to the <i>Mad Men</i> set at 5 a.m. Plus, the fragrance that helps Christina get her Joan on.

For inspiration, we've rounded up gorgeous (and easy to replicate) wedding makeup looks from the red carpet.

With a few insider tricks, you can enjoy short hair 365 days of the year and have a gorgeous style on your wedding day. Wedding hairstyles for short hair do exist.

I'm beyond excited to finally ditch my winter coat and heavy layers, but I'm not so eager to ditch my tights. Let's just say my legs are not as smooth and bronzed as they were the last time I showed them off many, many months ago.

After a jam-packed week in New Zealand, Kate Middleton and Prince William finally enjoyed a day off, but as of last night (or this morning..? Ah, time change!) they're back on the road again.

These travel-sized beauty products will do double-duty while you're on the road.

Neatly sidestepping high fashion, the smiling, cheerful Kate Middleton is fast becoming the Duchess of Normcore.

This December, New Yorkers might notice something missing in the Christmas air.