Men are more attracted to women's teeth than their hair
Study says good teeth turn men on the most.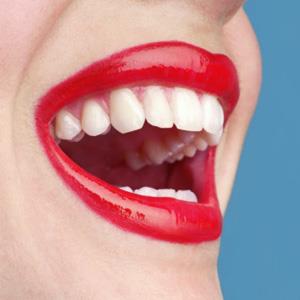 Many of us think that men want their significant others to have long, luscious locks that they can run their fingers through — and they do, but more importantly, they want their mates to have killer smiles. 

A recent study conducted by online dating site Match.com found that a woman's teeth are the most important dating factor for men.

More from Living: A month of gorgeous beauty ideas

According to USA Today, teeth rank in the top spot in a list of the top ten things men judge women on. After teeth, good grammar is the second-most important aspect of looks, followed by good hair. 

The findings are a result of a national survey of over 5,000 single adults ages 21 and up.

More from Living: What does your lingerie say about you?

And it's not just men who find a killer smile important. 71 percent of women also rate teeth as the biggest turn-on, followed by good grammar as the No. 2 most important thing (same as men).

So it appears that men and women agree on something, at least!

Tell us: What do you think of these findings, do you think teeth are that important?

Bing: What men find most attractive in a woman

Photo: Eric Bean/Getty Images

More from Simply Chic:
January Jones on her hair: "It's falling out in clumps"
Victoria's Secret models were paid HOW MUCH last year? Sigh...
Dolce & Gabbana launches perfume for infants
beauty tips and style advice
One shopper's tweet of the emaciated-looking figure forced the store to take action.

Once the summer heat kicks in, it's all we can do not to slip into the breeziest beach dresses and flip-flops for the morning commute. So trust us when we say we understand that the humidity can have a powerful effect on your wardrobe — still, there are some things you just can't wear to your place of employment, no matter how hot it gets.

Wrinkle no blouse, tangle no jewelry, leave no beauty product behind, and still have room to spare.

Hue-changing dos we absolutely love.

Why your jean size varies from store to store.

Wait a month between waxing visits? Check. Pop a preappointment Advil? Duh. We all know the basics, but here are the tricks you don't know.

What to always—and never, ever—do to keep hair in top shape.

Get inspired to try these sweet and summery looks.

Stunning wedding styles that create a statement.

I attended the Abercrombie and Fitch holiday-season press preview yesterday, and in between checking out the cute gear that will hit stores this November, I picked up a little nugget of information I just have to share.

How to wear this cool-weather staple in the summer.

See how Miranda Kerr made a pair of Birkenstocks chic.