The secret to younger looking skin? Skip the booze
One woman cuts alcohol out of her life, and within a month, drastically improves her complexion.
Most women know that alcohol can affect your health and waistline. But did you know it can affect your looks?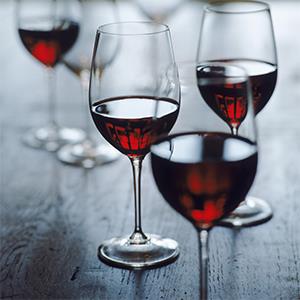 Laura Hogarth, a 40-year-old mother-of-two, put this theory to the test when she cut out her weekly consumption of roughly five large glasses for a month, reports the Daily Mail.
"Alcohol does several things to our bodies, none of them good," Dr. Nick Lowe, a professor of dermatology based in London and Los Angeles, was quoted. "One of the main effects is a chemical reaction that causes our peripheral blood vessels to expand and widen, so allowing more blood to flow through our skin."
Here are some of the key verdicts from Hogarth's week-by-week transformation:
WEEK ONE: "My skin is red and flushed, all the way down my décolletage," Hogarth told the Daily Mail. "More worryingly, I don't remember thinking my skin actually looked this bad."

WEEK TWO: "I'm sleeping for longer in the mornings and getting up less frequently during the night," Hogarth told the Daily Mail.

"It might have helped that it was also the school holidays, so the children were sleeping in as well, but I am definitely waking up feeling brighter and more alert."

WEEK THREE:  "When my mother visited this week, she said how less blotchy I was looking — success!" Hogarth told the Daily Mail.  "A friend also said my skin tone looked more even."

WEEK FOUR: Hogarth shed 3 lbs. and her face looks slimmer. "On the whole, the month has sailed by," she told the Daily Mail. "I'm going to try and stick to the no drinking rule — or at least cut out alcohol during the week."
Read the complete story here and get Dr. Lowe's take on Hogarth's progress.
Tell us: What do you think of this transformation?
Bing: Secrets to younger looking skin
Subscribe to Simply Chic | Friend us on Facebook | Follow us on Twitter | Find us on Pinterest
More Simply Chic...
Beat the TSA with vending-machine beauty products
The 80-year-old models that are rocking it
The 8 most controversial Urban Outfitters products
Photo: John Foxx/Getty Images

I am a little confused now. On  a well known Women's Magazine there was an article  stating that there are news from researches about health improvement  related to drinking any alcohol in moderation. If alcohol improves our overall health but damage my skin, what should I do now? Should I throw away the full sweet red wine bottle or keep it? Personally I am a wine lover, rather keep it and drink in moderation, like one  tin-tin at dinner time..
Sue from Florida


Are you sure you want to delete this comment?
beauty tips and style advice
Celebrity beauty looks made headlines this year. Super short cuts topped the news, but that wasn't the only trend creating a buzz. Punk looks turned haute, peroxide blonde became the color of the moment, and braids reached an unprecedented level of artistry. Here, we look back at the most memorable hits and misses. For more year-end roundups, check out the Best and Worst Red Carpet Looks of 2013.

From the good, the bad, to the just plain bizarre, we've rounded up the top 13 hits and misses to grace the red carpet this year. For more year-end roundups, check out the Best Hairstyles of 2013.

=Hairdresser Rossano Ferretti can expect plenty of business following my news that the Duchess of Cambridge booked in to his luxury hair spa for a marathon six-hour session recently.

Selena Gomez with short hair? Behold the evidence at the KISS FM Jingle Ball last night.

Having a sister means stealing each other's clothes and fighting over the bathroom mirror. It also means enjoying two wardrobes and sharing new beauty-product tips and tricks. Here, our five favorite sets of celebrity sisters and the beauty lessons we've learned from them.

Most regrettable trends come with warning signs: Do your teeth set off metal detectors? Are your lashes prone to tangling? Are your shoes ugly and uncomfortable? Here is this year's crop of bad fads.

Restoring botched brows can be a major pain in the...arch.

In order to cope with the intense feelings of jealousy I experienced when seeing Jennifer Garner's flawless hairstyle last week, I decided to contact the stylist responsible for the look, Kylee Heath, and find out what exactly she did to produce these glorious results.

Apparently, every celebrity in the world decided to dye her hair over the last few days—or at least Duchess Catherine, Sienna Miller, and Pamela Anderson did.

It was the chicest family night out ever in London yesterday, as Victoria Beckham hit the red carpet, along with her ADORABLE sons, Brooklyn, little fashionisto Romeo, and Cruz, to support the premiere of the soccer football documentary Class of '92, featuring superstar dad David. And she looked perfect as always—in Victoria Beckham, of course.

There will always be a special place in our hearts for Pez—the completely absurd and impractical oblong candy that children are somehow meant to be patient enough to dispense, one by one, from a creaky plastic spring-loaded drawer contraption—and a newly minted shoe designer Camilla Elphick, a Cordwainers College graduate, has tapped into our oral fixation.

When it comes to her latest hair change, it's pretty clear that Sienna Miller was thinking pink!