Traditional Weddings: Are They Outdated?
Some believe there's subtle sexism in tying the knot traditionally.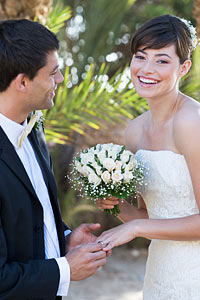 Over the last few years, I've been to a lot of weddings, and I've noticed a lot of detail in the always-touching ceremonies: The bride's veil. The couple's first kiss as man and wife. The look on the face of the father giving his daughter away. It's easy to get swept away in the loveliness of a wedding, but I never really considered how many subtle traditions may be outdated.
For example, the Episcopal Church had the traditional vow 'obey' taken out in 1922, but in many Christian ceremonies, it's still used. My friend Liz realized this, and made a decision in her own wedding:
"The promise to 'obey' my husband was not coming out of my mouth," Liz tells me. "My father is a preacher and he officiated the wedding, he kept joking that he was going to sneak it in there—I said, 'If you do, then we won't be getting married because I won't go through with the vows!'"
Indeed, it does seem a bit unfair that the wife is encouraged to "obey" the man. And that's another point of contention—the phrase "man and wife." Barbi Pecenco Kolski, a licensed marriage and family therapist in San Diego, provides premarital counseling for couples. She told us:
"Many people I know had the phrase 'man and wife' changed to 'husband and wife,' because they felt uncomfortable with the former. I can see how someone would consider those phrases sexist, but I think it's important that the couple talk about what's in their comfort zone.
Kolski also points out that "couples have more say these days over that kind of language being present in their vows."
But it's not just about the vows. Liz says there were other traditions she chose to forgo.
"I didn't have my father 'give me away' either. I had a bridal escort, my brother, but there was none of the 'who gives this woman to be married to this man?'  I mean, seriously, I was 35 years old, and I was entering into a mutually respectful and equal relationship with my husband to be, no one was 'giving me away!' I was entering into this marriage on my own accord."
She also initially opted not to take her husband's name.
"I actually did not take my husband's name upon our marriage.  I felt that I'd made a name for myself in my career and didn't want the confusion, plus that was my name, why should I change it?"
Many perceive taking the man's last name as sexist because it's almost symbolic of the woman giving up her identity. But later, Liz found a respectable reason to change her mind:
"I did end up changing my last name when I was nearly eight months pregnant with my son.  I started freaking out about not having the same last name as my child and did some research only to find that having a different last name than your child can cause some confusion/problems when it comes to traveling out of the country, registering a child for school, etc. Seems I would always have to be carrying his birth certificate around.  That and my desire to share a name with my child ended up making the decision for me."
Sexism aside, the wedding vow in general is often taken lightly. Couples promise to "have and to hold from this day forward, for better or for worse." It's no secret that couples often underestimate the "worse."
"Many couples underestimate the tough times that they will inevitably come across," Kolski explains. "We can't prepare ourselves for all the 'what ifs,' but a strong commitment can help carry couples through very difficult times."
That's not to say that leaving an unhealthy marriage is wrong, but should "for better or for worse" be redefined? Certainly there are some "worsts" that would be deal-breakers for anyone.
"Let's use a drinking problem," Kolski continues. "Are we doomed to 60 plus years of blackouts, arguing over alcohol and money, unsafe driving etc that goes along with being married to an alcoholic. Absolutely not. But if you address the issue and your spouse is in denial, you have every right to keep yourself and your children safe from those dangerous behaviors."
But wouldn't leaving the marriage then be considered breaking your vow?
"It's not about going against your vows or abandoning your spouse," Kolski explains. "It's about good self-care and protecting children who can't protect themselves. And it's definitely not about staying in denial with your partner and tolerating the intolerable."
She adds that couples need to spend time talking about exactly what they're vowing when they get married. She advises discussing what would be "deal breakers" in a marriage.
"Most people don't talk about these things and just assume they are both on the same page."

The important part, it seems, is that the couple knows just what they're promising to each other. And that's a very personal thing to share in front of your family and friends. I suppose the point is—it's less about the wedding and more about the marriage.
Another friend points out, simply, "the traditional vows that use terms like obey, love, honor, protect, cherish, etc., are used in Christian services, in a Christian Church and assume that both participants are Christian. To burden others with this responsibility should not always be required."
What do you think? Are some wedding traditions and vows antiquated, and if so, does it matter?
Photo: i love images/Getty Images
More on love & sex from MSN Living:
10 Ways to Improve Your Love Life (Right Now!)
The Secrets to Great Sex (in 50 Words or Less)
5 Sexy Steps to Get Out of Your Date Rut
beauty tips and style advice
Every year, we look to the biggest names in bridal beauty and fashion design to pinpoint the hottest bridal hair and makeup ideas – keeping in mind of course that this is a wedding (no crazy neon mascara here). This year, bridal beauty has gone extra natural and romantic -- think messy braids, wispy hair, natural eye makeup and more.

You've got the dress. You've got the venue, date, and invitations. The last thing you need to complete your wedding day? An amazing pair of shoes to wear as you walk down the aisle!

With the dress as the main focus, you want the hair to be understated. An updo does just that. But there's a difference between understated and boring. Adding simple accessories, like a pin or flower, is just enough decoration to the hair. Let these gorgeous pins serve as inspiration for finding a simple, yet understated, wedding hairstyle.

Just when we were getting used to seeing beards everywhere, it may be time for men who enjoy the attention of the opposite sex to invest in some shaving paraphernalia. In a new University of New South Wales study, researchers found that "when people are confronted by a succession of bearded men, clean-shaven men become [...]

If your arm aches just thinking about blow-drying, take heart: These easy hair-saving tips will cut down on your mirror time and deliver salon-level results.

From designer maxi dresses by Roberto Cavalli and Temperley London to contemporary finds by Alice + Olivia and Zimmermann, there's a dress for every kind of seaside bride.

Mom jeans are back this spring.

We combed our favorite online shopping haunts to find 20 stunning options for the unconventional bride who'd rather splurge on the perfect flowers and a signature cocktail than her aisle-bound gown. These gowns and frocks from Rae Francis, Black Halo Eve and Jill By Jill Stewart €"plus one epic jumpsuit by Rachel Zoe €"are the perfect antidote to the strapless fishtail option most brides seem to favor right now. You're certainly not basic, so why would your dress be?

We've rounded up 10 red carpet inspirations for long hair wedding hairstyles that don't scream "bridal," but are perfect for a walk down the aisle.

We're not in the habit of feeling sorry for supermodels. We reserve our sympathy for a less fortunate set, namely, everyone else on planet Earth.

How to love everything in your closet

Every season, wedding dress designers unveil their latest collections, and without fail, there are a handful of designs that give us pause. We're talking about beautifully designed dresses -- not meant for the fainthearted. For the Fall 2014 and Spring 2015 collections, these are the ones.