Traditional Weddings: Are They Outdated?
Some believe there's subtle sexism in tying the knot traditionally.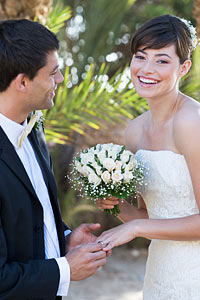 Over the last few years, I've been to a lot of weddings, and I've noticed a lot of detail in the always-touching ceremonies: The bride's veil. The couple's first kiss as man and wife. The look on the face of the father giving his daughter away. It's easy to get swept away in the loveliness of a wedding, but I never really considered how many subtle traditions may be outdated.
For example, the Episcopal Church had the traditional vow 'obey' taken out in 1922, but in many Christian ceremonies, it's still used. My friend Liz realized this, and made a decision in her own wedding:
"The promise to 'obey' my husband was not coming out of my mouth," Liz tells me. "My father is a preacher and he officiated the wedding, he kept joking that he was going to sneak it in there—I said, 'If you do, then we won't be getting married because I won't go through with the vows!'"
Indeed, it does seem a bit unfair that the wife is encouraged to "obey" the man. And that's another point of contention—the phrase "man and wife." Barbi Pecenco Kolski, a licensed marriage and family therapist in San Diego, provides premarital counseling for couples. She told us:
"Many people I know had the phrase 'man and wife' changed to 'husband and wife,' because they felt uncomfortable with the former. I can see how someone would consider those phrases sexist, but I think it's important that the couple talk about what's in their comfort zone.
Kolski also points out that "couples have more say these days over that kind of language being present in their vows."
But it's not just about the vows. Liz says there were other traditions she chose to forgo.
"I didn't have my father 'give me away' either. I had a bridal escort, my brother, but there was none of the 'who gives this woman to be married to this man?'  I mean, seriously, I was 35 years old, and I was entering into a mutually respectful and equal relationship with my husband to be, no one was 'giving me away!' I was entering into this marriage on my own accord."
She also initially opted not to take her husband's name.
"I actually did not take my husband's name upon our marriage.  I felt that I'd made a name for myself in my career and didn't want the confusion, plus that was my name, why should I change it?"
Many perceive taking the man's last name as sexist because it's almost symbolic of the woman giving up her identity. But later, Liz found a respectable reason to change her mind:
"I did end up changing my last name when I was nearly eight months pregnant with my son.  I started freaking out about not having the same last name as my child and did some research only to find that having a different last name than your child can cause some confusion/problems when it comes to traveling out of the country, registering a child for school, etc. Seems I would always have to be carrying his birth certificate around.  That and my desire to share a name with my child ended up making the decision for me."
Sexism aside, the wedding vow in general is often taken lightly. Couples promise to "have and to hold from this day forward, for better or for worse." It's no secret that couples often underestimate the "worse."
"Many couples underestimate the tough times that they will inevitably come across," Kolski explains. "We can't prepare ourselves for all the 'what ifs,' but a strong commitment can help carry couples through very difficult times."
That's not to say that leaving an unhealthy marriage is wrong, but should "for better or for worse" be redefined? Certainly there are some "worsts" that would be deal-breakers for anyone.
"Let's use a drinking problem," Kolski continues. "Are we doomed to 60 plus years of blackouts, arguing over alcohol and money, unsafe driving etc that goes along with being married to an alcoholic. Absolutely not. But if you address the issue and your spouse is in denial, you have every right to keep yourself and your children safe from those dangerous behaviors."
But wouldn't leaving the marriage then be considered breaking your vow?
"It's not about going against your vows or abandoning your spouse," Kolski explains. "It's about good self-care and protecting children who can't protect themselves. And it's definitely not about staying in denial with your partner and tolerating the intolerable."
She adds that couples need to spend time talking about exactly what they're vowing when they get married. She advises discussing what would be "deal breakers" in a marriage.
"Most people don't talk about these things and just assume they are both on the same page."

The important part, it seems, is that the couple knows just what they're promising to each other. And that's a very personal thing to share in front of your family and friends. I suppose the point is—it's less about the wedding and more about the marriage.
Another friend points out, simply, "the traditional vows that use terms like obey, love, honor, protect, cherish, etc., are used in Christian services, in a Christian Church and assume that both participants are Christian. To burden others with this responsibility should not always be required."
What do you think? Are some wedding traditions and vows antiquated, and if so, does it matter?
Photo: i love images/Getty Images
More on love & sex from MSN Living:
10 Ways to Improve Your Love Life (Right Now!)
The Secrets to Great Sex (in 50 Words or Less)
5 Sexy Steps to Get Out of Your Date Rut
beauty tips and style advice
Finding stylish and comfortable shoes for your trip abroad is easier said than done. Check out these 5 shoes that will save your feet during your next trip.

Stylish dresses made unforgettable by the famous.

Don't pack in your warm-weather favorites just yet!

This week's surprise announcement about Kate Middleton's pregnancy has already sparked speculation on what the Duchess will be wearing with her soon-to-be spare heir. What's more, the spring 2015 collections in New York are providing Middleton with plenty of maternity-friendly ideas for day and night. Here, we pinpoint six looks that should carry the Duchess through her third trimester.

Style inspiration doesn't just come from the runway. Every Fashion Week, we look far beyond the shows themselves—from the designers and the traveling troupes of editors to the models, photographers, and showgoers, all sorts of style tribes are out hitting the pavement. To refresh our fall closet, we look to eight chic cliques, from the front-row power couples to street-style bloggers. Even better? Getting the look of your favorite tribe has never been easier—everything we've pulled is $100 or less.

Autumn is upon us, and we've got sweaters, coats and booties on our minds! Below are the first things we'll be buying (or have already bought!) to kick off next season.

As autumn approaches and the opportunity for days spent lying by the beach begins to wind down, there comes a time to trade the sand-strewn sandals of summer in for the bright, shiny new footwear of fall. And what's the best way to kick off your closet in preparation for a brisk temperature drop? The boot. From animal print to glittery, hiking to fringed, our fall boots include everything you need to start the season off on the right foot.

No matter what the era, denim is always a staple. From blue to black, acid-washed, studded, and shredded, there's a denim to fit any mood (or body type). For this fall (and back-to-school month), we've rounded up our favorite picks of this all-American classic: Whether we are inspired by a nineties Kate Moss, Rihanna's affinity for fringe, or model off-duty looks, our elevated denim guide is guaranteed to refresh your wardrobe just in time for the new season.

Beachy waves, soft strands—you can have the dream locks you've always wanted.

You already know wearing white after Labor Day is cool. But menswear is reinventing itself rapidly, leaving some long-held mandates by the wayside, not to mention a bunch of men with a lot of questions. Sure, some style laws are truly inviolable. Showing a quarter-inch of cuff will always be crucial, but with designers and dandies flaunting so many former taboos it's hard to tell what's in play these days. So we thought we'd take this opportunity to let you know which rules no longer apply.

With every changing season, our shopping lists seem to grow and grow and grow . . . and yet our bank accounts somehow stay exactly the same! But don't fret, you can capture all the best fall trends straight from the runway without breaking the bank. Whether you're yearning for cozy knits, statement necklaces, or bold graphic pieces, our Fall Fashion Guide gives you the best looks—all for less than $100.

Allow us to be frank: Fashion Week is a bit of a misnomer. What with the global sprawl of shows—from New York to London to Milan to Paris—it really should be Fashion Month. (Or Fashion Forever.) Either way, what better way to kick off the marathon of shows, after-parties, flights, and appointments than with our comprehensive A-to-Z guide to all things Fashion Week? Here, find out what to do, eat, see, wear, and keep your eye on this season.