China's 'fake-marriage market' a growing trend
In China, gays and lesbians struggle to blend in with tradition.
In a culture where tradition is everything, same-sex relationships aren't exactly endorsed. In fact, in China, gay relationships on TV or in movies are often censored.
Thus, China's 'fake-marriage market' is a gathering in which gays and lesbians meet to organize heterosexual marriages.
Sham marriages are a growing issue in China. The country's gay population often find themselves coerced into traditional, opposite-sex marriages; Bloomberg reports that 16 million Chinese women are married to gay men. The country even has a title for these women: tongqi.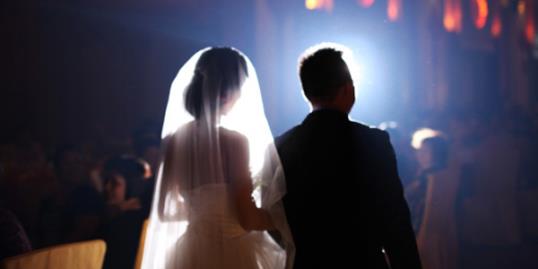 More on MSN Living: 8 signs you're too bossy in bed

Many of these wives have no previous knowledge of their husband's homosexuality and only realize their orientation after discovering pornography or extramarital affairs. Naturally, this often becomes a legal issue. In one example from a Chinese news outlet, a wife who realizes she's a fake seeks to receive compensatory damages after her divorce.
More on MSN Living: What his sex signals really mean
A Qiang is a gay blogger who often writes about these fake marriages. He described the mindset behind the issue:
"Some homosexuals cannot face social prejudice and discrimination, so they hide their sexual orientation with a heterosexual marriage rather than be discriminated against; Chinese traditional culture emphasizes children and the continuation of the family line, and heterosexual marriage is a convenient way to get children; there is an inadequate, comprehensive social safety net, so some homosexuals enter heterosexual marriage for the sense of security."
Hence the birth of the "fake marriage market." Slate.com reporter Nicola Davison recently visited one of these gatherings in Shangai, where she quoted a man referenced as "No. 11:"
"I'm here to find a lesbian, to be with me and to build a home. In my view, a 30-year-old man should start thinking about having a family, but two men can't hold each other's hands in the street. We're not allowed to be a family."
Not all of these heterosexual marriages are intentionally fake, however. Qiang also points out that "many people do not understand their own sexuality at the time of marriage."
Bing: Donald Trump speaks out against gay marriage.
More from The Heart Beat:

Cohabitating couples get married for the kids
Study: BMW drivers more likely to cheat
Men no longer willing to pay for first date
Love content like this? Friend us on Facebook, follow us on Twitter and find us on Pinterest
Photo: @mr.jerry/Getty Images
beauty tips and style advice
These travel-sized beauty products will do double-duty while you're on the road.

Neatly sidestepping high fashion, the smiling, cheerful Kate Middleton is fast becoming the Duchess of Normcore.

This December, New Yorkers might notice something missing in the Christmas air.

When Madonna posted an image of herself wearing a full on Game of Thrones Khaleesi costume on Instagram last week we weren't exactly surprised—this is the woman who rolled into the Grammy Awards wearing a tuxedo and a grill earlier this winter, so why not celebrate the Jewish holiday of Purim with a leather corset and a pair of tiny dragons? Still, we were hypnotized by her white-blonde, braided Daenerys Targaryen hair. Functioning as a bleached out cultural weather vane of sorts, it tapped into multiple obsessions at once—the return of "Game of Thrones" to HBO, spring's new extreme hair lengths and, most notably, fashion's current platinum mania. Our own love of ice-blonde hair—which transforms any look from everyday to extraordinary—has been well documented of late, but last night's Game of Thrones premiere sent our platinum fever into overdrive. In celebration of fashion's favorite hair color, a look at the best platinum moments in history.

While you were sleeping, fast retail chain H&M H&M announced that its next designer collaboration is with Alexander Wang.

Formal, beachy, country club-chic or gorgeously rustic whatever the setting calls for, we've found a bevy of beautiful dresses to wear to a wedding this season.

Puffy, tired, weary no more. These tips take years off and create that "I slept great, thanks!" effect.

Top dermatologists, cosmetic chemists, makeup artists, and hairstylists reveal quick tips and tricks that can peel back years in a matter of seconds

We're all for sartorial freedom, but there are certain once-on-trend items that, when worn today, appear anything but current. Consider this your official out list.

If you're a practitioner of reselling your clothes—a good way to clear out some space in your wardrobe and make a few extra bucks—you might already be familiar with San Francisco-based thredUP.

A picture may be worth a thousand words, but emoji must be worth at least a million. Here we show you how to channel your favorites: Go ahead, express yourself!

11 earth-friendly beauty products we love.