The Army debuts new women-friendlier unisex uniform
Available in 16 sizes, the new uniform was tested by 600 female active-duty, National Guard and Reserve soldiers in 2011.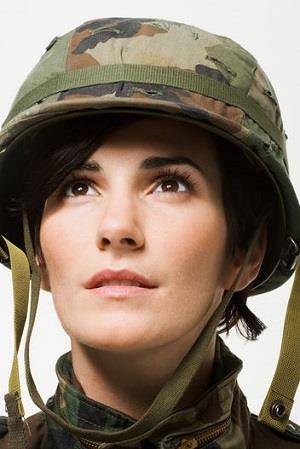 by Danica Lo

For women in the military, it's been a long time in the making, but just recently — along with the announcement that it would open all units and jobs to women by 2016 — the U.S. Army debuted new women-friendlier unisex uniforms.

"The old uniform was meant to be one size fits five sizes; these are more tailored," said Central Initial Issue Point project manager Trevor Whitworth. "When you're low crawling or doing a lot of physical training, it's nice to have a pair of trousers that have a little give-and-take to them. I think having made uniforms for a female body type will make a big difference for female soldiers."

More from Glamour: 10 Wardrobe Essentials Every Woman Should Own

Some of the changes to the current silhouette include adjusting the cut to fit a woman's chest, hips and waist better; narrower shoulder width and narrower back; shortening the button-fly rise and back rise to better fit women; and repositioned knee and elbow patches.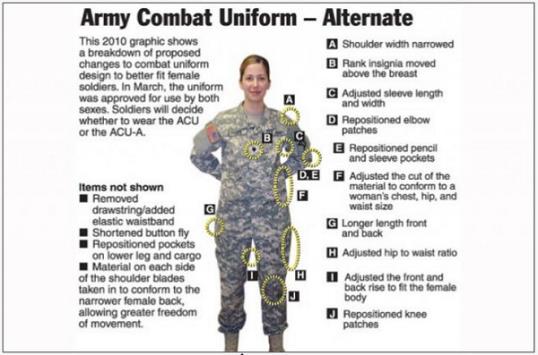 The new Army Combat Uniforms are being issued to new soldiers going through Basic Combat Training at Fort Sill in Oklahoma and will be available "at all installations except Fort Benning in Columbus, Ga.," according to CBS Atlanta. Available in 16 sizes, the new uniform was tested by 600 female active-duty, National Guard and Reserve soldiers in 2011.

More from Glamour: 15 Hair-Color Makeover Ideas to Try in 2013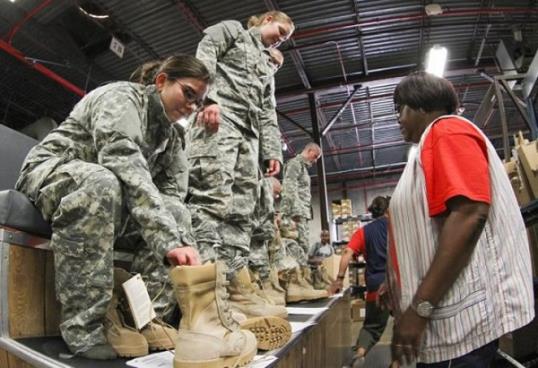 "An overwhelming majority, 94 percent of all respondents, said that the cut of the new ACU-A allowed them to present a better military appearance," said Major Laverne Stanley, the assistant product manager of soldier clothing and individual equipment.

What do you think about the new uniforms? Did you know that one in six soldiers in the U.S. Army is a woman? Tell us what you think in the comments, below.

Subscribe to Simply Chic | Friend us on Facebook | Follow us on Twitter | Find us on Pinterest

More from Glamour:
53 Swimsuits that Make You Look 10 Pounds Thinner
35 Truths About Marriage--From a Guy's Point of View
10 Hot Date-Night Outfits (According to Guys)

Photos: Getty, U.S. Army
beauty tips and style advice
What to wear and what to avoid the next time you attend a wedding.

Want the most gorgeous hair of your life for your wedding day? Of course you do. Hairstylist Jen Atkin shares the top mistakes brides make that are getting in the way of that picture-perfect bridal hairstyle

So there are fashion mishaps. And then, there is the catastrophe known as....camel toe.

The top tips I've picked up thanks to my obsession with blowouts, highlights, and my favorite hairstylist.

Something happens to your head when you have a kid — not to mention your body completely changes, and you can barely recognize yourself through bleary eyes, a fog of tiredness, and matted hair from sleepless nights. Sounds sexy, right? But, when that glimmering light at the end of the tunnel is in the near distance and the kid actually starts to act like a human and sleep normal hours, just like magic, you start to look like your old self again.

Ever slip into the latest summer fashion trend and then realize it's not exactly traditionally attractive? So what? Today we're speaking out on behalf of our favorite awkward fashion trends, whether they're bulky, strangely proportioned, or just at the opposite end of sexy. If there's still something magnetic about its pull on you, we say go for it. It's all in the name of fashion.

One shopper's tweet of the emaciated-looking figure forced the store to take action.

Once the summer heat kicks in, it's all we can do not to slip into the breeziest beach dresses and flip-flops for the morning commute. So trust us when we say we understand that the humidity can have a powerful effect on your wardrobe — still, there are some things you just can't wear to your place of employment, no matter how hot it gets.

Wrinkle no blouse, tangle no jewelry, leave no beauty product behind, and still have room to spare.

Hue-changing dos we absolutely love.

Why your jean size varies from store to store.

Wait a month between waxing visits? Check. Pop a preappointment Advil? Duh. We all know the basics, but here are the tricks you don't know.