What your shoes say about you
Footwear can have a powerful effect on first impressions.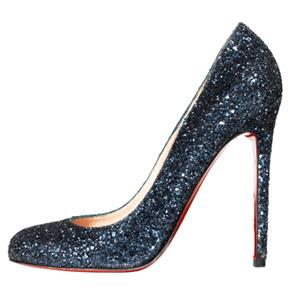 By Lois B. Morris, Allure magazine


People often form opinions about strangers from a glance at their shoes. A study led by Omri Gillath, an associate professor of social psychology at the University of Kansas in Lawrence, has tested the accuracy of those assumptions.


Related: 10 Commandments of Mascara
Participants not only made good guesses about people's age and earning based on their shoes, they also correctly associated feminine-looking shoes with agreeableness, and dull, neutral-colored shoes with anxiety about being rejected or abandoned by others.


Related: The Top 21 Drugstore Beauty Bargains
Among the many wrong assumptions: that politically liberal people wear cheap, round-toed, unattractive shoes in poor repair, and that emotional stability correlates with the absence of high heels and pointy toes.
More from
Allure:
Best of Beauty 2012
The 10 Most Gorgeous Hair-Color Ideas for Brunettes
The 12 Best Eye Creams

beauty tips and style advice
Buying a brush is like getting a new smartphone: once you learn how to use it, it's indispensable.

Surfers are the epitome of cool, laid-back American style. And if we can't be them, at least we can copy their hair.

It's time for bridal beauty to loosen up. Hair doesn't have to be tightly wound, makeup perfectly contoured, and nails French manicured (on this last point, really, please don't). You can, in fact, look gorgeously and timelessly cool at your wedding. Here's how.

Thirty-year-old Lisa Conn was shamed for her American Apparel swim suit.

This Instagram should be an ad campaign on billboards everywhere immediately.

The famous Parisian shoe designer has unveiled a luxurious new nail polish, his first foray into the world of beauty, and there are no prizes for guessing what color it comes in.

Once the summer heat kicks in, it's all we can do not to slip into the breeziest beach dresses and flip-flops for the morning commute. So trust us when we say we understand that the humidity can have a powerful effect on your wardrobe — still, there are some things you just can't wear to your place of employment, no matter how hot it gets.

Average shoe size is up about two sizes since the '70s, study says.

They can't escape wedding season, so they might as well look their best.

Front-row style star Miroslava Duma just clears 5′, Oscar winner Reese Witherspoon one-ups her—literally—at 5′ 1″, and fashion crush Rachel Bilson barely tops them both at a whopping 5′ 2″. But aside from standing at the diminutive end of the height spectrum, these three ladies have something else in common: the ability to nail every summer fashion trend. If you're part of the petite girls' club, take a look at these 12 fashion essentials—from closet staples to chic accessories—to keep you at the top of your style game this summer.

Quick, easy, everywhere-appropriate: There's no summer piece quite as versatile--or flattering.

These fresh, cute outfit ideas range from unexpected mash-ups to completely coordinated looks. What they all have in common is they'll get you out the door feeling totally confident.