Men's beauty secrets, revealed
Most men have a beauty regime—and they tend to keep it a secret from their partners.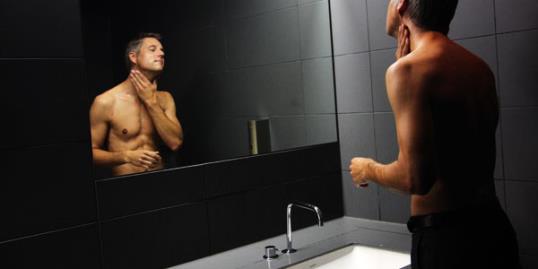 It's no secret that women often take longer than their mate to get ready, with all the makeup, hair styling, shaving and other beauty regimes we go through. But what you may not know is your man may be taking a significant amount of time to get beautified as well—but if they are, they may be doing so in secret. 

More from Living: The Worst. Eyebrows. Ever.

According to the Telegraph, a new study conducted by Central Contracts has found that 60 percent of men regularly buy beauty products for themselves (such as moisturizer and after-shave) but tend to keep it a secret from their partners. 

More from Living: The 50 best grooming tips + products for men

Top picks for men include facial creams and hair products (Moroccan oil tops the list). But the younger the men are, the more open they are about the products they use. The study found men between 21 and 26 years old were the most comfortable with sharing their beauty secrets, and older gentlemen between the ages of 55 to 65 prefer to keep their cosmetics use under wraps. 

Tell us: Does your man use beauty products?

Photo: Bliss Playpictures/Getty Images    

More from Simply Chic:
Do women really age more quickly than men?
The most "OMG, WHAT!?" looks from London Men's Fashion Week
Women look older at 3:30 p.m. on Wednesdays

I was taught by watching my Dad and later on, created my own regimen; not so much for beauty as for preservation.   I don't know to many men who don't do some type of skin, hair care, foot care, etc.  The older one gets, the more the essential oils are lost which stave off dry, saggy skin and crusty
****
feet.  Therefore, maintenance has to be done in these areas as well as others; unless one is an individual who; either did not learn or wasn't taught to do these things.  Or is just nasty just doesn't give
****
!

Actually, TV commercials are filled with stuff for men, from moisturizers to shave creams and of course, hair products. Remember "Brylcream a little dab will do you"? That's been around forever. The main reason men don't talk about it is because most men don't really care that much one way or another. Use them? Yes. Dwell on them? Not hardly. think if it as a lack of interest or at best, not at the top of today's priority list.
Are you sure you want to delete this comment?
beauty tips and style advice
Famous brides may have access to elite designers that most of us can only dream of, but we can all delight in the statements they make on their big days. In honor of the pending nuptials of Kim Kardashian and Kanye West, let's take a look at some recent and past famous gorgeous gowns.

From pretty pastels to bold brights and cool textures, up your #ManicureMonday game with spring's top nail polish trends!

Even if everyone at school will be rocking their most festive shades of emerald on March 17, you don't want to end up looking like a Leprechaun in head-to-toe green.

Neutral tones and beautiful metallics were a huge trend on the Oscars red carpet. And we saw so many dresses that would be exceptionally beautiful walking down the aisle. Here are our favorites!

Sorry, winter, we're way over you. It's time to refresh your look for spring with bold lippies, fun nail art and major brows—here's how to rock the hottest new trends, just like these stylish celebs!

Time to say buh-bye to the same old, played-out 'dos. Celebrity stylist Jen Atkin tells you how to update these 7 classic hairstyles for spring.

How to dress your baby bump.

Things we learned backstage at the fall 2014 runway shows: Bold brows aren't going anywhere, bright green can actually look subtle, and glitter is amazing almost anywhere (within reason). Here, our favorite makeup looks of the season so far.

The fall runways showcased a broad range of hairstyles—braids, buns, ponytails, and even wigs. But there were unifying themes, too: A pervasive sense of ease; experimentation with texture; and an apparent belief that anything goes.

It's not always about the ladies of style. Check out these fashion icons.

Do you hear that? It's the sound of hundreds of cover bands beginning to tune their guitars and trying to remember the lyrics to "Shout." Ladies and gentlemen (but mostly ladies), it's nearly wedding season.

So, it hasn't snowed in nearly a week—does that mean it's summer yet? Well, almost. But alas, just because you're confident setting aside your trusty Sorel boots unfortunately doesn't mean you get to hop right into an itsy-bitsy-teenie-weenie yellow polka dot bikini just yet. Unless, of course, you're headed somewhere tropical in the next few weeks (lucky you!) and really do need to stock up on sexy swimsuits right now.