Men's beauty secrets, revealed
Most men have a beauty regime—and they tend to keep it a secret from their partners.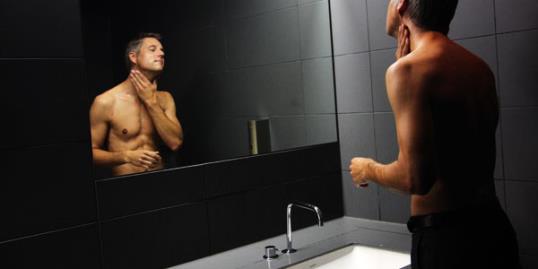 It's no secret that women often take longer than their mate to get ready, with all the makeup, hair styling, shaving and other beauty regimes we go through. But what you may not know is your man may be taking a significant amount of time to get beautified as well—but if they are, they may be doing so in secret. 

More from Living: The Worst. Eyebrows. Ever.

According to the Telegraph, a new study conducted by Central Contracts has found that 60 percent of men regularly buy beauty products for themselves (such as moisturizer and after-shave) but tend to keep it a secret from their partners. 

More from Living: The 50 best grooming tips + products for men

Top picks for men include facial creams and hair products (Moroccan oil tops the list). But the younger the men are, the more open they are about the products they use. The study found men between 21 and 26 years old were the most comfortable with sharing their beauty secrets, and older gentlemen between the ages of 55 to 65 prefer to keep their cosmetics use under wraps. 

Tell us: Does your man use beauty products?

Photo: Bliss Playpictures/Getty Images    

More from Simply Chic:
Do women really age more quickly than men?
The most "OMG, WHAT!?" looks from London Men's Fashion Week
Women look older at 3:30 p.m. on Wednesdays

I was taught by watching my Dad and later on, created my own regimen; not so much for beauty as for preservation.   I don't know to many men who don't do some type of skin, hair care, foot care, etc.  The older one gets, the more the essential oils are lost which stave off dry, saggy skin and crusty
****
feet.  Therefore, maintenance has to be done in these areas as well as others; unless one is an individual who; either did not learn or wasn't taught to do these things.  Or is just nasty just doesn't give
****
!

Actually, TV commercials are filled with stuff for men, from moisturizers to shave creams and of course, hair products. Remember "Brylcream a little dab will do you"? That's been around forever. The main reason men don't talk about it is because most men don't really care that much one way or another. Use them? Yes. Dwell on them? Not hardly. think if it as a lack of interest or at best, not at the top of today's priority list.
Are you sure you want to delete this comment?
beauty tips and style advice
So there are fashion mishaps. And then, there is the catastrophe known as....camel toe.

The top tips I've picked up thanks to my obsession with blowouts, highlights, and my favorite hairstylist.

Something happens to your head when you have a kid — not to mention your body completely changes, and you can barely recognize yourself through bleary eyes, a fog of tiredness, and matted hair from sleepless nights. Sounds sexy, right? But, when that glimmering light at the end of the tunnel is in the near distance and the kid actually starts to act like a human and sleep normal hours, just like magic, you start to look like your old self again.

Ever slip into the latest summer fashion trend and then realize it's not exactly traditionally attractive? So what? Today we're speaking out on behalf of our favorite awkward fashion trends, whether they're bulky, strangely proportioned, or just at the opposite end of sexy. If there's still something magnetic about its pull on you, we say go for it. It's all in the name of fashion.

One shopper's tweet of the emaciated-looking figure forced the store to take action.

Once the summer heat kicks in, it's all we can do not to slip into the breeziest beach dresses and flip-flops for the morning commute. So trust us when we say we understand that the humidity can have a powerful effect on your wardrobe — still, there are some things you just can't wear to your place of employment, no matter how hot it gets.

Wrinkle no blouse, tangle no jewelry, leave no beauty product behind, and still have room to spare.

Hue-changing dos we absolutely love.

Why your jean size varies from store to store.

Wait a month between waxing visits? Check. Pop a preappointment Advil? Duh. We all know the basics, but here are the tricks you don't know.

What to always—and never, ever—do to keep hair in top shape.

Get inspired to try these sweet and summery looks.