Men's beauty secrets, revealed
Most men have a beauty regime—and they tend to keep it a secret from their partners.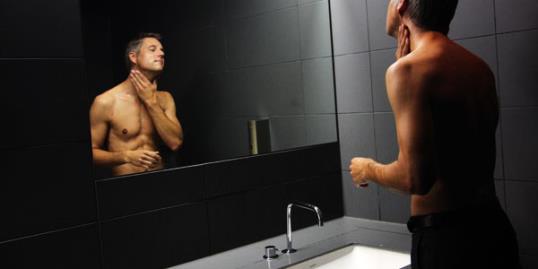 It's no secret that women often take longer than their mate to get ready, with all the makeup, hair styling, shaving and other beauty regimes we go through. But what you may not know is your man may be taking a significant amount of time to get beautified as well—but if they are, they may be doing so in secret. 

More from Living: The Worst. Eyebrows. Ever.

According to the Telegraph, a new study conducted by Central Contracts has found that 60 percent of men regularly buy beauty products for themselves (such as moisturizer and after-shave) but tend to keep it a secret from their partners. 

More from Living: The 50 best grooming tips + products for men

Top picks for men include facial creams and hair products (Moroccan oil tops the list). But the younger the men are, the more open they are about the products they use. The study found men between 21 and 26 years old were the most comfortable with sharing their beauty secrets, and older gentlemen between the ages of 55 to 65 prefer to keep their cosmetics use under wraps. 

Tell us: Does your man use beauty products?

Photo: Bliss Playpictures/Getty Images    

More from Simply Chic:
Do women really age more quickly than men?
The most "OMG, WHAT!?" looks from London Men's Fashion Week
Women look older at 3:30 p.m. on Wednesdays

I was taught by watching my Dad and later on, created my own regimen; not so much for beauty as for preservation.   I don't know to many men who don't do some type of skin, hair care, foot care, etc.  The older one gets, the more the essential oils are lost which stave off dry, saggy skin and crusty
****
feet.  Therefore, maintenance has to be done in these areas as well as others; unless one is an individual who; either did not learn or wasn't taught to do these things.  Or is just nasty just doesn't give
****
!

Actually, TV commercials are filled with stuff for men, from moisturizers to shave creams and of course, hair products. Remember "Brylcream a little dab will do you"? That's been around forever. The main reason men don't talk about it is because most men don't really care that much one way or another. Use them? Yes. Dwell on them? Not hardly. think if it as a lack of interest or at best, not at the top of today's priority list.
Are you sure you want to delete this comment?
beauty tips and style advice
Reality TV: such a mindless guilty pleasure, mostly filled with questionable spray tans and insane hair extensions. But in honor of the season premiere of one of our favorites, The Real Housewives of Orange County, we decided to celebrate a select few reality stars who've displayed legitimately great hair and makeup. Yes, there actually are a few! And we had to go all the way back to The Real World of the mid-'90s to find our first.

Sprinkle in these wet weather essentials so you'll be ready for whatever these springtime days bring.

Let's face it: winter's bitter cold left us feeling disillusioned with our wardrobes. So with warmer days ahead, it's time to shop for must-have pieces that'll keep your look fresh for months to come.

Every bride deserves to look flawless on her wedding day. So we say: Indulge a little. Book a facial (or six!) and invest in a great waterproof mascara. With this guide, getting ready for your big day has never been easier.

I can't tell you how many times one ill-timed sneeze ruined all of my hard work with a mascara wand. #allergyproblems.

While we're not averse to shelling out upwards of $30 for an amazing lipstick, many of our standby lip colors cost a whole lot less than that. The drugstore is full of high-quality, long-lasting lipsticks in gorgeous shades that—wait for it!—ring in under $10. Click through above to shop our favorites!

What's the perfect add-on to your beauty look? A hair accessory, of course! Just when you think you've seen it all, every year there seems to be a new "it" hair piece that rules the moment. In the '50s, a dainty bow-tied head scarf was perfectly housewife-chic. In the '60s and '70s, real flower crowns officially became the epitome of boho style—your outfit simply wasn't complete without a daisy topper. Fast-forward to the '90s and you had a bevy of creative hair charms and baubles, including butterfly clips, hair wraps and those infamous bra strap headbands (shudder).

The right blush can warm up your complexion, create the illusion of cheekbones, and even make you look younger. (Yes, really!) Here, the most flattering shades for fair, medium, olive, and dark skin.

Think you can't put a price on looking younger? Well, we did—and it's $25. We challenged dermatologists to find great products that don't cost even one cent over that amount.

You want to dress in a way that's young and cool but that doesn't suggest you're on your way to a One Direction concert. "The trick to looking younger is adding one fashionable piece to a classic outfit," says stylist Cher Coulter. Here's how to nail it.