Men's beauty secrets, revealed
Most men have a beauty regime—and they tend to keep it a secret from their partners.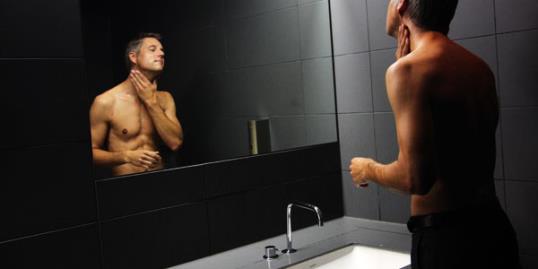 It's no secret that women often take longer than their mate to get ready, with all the makeup, hair styling, shaving and other beauty regimes we go through. But what you may not know is your man may be taking a significant amount of time to get beautified as well—but if they are, they may be doing so in secret. 

More from Living: The Worst. Eyebrows. Ever.

According to the Telegraph, a new study conducted by Central Contracts has found that 60 percent of men regularly buy beauty products for themselves (such as moisturizer and after-shave) but tend to keep it a secret from their partners. 

More from Living: The 50 best grooming tips + products for men

Top picks for men include facial creams and hair products (Moroccan oil tops the list). But the younger the men are, the more open they are about the products they use. The study found men between 21 and 26 years old were the most comfortable with sharing their beauty secrets, and older gentlemen between the ages of 55 to 65 prefer to keep their cosmetics use under wraps. 

Tell us: Does your man use beauty products?

Photo: Bliss Playpictures/Getty Images    

More from Simply Chic:
Do women really age more quickly than men?
The most "OMG, WHAT!?" looks from London Men's Fashion Week
Women look older at 3:30 p.m. on Wednesdays

I was taught by watching my Dad and later on, created my own regimen; not so much for beauty as for preservation.   I don't know to many men who don't do some type of skin, hair care, foot care, etc.  The older one gets, the more the essential oils are lost which stave off dry, saggy skin and crusty
****
feet.  Therefore, maintenance has to be done in these areas as well as others; unless one is an individual who; either did not learn or wasn't taught to do these things.  Or is just nasty just doesn't give
****
!

Actually, TV commercials are filled with stuff for men, from moisturizers to shave creams and of course, hair products. Remember "Brylcream a little dab will do you"? That's been around forever. The main reason men don't talk about it is because most men don't really care that much one way or another. Use them? Yes. Dwell on them? Not hardly. think if it as a lack of interest or at best, not at the top of today's priority list.
Are you sure you want to delete this comment?
beauty tips and style advice
No one will ever accuse Blanchett of being boring. Gorgeous, yes. We can always count on her to wear—and say—something interesting. Here, we trace this risk taker's style evolution over the past 16 years.

Famous brides may have access to elite designers that most of us can only dream of, but we can all delight in the statements they make on their big days. In honor of the pending nuptials of Kim Kardashian and Kanye West, let's take a look at some recent and past famous gorgeous gowns.

Amy Adams has glittered in tiaras and poufy sleeves as a Disney princess, covered up in bonnets and cloaks as a nun, and gone all crop-toppy in The Fighter. Her personal style, on the other hand, has been a lot more straightforward.

Some things never change. And then there's Sandra Bullock's style. It's hard to remember a time when the actress wasn't America's sweetheart—with a closet full of Lanvin and Marchesa to match—but with more than two decades of the red-carpet game under her belt, she's tried just about everything: crop tops, plunging necklines…even frosty lipstick (it was the '90s, after all). Here, our favorite hits and misses.

Before Jennifer Lawrence was "the world's most desirable woman," she was hiding under a pile of tulle skirts, patterned shifts, and unflattering metallics. Here's how the young bombshell learned how to dress like a true A-lister.

A great haircut is just half the battle. What about how to style it each and every morning? Check out these thirteen easy hairstyle ideas from stars like Gabrielle Union, Emma Stone, and Rooney Mara and get ready to rock ponytails, buns, updos and more.

Nothing but the best of what's new for makeup, skin, and hair (nice prices, too).

The preparation is intense; the entrances are unforgettable. Here are the most spectacular, glamorous, inspiring beauty looks in the history of the Academy Awards.

Look your best this Spring with these ever-popular styles

Not everyone will go home with an Oscar at the Academy Awards on March 2, but this year's losing nominees are all guaranteed to walk away with a jammed-packed gift bag.

That was fast! After a brief stint as a brunette, Britney Spears made the switch to a bold red hue late last week.

Applying makeup might be an effective way to cope with embarrassment.