EXACTLY what to wear when you're wedding dress shopping!
Yes, this matters! Trust me!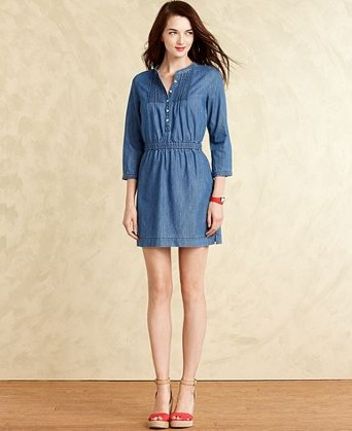 by Kim Fusaro

As I mentioned in Friday's Week in Review, this dress would be particularly excellent to wear when you're wedding dress shopping. I know it feels silly to put a lot of thought into your shopping outfit, but trust me. During a long (long, long, long) day of shopping, you'll be happier if properly outfitted. So here's EXACTLY what to wear.

To the right: Tommy Hilfiger Three-Quarter Sleeve Chambray Dress from Macy's, $59.99.

1) A dress without a lot of bells and whistles. You'll probably shop multiple boutiques, so having a dress you can get in and out of with minimal assistance will help speed things up.

2) Tights. You won't be able to wrestle your way into every wedding dress on your own, which means you'll need someone in the dressing room with you. This might be your mom or your maid of honor or a sales assistant—or all of the above, if it's one of those HUGE dressing rooms. Tights will give you at least SOME sense of modesty. And hey, if they suck in your tummy a little, it's only going to make the dresses look better! (Don't worry. You won't be able to see the tights through the dresses!)

More from Glamour: 10 Beauty Tricks That Make Guys Melt

 3) A strapless bra. This will also help you maintain a little modesty, even if you don't plan on wearing a bra on your wedding day. But wedding dresses generally look better with a bra, IMO, unless you're very small-chested. 

4) Flats. If you're wearing heels on your wedding day, definitely pack a pair. (Or take your chances on the boutique's samples. Ick.) But don't schlep from store to store in stilettos. Save your feet—and your stamina—by wearing flats between try-ons.

More from Glamour: 10 Wardrobe Essentials Every Woman Should Own

Did I forget anything? Did you wear anything really unfortunate while you were wedding dress shopping?

The first time out, I wore a dress—and a thong. And that's it. THAT made for some mortifying moments!
More from Glamour:

10 Ways to Seduce Your Man in Seconds
20 "Annoying" Girl Things He Secretly Loves About You
50 Things Men Are Afraid to Ask For (But Really Want)
fashion: trends & must-haves for your wardrobe
Step into spring with style in June Ambrose's new shoe line for HSN.

Revamp your corporate look with graphic prints and bold color.

You may not get wrinkles on your hair, but it ages all the same. Grays, dullness, thinning strands, and frizz are all (unfortunately) part of the hair's aging process, which starts happening in your 30s. The good news is that you don't need Botox to fix these problems. Here are six tips for hair that's shiny, bouncy, healthy—and, yes, younger looking.

Our fashion-savvy FLOTUS shows us she is truly a master at mixing high- and low-end designs.

Long, layered, medium or wavy – we're sharing our favorite hairstyles of 2013 with a new 'do each day. Stuck in a hair rut? Check back daily for snappy new looks that are sure to give your locks some beauty inspiration.

Get ready for summer with these cute and easy to DIY nail art designs.

Brides, it's your big day and you want to look special. Please, whatever you do, don't wear one of these wedding dresses. These are truly the worst.

Even if you're the best friend of all time, no bridesmaid should ever have to wear these worst-ever bridesmaid dresses. Lace, ruffles and satin overload!

As your face changes, so should your hair—the right cut can shave years from your appearance. And while there's no such thing as an age-appropriate length, there are age-appropriate styles. Here, the 30 most gorgeous hairstyles for every age, as seen on Mila Kunis, Jessica Biel, Jennifer Aniston, Diane Keaton, and more.

Stuck in a office-look-rut? Let some of history's most smartly dressed women inspire your everyday uniform.

Few spots are as fashionable as the Cannes Film Festival red carpet. Celebrity style stars pull out all the stops—because if you can't wear a fabulous dress at one of the film industry's biggest events, in one of the world's most glamorous locales, when can you? Here are 25 of the masterpieces we still can't stop staring at.

From demure dresses to covetable coats, the Duchess of Cambridge has a maternity wardrobe that would make any grown woman wish she could be a princess. Click through the gallery to see some of her most stylish looks while pregnant.