EXACTLY what to wear when you're wedding dress shopping!
Yes, this matters! Trust me!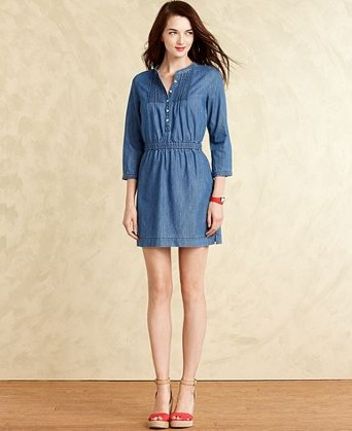 by Kim Fusaro

As I mentioned in Friday's Week in Review, this dress would be particularly excellent to wear when you're wedding dress shopping. I know it feels silly to put a lot of thought into your shopping outfit, but trust me. During a long (long, long, long) day of shopping, you'll be happier if properly outfitted. So here's EXACTLY what to wear.

To the right: Tommy Hilfiger Three-Quarter Sleeve Chambray Dress from Macy's, $59.99.

1) A dress without a lot of bells and whistles. You'll probably shop multiple boutiques, so having a dress you can get in and out of with minimal assistance will help speed things up.

2) Tights. You won't be able to wrestle your way into every wedding dress on your own, which means you'll need someone in the dressing room with you. This might be your mom or your maid of honor or a sales assistant—or all of the above, if it's one of those HUGE dressing rooms. Tights will give you at least SOME sense of modesty. And hey, if they suck in your tummy a little, it's only going to make the dresses look better! (Don't worry. You won't be able to see the tights through the dresses!)

More from Glamour: 10 Beauty Tricks That Make Guys Melt

 3) A strapless bra. This will also help you maintain a little modesty, even if you don't plan on wearing a bra on your wedding day. But wedding dresses generally look better with a bra, IMO, unless you're very small-chested. 

4) Flats. If you're wearing heels on your wedding day, definitely pack a pair. (Or take your chances on the boutique's samples. Ick.) But don't schlep from store to store in stilettos. Save your feet—and your stamina—by wearing flats between try-ons.

More from Glamour: 10 Wardrobe Essentials Every Woman Should Own

Did I forget anything? Did you wear anything really unfortunate while you were wedding dress shopping?

The first time out, I wore a dress—and a thong. And that's it. THAT made for some mortifying moments!
More from Glamour:

10 Ways to Seduce Your Man in Seconds
20 "Annoying" Girl Things He Secretly Loves About You
50 Things Men Are Afraid to Ask For (But Really Want)
beauty tips and style advice
Once the summer heat kicks in, it's all we can do not to slip into the breeziest beach dresses and flip-flops for the morning commute. So trust us when we say we understand that the humidity can have a powerful effect on your wardrobe — still, there are some things you just can't wear to your place of employment, no matter how hot it gets.

Wrinkle no blouse, tangle no jewelry, leave no beauty product behind, and still have room to spare.

Hue-changing dos we absolutely love.

Why your jean size varies from store to store.

Wait a month between waxing visits? Check. Pop a preappointment Advil? Duh. We all know the basics, but here are the tricks you don't know.

What to always—and never, ever—do to keep hair in top shape.

Get inspired to try these sweet and summery looks.

Stunning wedding styles that create a statement.

I attended the Abercrombie and Fitch holiday-season press preview yesterday, and in between checking out the cute gear that will hit stores this November, I picked up a little nugget of information I just have to share.

How to wear this cool-weather staple in the summer.

See how Miranda Kerr made a pair of Birkenstocks chic.

We love how a new nail polish has the ability to instantly change your look and your mood with a simple swipe. While happy lime greens and aquas are ruling the five million #nailpolish Instagrams this summer, there are a variety of great colors to choose from—whether you want an office-appropriate neutral or a fun going-out shade that'll give your LBD a punch of color.