EXACTLY what to wear when you're wedding dress shopping!
Yes, this matters! Trust me!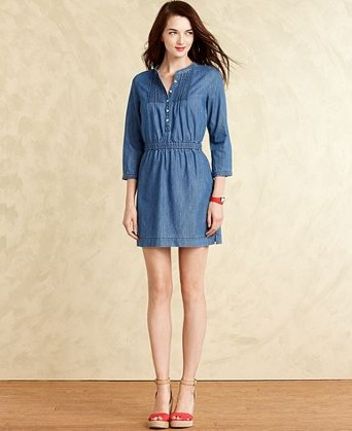 by Kim Fusaro

As I mentioned in Friday's Week in Review, this dress would be particularly excellent to wear when you're wedding dress shopping. I know it feels silly to put a lot of thought into your shopping outfit, but trust me. During a long (long, long, long) day of shopping, you'll be happier if properly outfitted. So here's EXACTLY what to wear.

To the right: Tommy Hilfiger Three-Quarter Sleeve Chambray Dress from Macy's, $59.99.

1) A dress without a lot of bells and whistles. You'll probably shop multiple boutiques, so having a dress you can get in and out of with minimal assistance will help speed things up.

2) Tights. You won't be able to wrestle your way into every wedding dress on your own, which means you'll need someone in the dressing room with you. This might be your mom or your maid of honor or a sales assistant—or all of the above, if it's one of those HUGE dressing rooms. Tights will give you at least SOME sense of modesty. And hey, if they suck in your tummy a little, it's only going to make the dresses look better! (Don't worry. You won't be able to see the tights through the dresses!)

More from Glamour: 10 Beauty Tricks That Make Guys Melt

 3) A strapless bra. This will also help you maintain a little modesty, even if you don't plan on wearing a bra on your wedding day. But wedding dresses generally look better with a bra, IMO, unless you're very small-chested. 

4) Flats. If you're wearing heels on your wedding day, definitely pack a pair. (Or take your chances on the boutique's samples. Ick.) But don't schlep from store to store in stilettos. Save your feet—and your stamina—by wearing flats between try-ons.

More from Glamour: 10 Wardrobe Essentials Every Woman Should Own

Did I forget anything? Did you wear anything really unfortunate while you were wedding dress shopping?

The first time out, I wore a dress—and a thong. And that's it. THAT made for some mortifying moments!
More from Glamour:

10 Ways to Seduce Your Man in Seconds
20 "Annoying" Girl Things He Secretly Loves About You
50 Things Men Are Afraid to Ask For (But Really Want)
beauty tips and style advice
You know what they say about good things and small packages. So go ahead, indulge your loved ones (or yourself!) with these plush, pint-sized products.

While the debut of Karl Lagerfeld's Chanel No.5 bottle bag surely adds yet another item to many a fashion follower's sartorial bucket list, it also got us thinking about one of the brand's other, ever-present offerings: the 2.55. The bag was first dreamed up by Gabrielle "Coco" Chanel in the early 1920s when, ever-practical and tired of having to carry her bag in her hands, the designer took inspiration from soldiers' packs and incorporated an extended strap into her own carryall. After World War II, she launched the quilted bag in earnest, in February 1955 putting a long, chain strap model forth (hence the name) and captivating women ever since.

2013 was a year full of firsts for me: I ran my longest distance (12 miles), learned how to cook and landed my dream job here at Lucky! Something else that surprisingly ranked high up on my list of personal accomplishments? Mastering a fishtail braid. I know what you're thinking: After years of seeing all sorts of fancy braids on the runways and red carpet, a fishtail now seems like it's one of the most basic styles. But no matter how many how-tos I read, my fingers just didn't want to cooperate. It was finally thanks to Lucky's video series where stylist David Diegez showed an easy video tutorial when I figured it out.

Another year is almost over, but great fashion is never forgotten. These 10 fashion trends made 2013 very stylish, so we're taking a moment to remember them in all their glory on the red carpets, runways, and streets where we first spotted them.

In the vast and completely arbitrary world of women's clothing sizes, it's pretty clear that there is no real industry standard.

We loved celebrating (and wearing!) the top fashion trends of 2013 (and we're getting excited about the trends to come in 2014). However, as in previous years, there were a few questionable looks we probably should have skipped. Here are eight that we're happy to say goodbye to come January 1.

Olivia Wilde dishes on her minimalist approach to skincare, and how pregnancy has made her more conscious of the products she uses.

Kate Middleton's Temperley London gown resurfaced on the red carpet for the third time. Do you love it, or is it one time too many?

See 14 holiday dresses you'll love under $100.

This season, let your nails be as merry—and bright—as your mood.

A few things are certain in life: death, taxes and the fact that a gal pretty much can't go bare legged from November to March.

See 15 fragrances for every personality on your holiday list.