EXACTLY what to wear when you're wedding dress shopping!
Yes, this matters! Trust me!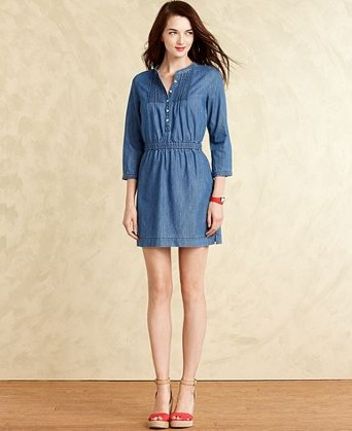 by Kim Fusaro

As I mentioned in Friday's Week in Review, this dress would be particularly excellent to wear when you're wedding dress shopping. I know it feels silly to put a lot of thought into your shopping outfit, but trust me. During a long (long, long, long) day of shopping, you'll be happier if properly outfitted. So here's EXACTLY what to wear.

To the right: Tommy Hilfiger Three-Quarter Sleeve Chambray Dress from Macy's, $59.99.

1) A dress without a lot of bells and whistles. You'll probably shop multiple boutiques, so having a dress you can get in and out of with minimal assistance will help speed things up.

2) Tights. You won't be able to wrestle your way into every wedding dress on your own, which means you'll need someone in the dressing room with you. This might be your mom or your maid of honor or a sales assistant—or all of the above, if it's one of those HUGE dressing rooms. Tights will give you at least SOME sense of modesty. And hey, if they suck in your tummy a little, it's only going to make the dresses look better! (Don't worry. You won't be able to see the tights through the dresses!)

More from Glamour: 10 Beauty Tricks That Make Guys Melt

 3) A strapless bra. This will also help you maintain a little modesty, even if you don't plan on wearing a bra on your wedding day. But wedding dresses generally look better with a bra, IMO, unless you're very small-chested. 

4) Flats. If you're wearing heels on your wedding day, definitely pack a pair. (Or take your chances on the boutique's samples. Ick.) But don't schlep from store to store in stilettos. Save your feet—and your stamina—by wearing flats between try-ons.

More from Glamour: 10 Wardrobe Essentials Every Woman Should Own

Did I forget anything? Did you wear anything really unfortunate while you were wedding dress shopping?

The first time out, I wore a dress—and a thong. And that's it. THAT made for some mortifying moments!
More from Glamour:

10 Ways to Seduce Your Man in Seconds
20 "Annoying" Girl Things He Secretly Loves About You
50 Things Men Are Afraid to Ask For (But Really Want)
beauty tips and style advice
Sunglasses: it may seem counterintuitive to invest in a wintertime accessory traditionally viewed as a sunny, warm-weather item. But spring is on the way and we're also currently being exposed to crazy amounts of UV rays—and then, of course, there's the reflective snow situation.

Some people look younger than they are, some look older. Even those with easy access to BOTOX and personal trainers. Can you guess the age of these celebrities?

Did anyone else hear wedding bells on the Oscars red carpet last night?

Then after the show, er, Oscars, it's the after party. Then after the party, it's the... Best Dressed List, of course. Nikki already picked her tops for the Academy Awards red carpet (did you vote yet?), so now it's time to see what the stars wore to the post-celebrations.

As I continue my personal campaign to swap out E!'s mani cam with a back-of-updo cam (and as a service to all the hardworking hairstylists who spent so much time creating beautiful hair looks for the 2014 Oscars), I'd like to point out that we miss a lot of gorgeous detail when we don't get the back view of a star's hair.

The bold new trend on the Oscars red carpet.

Trying new hairstyles is fun (have you picked up Allure Hair: The Ultimate How-To Hair Guide yet?).

When someone says "Julia Roberts," you think teeth. You think hair. But while you may not immediately think fashion, she has had a pretty consistent—and consistently pretty—style since her Mystic Pizza days: clean, classic, menswear-inspired looks that let her natural beauty—and rightly famous smile—take center stage. Here's how she has elevated that look over the years.

Lupita Nyong'o shows off the power of the pixie on the Oscars red carpet.

Walk a mile in a pair of SJP's stilettos? Well yes, we'd love to; thank you for asking.

Anti-aging doesn't have to take over your life. Here, expert tweaks to slow the clock.

We're at the tail end of a jam-packed awards season, with the grand finale—the Oscars, duh—just a few days away. We can't wait to see what our favorite nominees wear—we already know Jennifer Lawrence will step out in a breathtaking Dior, while we hope to see Lupita Nyong'o pick another brilliantly bold monochromatic gown. As for which designer she'll select—Gucci? Ralph Lauren?—that's anyone's guess.