Mother's Day Gift Idea: A Name Necklace like Beyonce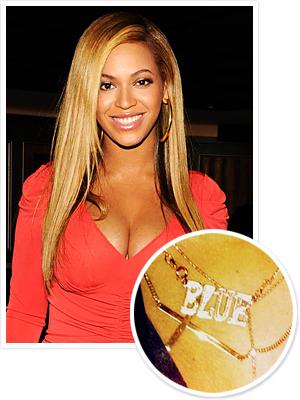 Mother's Day is just around the corner, and one go-to gift for celebrities is a nameplate necklace. 
RELATED: Celebrity Moms Out with Their Kids
Beyonce is the latest star to break out a spelled-out pendant, posting this close-up shot of a gold and diamond Blue nameplate to her Tumblr page in honor of her new daughter. 
RELATED: See Harper Seven Beckham's Celeb Tot Style
And Charlize Theron, Katie Holmes, and Christina Applegate all wear them, too. Thinking of gifting your mom or wearing one in honor of your little one? Flip through the gallery to see our favorite celebrity-inspired chains.
MORE: 
• More on Celebrity Mom Jewels
• Charlize Talks About Adopted Son, Jackson
• Jessica Simpson Welcomes Daughter, Maxwell!

Photo: Courtesy of Beyonce; Kevin Mazur/Getty Images
beauty tips and style advice
Find out what Pippa's portrait will look like.

While you were sleeping, the Duchess stepped out in two brand-new outfits.

Now that April is underway, we've officially entered the fickle season of on-again, off-again rain showers, thus complicating the already painful task of getting out of bed in the morning and starting the day. As if it isn't already hard enough to quickly put together a nice work outfit, the bipolar nature of spring weather demands a careful mix of lightweight, waterproof layers, as well as appropriate footwear. Realistically, no one wants to wear a pair of chunky rubber boots around all day, but the only other alternative is to lug around a variety of gym shoes, heels, and flats to meet all of the day's needs.

Here at Lucky, when we find something we like, we can't stop talking about it—especially when we score it for a ridiculously amazing price. We're loving that the latest batch of genius hair, makeup, skincare and nail products are not only all under $20, but you can find them easily at your local drugstore, too. Above, our favorite products to refresh your beauty routine.

Coachella weekend kicks off this weekend, then there's Glastonbury, Lollapalooza, and so on. Some festivals are one-day events, others let you unleash your inner hippie and camp out on the grounds (or if you're like me, book the nearest hotel).

As Nirvana's frontman, Kurt Cobain, who died 20 years ago this past weekend, was at the epicenter of grunge, a movement that revolutionized the cultural landscape of the 1990s, and one that continues to reverberate in fashion and music today.